Teamsters Demand Racial and Economic Justice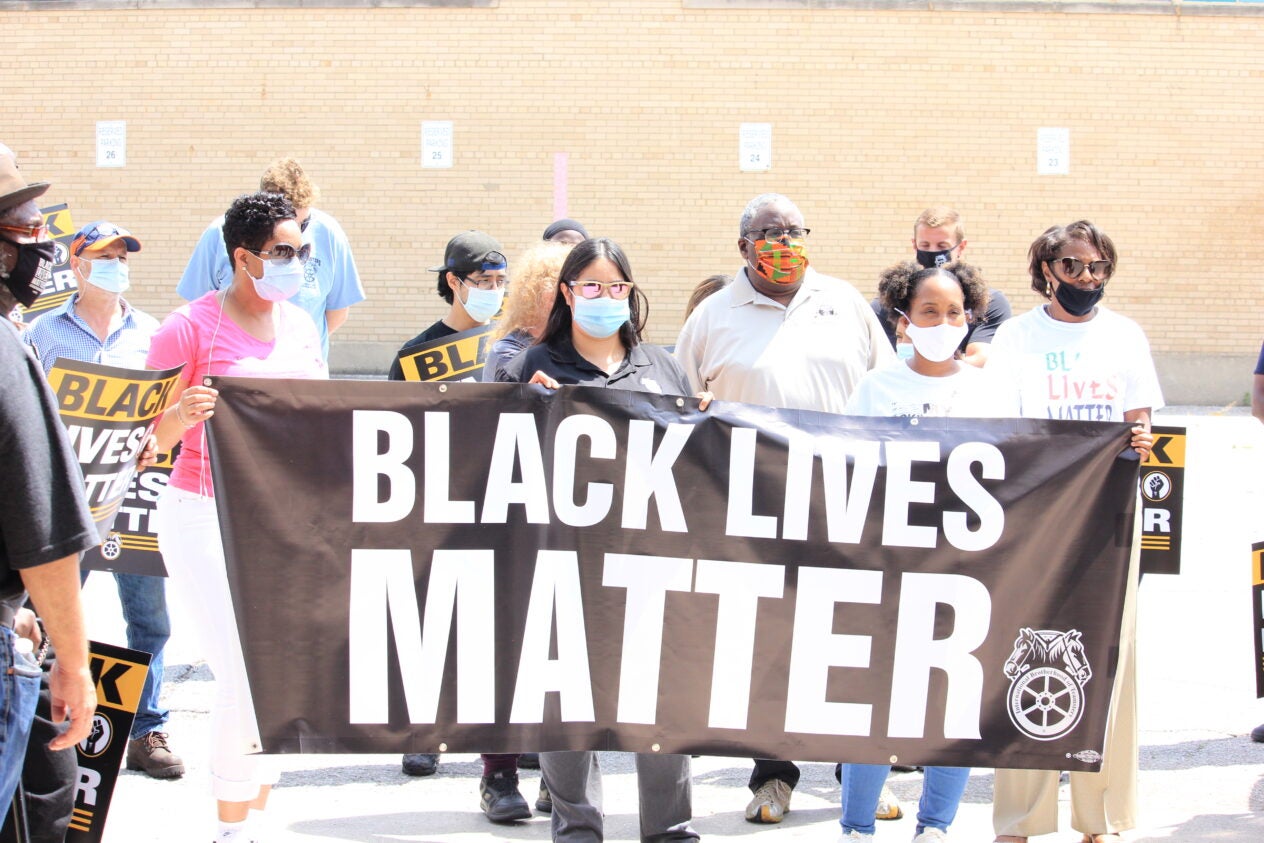 Members Take Action Nationwide
On July 20, the Teamsters joined other national labor organizations and racial and social justice groups in a national "Strike for Black Lives."
Hundreds of Teamsters in various industries held protests in 15 cities across the U.S., joined by thousands more who walked off of their jobs for eight minutes and 46 seconds in honor of George Floyd, Breonna Taylor, Elijah McClain, Local 320 member Philando Castile and so many other Black people who are victims of police violence.
Drawing from the union's rich history of civil rights activism, Teamsters stood with the national movement to confront systemic racism and demand action from government and corporations that addresses the ongoing injustices facing communities of color.
"The International Brotherhood of Teamsters was founded on the principle of winning justice for all workers, and that cannot happen unless we dismantle racism and racist systems that continue to hold Black workers back," said Marcus King, President of Local 331 and Director of the Teamsters Human Rights and Diversity Commission.
'Acknowledge and Understand'
"The murder of George Floyd in Minneapolis marked another tragic moment in our nation's history," said Jim Hoffa, Teamsters General President, in May. "Unfortunately, this is just the latest incident of an unwarranted police killing of an unarmed Black man in the United States, and a harsh truth that we must accept—equal justice under the law is not a reality for all Americans. Black people fear for their lives on a daily basis by the very institutions which are supposed to protect them. It may not be most of our truths, but we must acknowledge and understand that this is the truth of so many Black and Brown brothers and sisters in this union and throughout our country."
"The one-two punch of the horror of the pandemic crisis and the surge of deaths of Blacks at the hands of law enforcement can't be minimized. The pandemic has hit communities of color the hardest, whether we're talking about lives lost, unemployment, or the isolation felt by restrictions on social interaction. In many ways, the protests brought on by the murder of George Floyd are about him and more," said Gregory Floyd, President of Local 237 in New York City, the union's largest local, and International Vice President.
In addition to the Strike for Black Lives, the Teamsters have also participated in numerous other demonstrations of solidarity, including an eight-minute 46-second moment of silence for George Floyd on June 9, organized by James Curbeam, National Chairman of the Teamsters National Black Caucus.
"Working people of America, we must root out racism, discrimination, bullying, abuses of power, and the disenfranchisement of all American people, in our families, workplaces, institutions and in our society," Curbeam said. "We have the power to have our voices heard now, and always, not just in a time of a crisis. Stand with me. Let us continue to fight, demand, and win justice now and into the future! We must hold our leaders accountable and uphold justice."
Strike for Black Lives
In New York City, numerous Teamster locals took action during the Strike for Black Lives, including UPS members and building services members who held rallies and observed a moment of silence.
In Chicago and Detroit, Teamsters from several locals held actions outside of their workplaces where they made the connection between the fight for worker justice and anti-racism. Sanitation members in San Francisco and warehouse workers in Los Angeles also joined #StrikeForBlackLives rallies along with local Fight for 15 activists.
"We're demanding action from corporations and government to dismantle white supremacy and to ensure the health, safety, and economic well-being of every worker," Hoffa said on the day of the strike. "This is a moment of reckoning, a chance to decide who we are as a nation. We can no longer turn a blind eye to the deadly impacts of structural racism in America's economy and democracy."
Antoine Andrews, a UPS member and shop steward with Local 804, echoed that point as he and his co-workers rallied outside of their facility in Brooklyn.
"We all have a choice about how we want to move forward, whether we are going to be silent or speak out to change things for the betterment of humanity. I'm doing the Strike for Black Lives because it's time for a change. It's time for justice for all people," Andrews said.
Amid historic national outrage and unrest over racist police violence, union members across the country have been eager to show solidarity and bring the voice of labor into the new movement. The call to action for the Strike for Black Lives was spearheaded by the Change to Win federation as well as SEIU, Fight for 15, Teamsters, Communications Workers of America, and other unions to demonstrate that worker justice and racial justice are part of the same struggle.
"We're proud to stand with our Black members, families and the entire Black community to say that their lives unequivocally matter," King said. "We demand greater protections for these workers, and all working people. That means ending systematic racism and economic exploitation."
Caravan for Justice
Teamsters also joined with fellow union members in Washington, D.C. and across the country on June 17 to participate in the Workers First Caravan for Racial and Economic Justice, a massive mobilization calling for bold policies to confront the coronavirus pandemic, an economic free fall and longstanding structural racism. Approximately 1,000 cars met up at locations in Silver Spring, Md. and Arlington, Va. before heading to Capitol Hill, where they drove around the U.S. Capitol.
Besides the Teamsters, the caravan was organized by AFSCME, AFT, the Painters Union, UFCW, UNITE HERE and the AFL-CIO. Similar protests were held across all 50 states and Puerto Rico.
In Atlanta, Local 728 members joined with other members of the Atlanta-North Georgia Labor Council to hold a protest outside the Republic Services Bankhead facility. The protest followed a caravan of union members at the Georgia Capitol where workers called on public officials to demand racial and economic justice for Atlanta workers.
The caravan ended at Republic Services and union members from throughout the city came to support the Teamsters in their calling out of management for unjust termination and layoffs, as well as the overall unfair treatment, of Black workers at the company.
"I've been dealing with this company for 18 years, and every year it gets worse. I could go on all day about this company's horrendous record of anti-union behavior and corporate greed. But I'm here today to talk about race," said Chuck Stiles, Teamsters Waste Division Director. "It's time Republic Services understands that this fight is more than a union fight, it's a moral fight."
Republic's decision to terminate and lay off Black workers without just cause only further affirms the company's corrupt practices and heedless leadership, Stiles said.
In addition to calling out Republic Services for its mistreatment of Black workers, Stiles also called on the Atlanta City Council to reevaluate the private companies that have been contracted out in the city, specifically in communities around Hartsfield-Jackson Airport.
Continuing the Fight
Dignity in the workplace does not only come from good contracts. It comes from equality, something the Teamsters Union has fought for from its beginning. If you are a member of the Teamsters Union, you're already part of one of the oldest and strongest civil rights groups in North America.
"The Teamsters Union has long supported the civil rights movement and the fight to ensure the fair treatment of all our people regardless of race, color, gender or sexual orientation. We reject social injustices such as racism, which have eroded and divided us as a country for far too long. Denying that racism still exists and continues to operate in ways which destroys lives and communities threatens our very freedom," Hoffa said.
Women's rights, civil rights, the rights of migrant workers, protections for minor, senior and disabled workers are just a few of the causes the Teamsters have taken up in the name of fairness.
Through legislation, donations and activism, the Teamsters Union has made more of a difference in these areas than perhaps any union or single organization in North America. Wherever working men and women marched for jobs, civil rights or justice, the Teamsters were on the front lines.
As the civil rights movement grew in the 1950s and 1960s the Teamsters became very involved. The union provided money and supplies to many civil rights groups, including the more than 700 families living in "Freedom Village," who faced retribution for registering to vote in 1960. Teamsters were active participants in the movement at a time when such actions were considered risky, if not downright dangerous for any organization.
The Teamsters had a good working relationship with Dr. Martin Luther King Jr. and scores of members were among the more than 200,000 people who participated in the historic March on Washington in 1963.
"The Teamsters Union has always played an integral role in the fight for civil rights. We will continue this fight," said Marcus King.
Teamsters Applaud Supreme Court's 'Dreamers' Ruling
Allowing 'Dreamers' to Remain Continues Promise of This Country
The Teamsters Union celebrated the decision of the U.S. Supreme Court on June 18 to reject the challenge to the so-called "Dreamers" program that would have resulted in 650,000 people brought to the U.S. as children being deported.
The Teamsters previously joined an amicus brief for this case with other unions which demonstrated how rescinding the DACA program would jeopardize union workers, their families and the country in general, while doing little to address the need to reform our broken immigration system.
"For centuries, this country has served as a beacon of hope to millions across the globe who sought opportunity and refuge," said Jim Hoffa, Teamsters General President. "We are glad to see the Supreme Court agrees. These children are our children now."
While the issue of immigration can be complicated, immigrant children in good standing should not be penalized because elected officials refused to get their act together and enact comprehensive reforms. They deserve an opportunity to continue to live their lives with their loved ones in their adopted home country.
"DACA has allowed young people, including Teamster members and their children, to go to college, work, and live their lives in the open," said George Miranda, President of the Teamsters Hispanic Caucus and International Vice President. "We cannot have worker rights without immigrant rights, or vice versa. Working people regardless of nationality must be part of one labor movement if we want safe jobs, strong unions and prosperity for our families."
« Previous
Next »