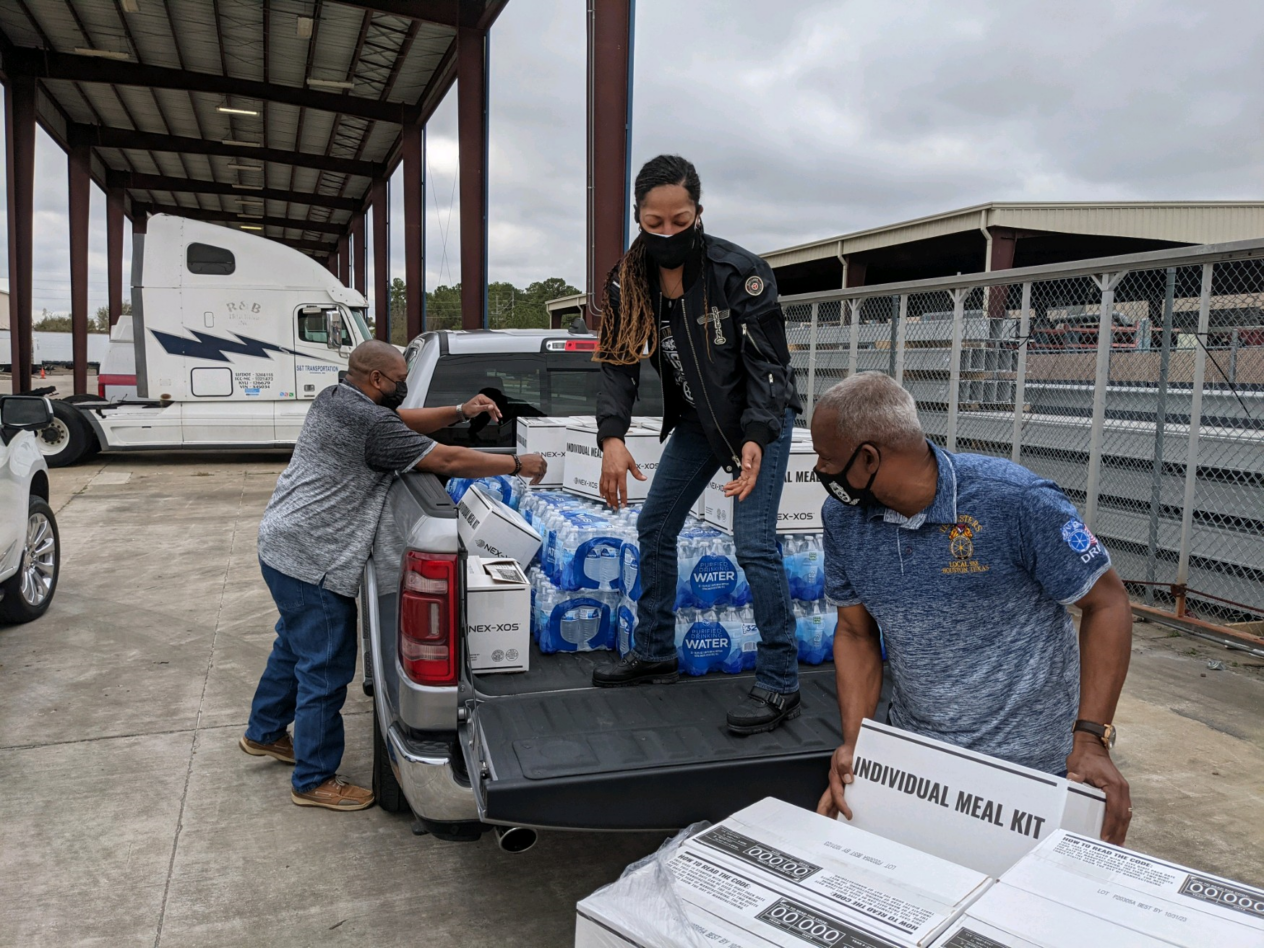 Teamsters Hit the Ground for Disaster Relief in Texas
The beginning of 2020s has been a litany of unforeseen calamities, with the power and water crisis in Texas following a blast of cold weather across the state being the latest iteration. Fortunately, when an unexpected crisis occurs, you can expect Teamsters Disaster Relief.
"All disasters are the same, but all disasters are different," said IBT Director of Disaster Relief Roy Gillespie. "The commonality is getting help to people as fast as possible. As Teamsters, that's what we do – move equipment, supplies and personnel I fast and expedient way."
Teamsters have been tasked with the management of distributing supplies, particularly water, throughout the state and are working closely with the National Urban League, the American Red Cross, the National Association of Christian Churches, Congresswomen Sheila Jackson-Lee and Barbara Lee and others. Gillespie said that one of the biggest challenges he's seen since he arrived is the fallout from damage to plumbing.
"One of the most important things is getting people back into their homes," said Gillespie. "Yes, the power is on. Yes, there's water flowing, but say for instance have a block with twenty houses on it. All twenty houses might have power and water on, but if any of those houses have burst pipes; it's leaking, it's not potable."
Sequetta Baldwin is a Teamsters Local 988 Shop Steward at UPS in Houston. She said that the crisis presented challenges for her and coworkers on and off the job.
"There were some who were affected so badly or displaced because pipes had burst in their homes to where they couldn't get to work, at the same time the workload increased because of road closures and the other impacts of what's been happening here," Baldwins said. "Now we're just trying to make sure that the public's needs are met and we're getting their things to them, it's almost like going through another peak season."
In spite of increased demand at work, Baldwin has been able dedicate most of her free time to helping out her fellow members and her community.
"We try to make sure that everyone is informed about the resources that are available to them, even if the power is out, we have a network of people who are able to reach those in need through word of mouth," Baldwin said. "Myself and my family have been blessed, that's why I've been so adamant about being on the ground and doing my part. Just because I'm not affected, that doesn't mean there isn't someone down the road or someone my family who wasn't affected. So you try to help and do everything that you can."
Help is coming from outside of Texas as well – Teamsters Locals 251, 89, 120, 776; Teamsters Joint Councils 56 and 10, the Teamsters National Pipeline Labor-Management Cooperation Trust and others have all contributed materially or financially to assist with on-the-ground efforts in Texas. Wherever disaster strikes, the Teamsters are there to help.
"We are resilient people," said Baldwin. "Not just as individuals. When you're a Teamster, you stand up, you get through it. We will get on the other side of this."
« Previous
Next »