Teamster Power in Foodservice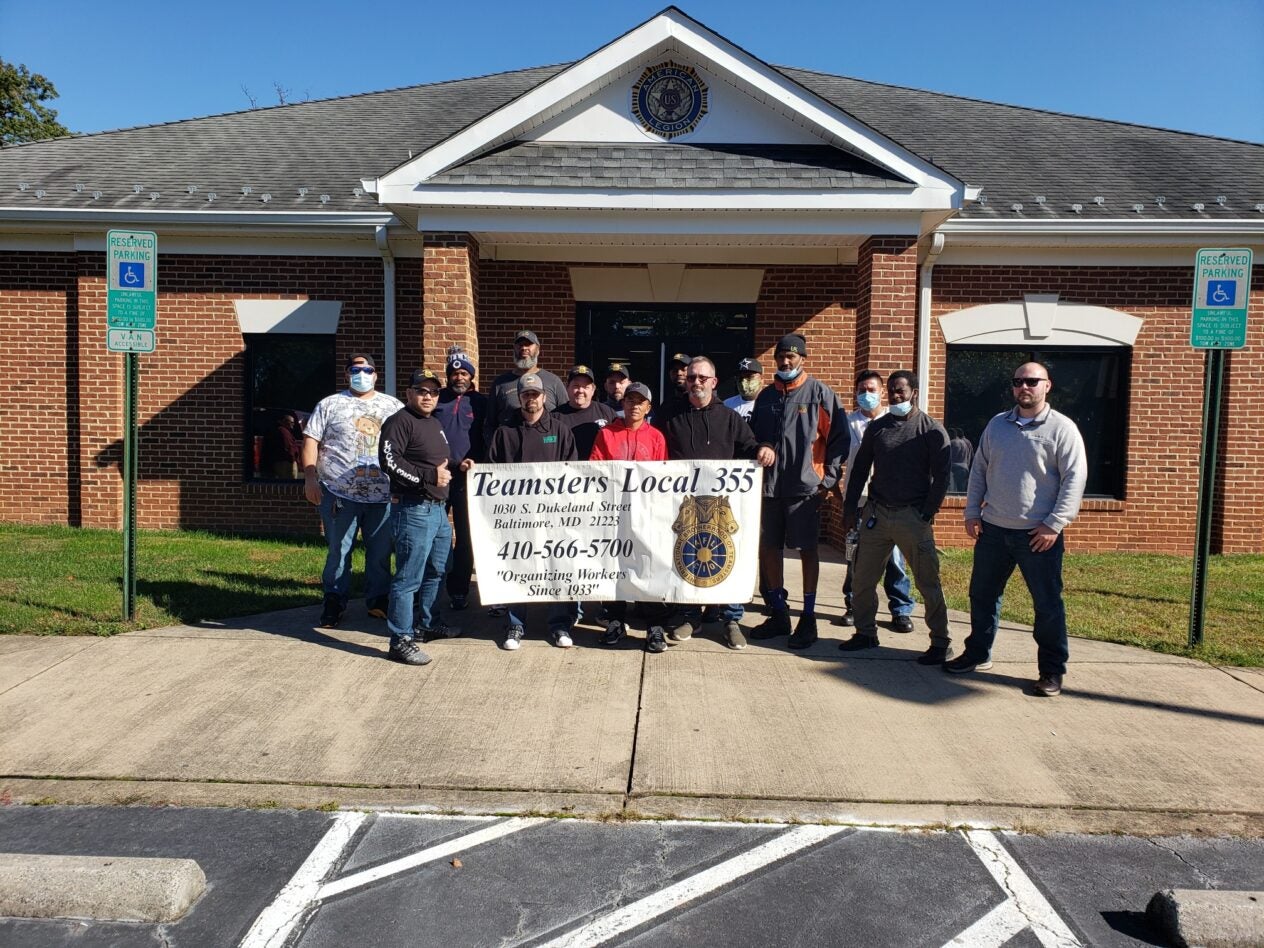 Several worker victories this fall in the foodservice industry have delivered power and security to drivers and warehouse workers at US Foods and Sysco during the ongoing pandemic.
In late September, 110 workers at US Foods in Manassas, Va. voted to join Local 355. In mid-October, a group of 68 warehouse workers at US Foods in Fontana, Calif. voted to join Local 63, six weeks after a group of 57 drivers at the same facility voted to join the union. Also in October, workers at US Foods and Sysco in Southern California ratified contracts that contain historic increases in wages and pension-benefit contributions.
"Our foodservice Teamsters are keeping our communities fed during this pandemic and they deserve the strength and power that only comes from being Teamsters," said Steve Vairma, Director of the Teamsters Warehouse Division. "During these challenging times, workers need this security more than ever."
Protecting Health Care
In Manassas, the vote was 50-30 for the 110 drivers in the bargaining unit. The drivers, frontline workers in the pandemic, voted for representation to improve working conditions and their health and welfare protection.
"We welcome the drivers in Manassas to Local 355 and we will work hard to win them a strong contract," said Denis Taylor, President of Local 355. "US Foods closed its Baltimore facility years ago shortly after losing its bid for a merger with industry leader Sysco, sending a portion of that work to the nonunion Manassas facility. So now, those drivers are once again part of the Teamsters Union family."
"We all feel good," said Kirk Wilson, a three-year employee in Manassas. "It's been so long since anything as good happened in Manassas."
Workers have had to deal with many changes in management. "Our issues and concerns fell on deaf ears," said Jimmy Sisk, a five-year employee.
Matt Buell, a 10-year employee, said management has forced out the senior drivers. "You didn't have a voice; they didn't listen to anything you said," Buell said.
Double Victory
In Fontana, the group of 68 warehouse workers voted to join Local 63. The victory came six weeks after a group of 57 drivers at the same facility achieved a similar victory.
"We welcome the 125 warehouse workers and drivers to Local 63, and we will work hard to negotiate a strong first contract that addresses their issues, which include an end to favoritism, a fair pay structure and more affordable health insurance," said Randy Cammack, Secretary-Treasurer of Local 63 in Rialto. "More than ever, these essential, frontline workers deserve the security of a Teamster contract during these challenging times."
"It feels real good to win. Now it will be about winning better benefits and respect from managers," said warehouse worker Raymond Ballard. "Every day, my co-workers and I would say to each other, 'It's in the bolsa,' to remind us it's in the bag."
"It was a long battle and we won both elections, but we still have a lot of work to do," said Fernando Cabera, a driver. "But with the Teamsters and my brothers working together, I know we can get it done."
Historic Gains
In Southern California, foodservice workers at US Foods and Sysco ratified contracts that contain historic increases in wages and pension-benefit contributions.
Local 630 represents 187 warehouse and office workers at US Foods in La Mirada, Calif. and 143 warehouse and office workers at Sysco in Walnut, Calif. Local 848 represents about 200 drivers at the same US Foods center, and about 245 drivers at Sysco. All four units either unanimously ratified the contracts, or did so with just a few 'no' votes.
The contracts provide for a nearly $9 hourly increase in wages and pension benefit contributions over the term of the six-year contract, the highest amounts the locals have ever negotiated. That figure includes total hourly wage increases of $6.40 over the six-year contract.
"These drivers work very hard and they realize they are the union, and they take that to heart," said Gil Baltazar, Local 848 President and business agent. "They take care of their customers and they take pride in what they do."
"Our members have kept this company going through the pandemic, even assisting the grocery distributors during the pandemic rush," said Local 630 Secretary-Treasurer Lou Villalvazo. "They put themselves and their families at risk to supply the customers. They earned this great contract!"
Dedicated Workers
"During these times of uncertainty through this pandemic, our members showed up and kept supplying the customers," said Adam Methus, Local 630 divisional representative. "We would like to thank our bargaining committee, our shop stewards and our members that stood behind the local union to get this done. You all deserve this great contract!"
Steward Charles "Lucky" Lepins, a 30-year driver at Sysco who served on Local 848's negotiating committee, said Tate and the committee did a great job fending off takeaways the company was attempting to grab. For example, the company wanted a one-year freeze to delay negotiating for a year. But the Teamsters rejected all givebacks.
"This contract gives the members great security and safe working conditions so I can return home to my family securely each night," Lepins said. "It provides stability for me and my family, plus dignity and respect for all. Now more than ever, being a Teamster has proven to be valuable, to have a union protect our needs during these challenging times. I am extremely proud and blessed to be a Teamster!"
In addition, the new contract provides Sysco retirees with excellent health care with no out-of-pocket cost, Lepins said. Retirees had been paying $200 or more monthly toward health care costs.
Steward Sam Oropallo, a 31-year driver at US Foods and Local 848 member who also served on the negotiating committee, said the contract continues to provide workers with excellent health care and improved bereavement leave, among other improvements.
"This is a record-breaking contract for us," Oropallo said. "In all the years I've been employed at US Foods, we've never had a contract this strong. I was proud to present this contract to the drivers and my co-workers. I think we ended up with one of the best contracts in the trucking industry."
US Foods warehouse worker Rudy Lopez echoed Oropallo's comment.
"This is the best contract I've seen in my 37 years at US Foods," said Lopez, a steward and member of Local 630.
Dennis Glassco, a warehouse steward at Sysco, agreed.
"I'm a 40-year member," said Glassco, a member of Local 630. "This is the best contract I've ever seen in the history of being at Sysco."
« Previous
Next »