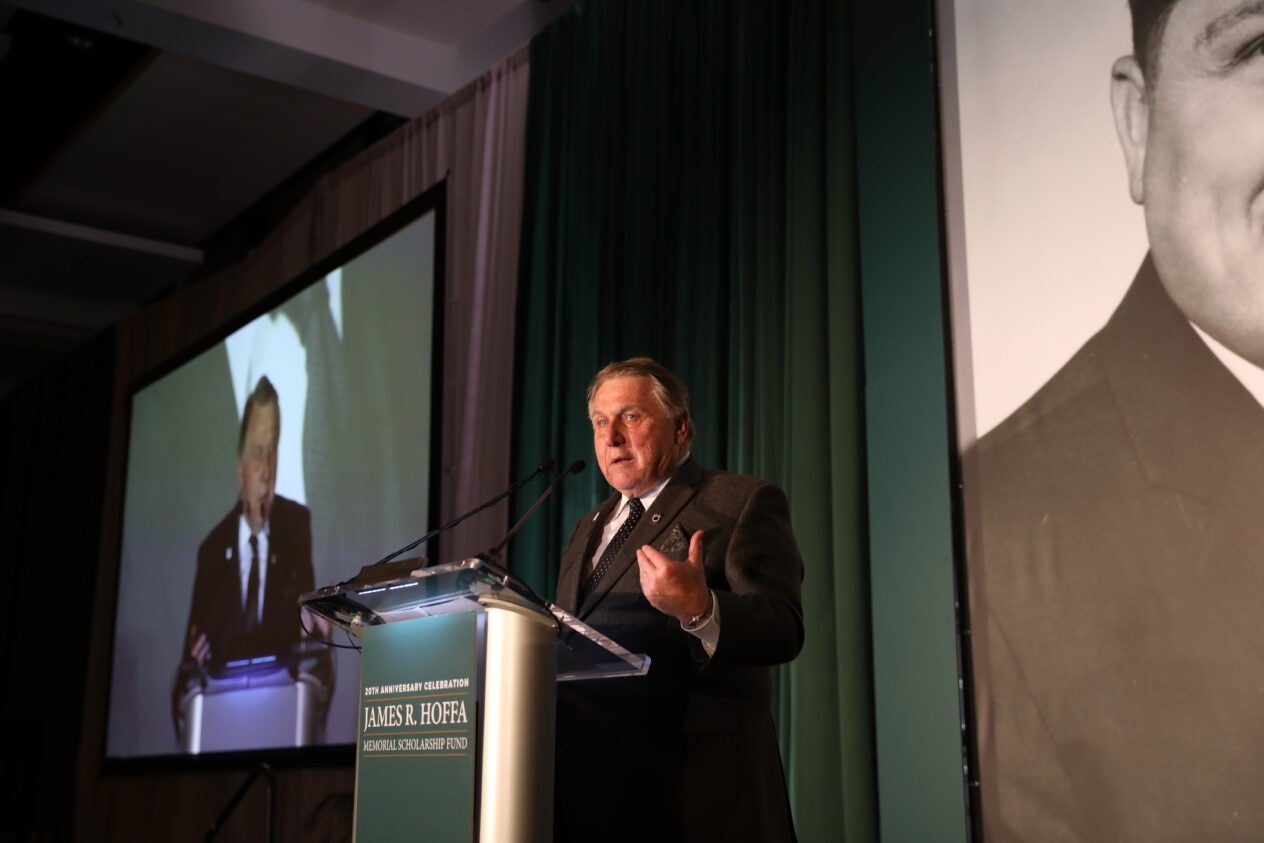 James R. Hoffa Memorial Scholarship Awards Over $11 Million Since 2001
A better quality of life has always been the major goal of the labor movement, and education has always been an option to achieve that goal. And each year, hundreds of college students are furthering their education with help from the Teamsters Union.
The first scholarships from the James R. Hoffa Memorial Scholarship Fund (JRHMSF) were awarded in 2001, and since then, 4,122 students have received them.
In all, $11,253,000 in funds have been awarded.
Of the many accomplishments of the Hoffa administration, the JRHMSF might be the most far reaching.
"The cost of a higher education has significantly outpaced the inflation rate, putting it further out of reach for far too many people," said Jim Hoffa, Teamsters General President. "I'm proud of the countless lives we've changed with this scholarship."
Essential Financial Support
In the last few decades, there has been a huge change in how students and families pay for college. States have cut funding, tuition has gone up and, often, students need to borrow more money to pay for college costs. The cost of housing, transportation, books and other school-related fees is also going up. Coupled with stagnant wage growth for most Americans, that debt is staggering.
To many families, the scholarship has been essential in providing a helping hand with tuition costs.
"We were only able to afford the university with this scholarship," said Sara Esparza, a 2004 scholarship winner who is now a senior project engineer with the Hydra-Electric Company in Burbank, Calif. "This award gave me the encouragement and practical financial support to begin and finish my bachelor's degree in mechanical engineering."
As of 2020, there were 45 million borrowers who collectively owe nearly $1.6 trillion in student loan debt. That's the second-highest consumer debt category after mortgages. According to the Institute for College Access and Success, the average student loan debt for members of the Class of 2019 was $29,200.
More than a million students default on their loans each year, and many more struggle to make payments. The struggle to repay student loan debt disproportionately affects low-income, Black and Latino students.
Eric Johnson
Past winners of the scholarship themselves provide the best examples of the good done by the JRHMFS.
"The JRHMSF was a significant help in my ability to afford college and allowed me to graduate with no student debt," said Eric Johnson, a 2001 scholarship winner—the first year they were available. "I was the first person in my family to graduate from college, so I was mostly on my own when it came to applying for college, loans and scholarships.
"When I learned I was a recipient of the JRHMSF, it was huge relief and moment of pride for me and my entire family. I'm the oldest of three, and because I knew college was expensive, I didn't want my parents to take on a lot of student loans for me, when they would have two more children needing the same down the road. Because I was able to graduate from college without debt, I felt more confident to continue my education, and I graduated with my doctorate in education eight years after finishing my bachelor's degree," Johnson said.
Johnson is now Head of Upper School at Community School in Naples, Fla. and said that, as an educator, he has the opportunity to work with high school students on a daily basis.
"For my students who are wanting to pursue college but may be worried about the cost, I can share my own story about outside scholarships and how organizations like the JRHMSF can make college possible," Johnson said.
"I am proud of my dad, who has been a Teamster his entire life. He is about to retire in the coming year, and having a Teamster job that gave him dignity of work and a stable paycheck to take care of his family has made all the difference in my family's life–for generations to come. In many ways, I have embodied the values and philosophies of labor unions, in that everybody has a voice, a purpose, and deserves a chance to work hard for a decent wage," he said.
"No matter the pathway, investing in yourself through education or job train ing is always a good idea. Education and job training stays with you forever, and once you learn a skill or earn a degree, you have an even stronger foundation," Johnson said. "Find somebody who believes in you and surround yourself with loving, encouraging people who will motivate you and keep you accountable when things get tough. No matter what happens or how long it takes, achieve the certificate or degree you need to chase your dreams."
Beau Figliola
The scholarship is available to the children or financial dependents of Teamster members planning to attend a four-year college or university. In 2017, the JRHMSF also began distributing awards for students attending vocational/training programs.
"Colleges, universities and trade/vocational schools are among America's most important institutions for promoting upward mobility," Hoffa said. "The JRHMSF gives students and their families peace of mind during a particularly stressful and expensive time."
Beau Figliola attended the University of Washington in Seattle with the help of the JRHMSF as a 2005 awardee. He is now a husband, father of three, and works in asset management. His grandfather was a member of Local 313 in Tacoma, Wash.
"Thanks in part to this scholarship, I was able to attend the University of Washington without an overwhelming feeling of despair about future debt," Figliola said.
Mindi Summers
"I can remember my family being particularly proud when I received this scholarship," said Mindi Summers, a 2005 awardee. "Beyond supporting my studies at Stanford University, the Teamsters scholarship allowed me to study abroad in New Zealand, which opened my eyes to a different culture and diverse opportunities for research.
"I was able to use the scholarship to take a full term at Auckland University, where I took courses not available at Stanford and identified an honors thesis topic and collected data in a field I had never heard of before. My research involved field work using Ground Penetrating Radar to infer the history of the coastline, with the aim of providing evidence to allow more informed predictions for coastal management," she said. "I received Stanford's Dean's Award for Academic Excellence based partly on this research, and this research experience was important to my acceptance into graduate school studying Oceanography, which led to my current career in scientific research."
Summers is now a tenure-track instructor in zoology at the University of Calgary in Canada. In this role, she teaches courses in invertebrate zoology, entomology, evolution and animal behavior, as well as field courses in marine invertebrate zoology at the Bamfield Marine Sciences Centre in Belize.
"I now study invertebrate biodiversity in urban environments, teaching and learning in biology, and how to best train undergraduates students in research methods," she said.
Joseph Halverson
"Coming from a lower socio-economic background, this scholarship was instrumental to my college and later professional career. It enabled me to focus on my engineering undergraduate education, which helped me to graduate with honors. I graduated undergraduate with very little debt, and it gave me full autonomy to pursue any career I was interested in, not just what would pay the most money," said Joseph Halverson, a 2003 scholarship winner.
This financial freedom eventually helped Halverson pursue his dream of getting a law degree and MBA at Northwestern University. He now works for a "top three" management consulting firm.
"It always helped to keep me grounded and to consider the needs of others. As a management consultant, I give strategy advice to Fortune 100 companies about how they can transform and better enable their business," he said. "I often advise my clients to think about how changes will impact every person in the organization; not just the leadership of the company."
Kim-Van Truong
"I was a recipient of the scholarship in 2003 which was my senior year of high school," said Kim-Van Truong. "I remember being very surprised—perhaps even shocked might be a better description. I had applied for a number of scholarships that year and the James R Hoffa Memorial Scholarship offered the highest scholarship amount of all of the ones that I had applied to."
Now Truong is an associate principal at an architectural firm called ELS Architecture & Urban Design in Berkeley, Calif. Her focus is primarily on sports and recreation projects but she is also currently working on a theater renovation project in Oakland.
Truong said the scholarship essentially paid for tuition during two of her four years of undergraduate study, which was a great help to her family. Her father is a member of Local 439 in Stockton, Calif.
Tim Thornton
When Tim Thornton's father, a longtime Teamster, passed away a week before his senior year in high school began, the cost of higher education wasn't the first thing on his mind.
"My widowed mother was left to physically, emotionally and financially care for my sister and me," Thornton said. His father, Darrell Thornton, was a UPS Teamster with Local 612 and passed away in August 2002.
His mother and grandmother did all they could to ensure Thornton and his sister got the best educations possible, but it was the James R. Hoffa Memorial Scholarship that really made college possible for him.
"The James R. Hoffa Memorial Scholarship Fund helped my family and me reduce some of the financial obligation in attending college," said Thornton, a 2003 scholarship winner. "The scholarship played a major role in shaping me to become the husband, father and man that I am today, and my family and I are grateful."
Thornton said the scholarship helped him graduate from The University of Alabama Huntsville with a Bachelor of Science in management information systems. He went on to get a Master of Business Administration with a concentration in logistics and supply chain management at Alabama A&M University. Now he is a contracting officer with the Department of Justice at Redstone Arsenal near Huntsville.
"My father was a man who valued structure, dignity, integrity, respect, diligence, and perseverance, and he expected his children to demonstrate these qualities at home, in school and in the community. These qualities inherent to my father also aligned with the values of his union, the International Brotherhood of Teamsters," Thornton said.
He is instilling those qualities in his own two sons.
"I would encourage the child of a Teamster member to continue his or her studies beyond secondary education (grades 6-12) and pursue education in the same spirit as James R. Hoffa, who said 'Teamster sons and daughters deserve the best education available.'" Thornton said. "With the James R. Hoffa Memorial Scholarship Fund offering real access to higher education, a high school senior would certainly not want to limit their academic and economic potential by forfeiting an opportunity that has proven life-changing for so many others."
For more information, visit http://jrhmsf.org
« Previous
Next »