Teamsters Remember Harrison "Tiny" Lushbaugh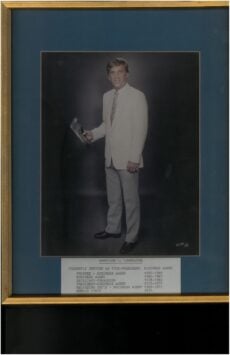 Harrison "Tiny" Lushbaugh, retired principal officer of Local 992 in Hagerstown, Md. and longtime International Representative, passed away on September 30.
"I knew Brother Lushbaugh for a long time and I always admired the pride he took in his work. His willingness to help any working person in need set a good example for everyone he knew," said Jim Hoffa, Teamsters General President.
Lushbaugh joined the Teamsters as a driver for Buch Express in York, Pa. in the 1950s. He loved to drive trucks, so it wasn't until 1969 that he agreed to join the staff part time. In 1973, Lushbaugh became a full-time business agent and organizer. During the following years he held every office in Local 992—the only person to ever do so. He also served as an International Representative of the Eastern Conference of Teamsters. Lushbaugh retired in 1994, but continued to offer his experience, knowledge and assistance to the members of Local 992 whenever asked to do so.
He is survived by his wife of 60 years, Zelma Lushbaugh, and a large family including great-greatgrandchildren.
« Previous
Next »