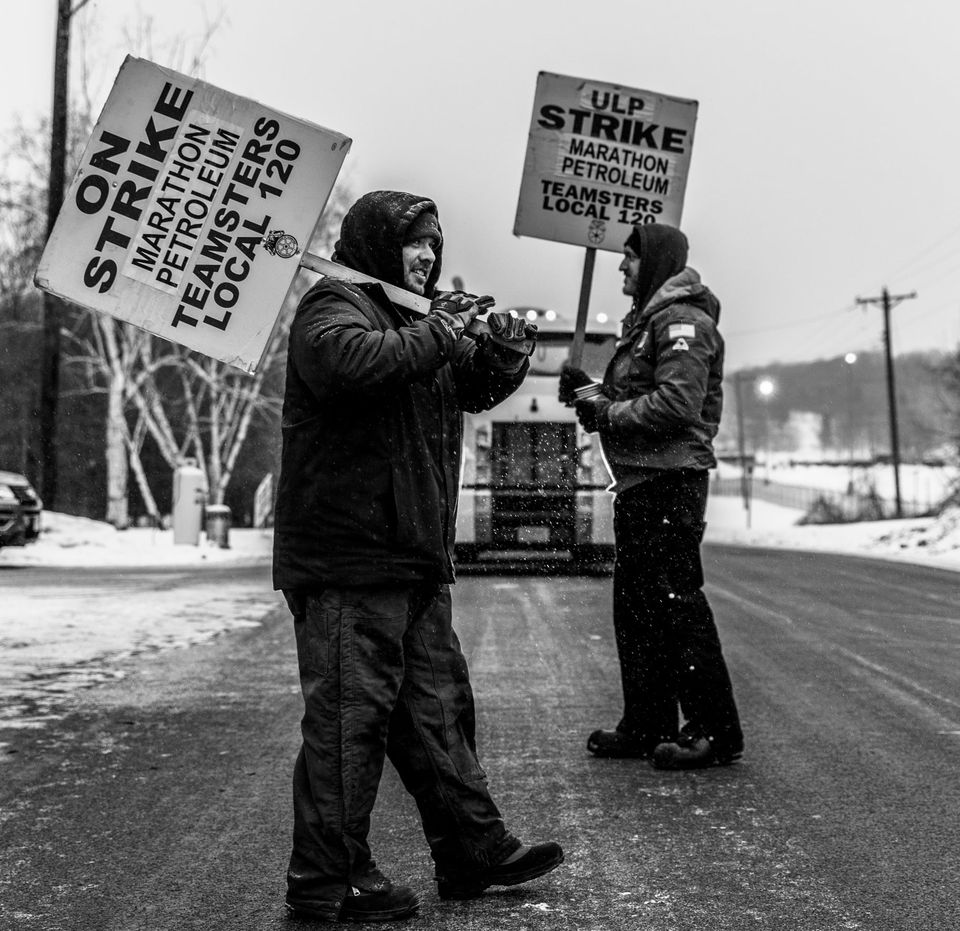 Local 120 Refinery Workers Locked Out, Endangering Community Safety
Teamsters at Marathon Petroleum Corp. in St. Paul Park, Minn. have been locked out for more than a month following a 24-hour strike in January.
Marathon wants to replace a large number of union jobs with lowest-bidder subcontractors, which would endanger the safety of the surrounding community and anyone working at the oil refinery.
"On January 21, we went on strike for 24 hours. When they tried to go back to work, Marathon had disconnected their badges and told them they were trespassing. At that point it became a lockout," said Scott Kroona, Business Agent at Local 120.
The 200 Local 120 Teamsters at Marathon do all of the day-to-day operations and maintenance of the St. Paul Park, Minn. refinery, including bringing in crude oil, processing it, then maintaining and keeping everything running safely. The company wants to subcontract more than 40 union jobs to the lowest bidder…people without the training to do the job safely.
"The number-one issue for us is safety. A lot of safety training goes into what these members do. When a new employee is brought in, it's months before they do any hands-on work. Everything before that is training," Kroona said.
"A lot of these subcontractors are coming in from out of state. If they make a mistake or if there's some accident, it's not their community," he said. "Plus, 80 percent of the emergency response team that would handle any incident are locked out right now. Local fire departments aren't trained to handle industrial refinery and chemical accidents. This is a safety issue for the whole community and it's only happening because of corporate greed." 
The workers have gotten support from throughout the community, including Minnesota Gov. Tim Walz, who spoke at a rally on behalf of the locked-out Teamsters.
"It's about the safety of this community," Gov. Walz said at the rally. "I can't tell you how grateful I am for that."
In early March, a group of state treasurers wrote a letter pressuring Marathon Petroleum to end the lockout. U.S. Rep. Betty McCollum also wrote a letter of support, noting, "The breakdown of contract negotiations and use of outside contractors by Marathon raises serious questions about safety."
Members of other unions have been picketing alongside the Teamsters, helping out with supplies and contributing to workers' defense funds. Also, union carriers such as Barton Oil and Praxair, plus certain building trades, are not crossing the picket line at the plant, which is running at lower-than-normal rates with the workers locked out.
"These Teamsters are amazing and unlike any group I've ever worked with. When they say they're in it for as long as it takes, they mean that. The weather here in Minnesota has gotten to 30-below and they're out there with smiles on their faces," Kroona said.
"The solidarity shown by this group and the community has been incredible," said Tom Erickson, President of Local 120. "They're standing together and standing strong."
Tylor Sardeson, a Local 120 Marathon worker, said that each day the lockout continues, the community is at risk.
"We're on this side of the fence," Sardeson said in a recent interview. "It's the wrong side of the fence to make sure this place stays safe."
« Previous
Next »