Teamsters Local 117 Partners to Vaccinate 500 Working Families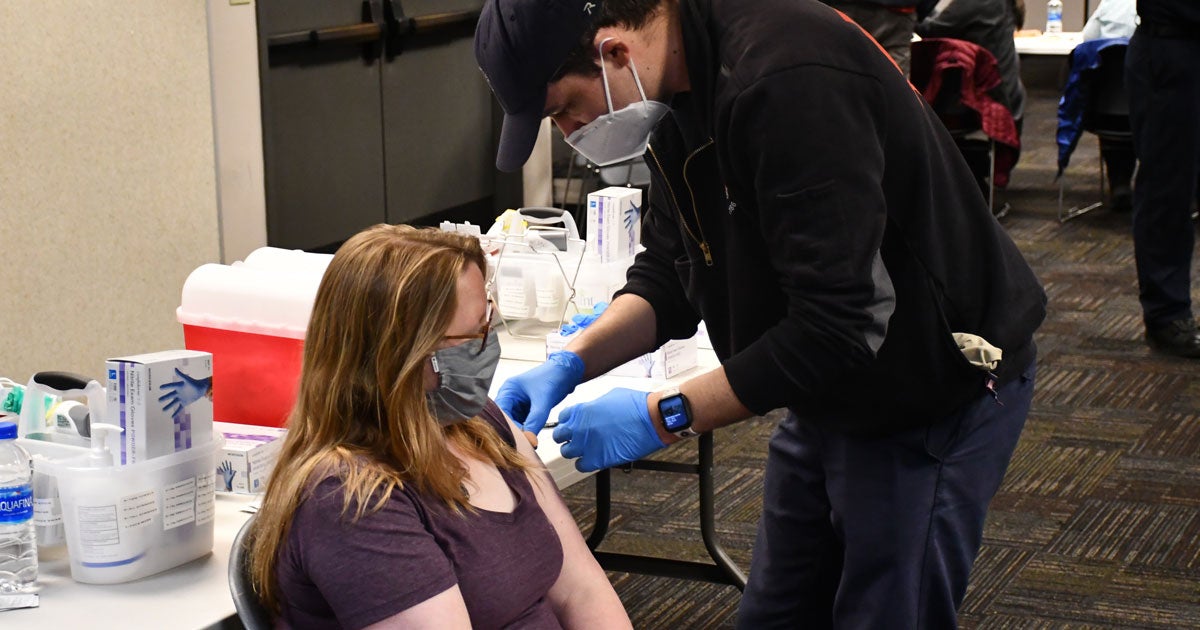 Vaccine-eligible Teamster Members, Uber & Lyft Drivers and Their Families Get COVID-19 Shot at Tukwila Union Hall
Press Contact: Paul Zilly Phone: (206)794-6673 Email: paul.zilly@teamsters117.org
(TUKWILA, WA) – In an extraordinary day at the Teamsters Union Hall in Tukwila, WA, Teamsters Local 117 and the Drivers Union partnered with Puget Sound Fire Authority and the King County Department of Public Health to vaccinate more than 500 community members. The two affiliated unions organized Sunday's pop-up vaccination clinic to dispense critical public health services to vaccine-eligible union members and their families while focusing outreach on the immigrant community of Uber and Lyft drivers that may have limited access to the COVID-19 vaccine.
"I'm over the moon that my union is doing this," said Janelle Lundin, a Teamsters 117 Shop Steward who works in the Education Department at the Woodland Park Zoo. "I was having trouble getting an appointment other places. I live in a multi-generational household and this will give me extra protection for my 84-year-old mother."
"I'm incredibly happy to have this opportunity," said Abdullahi Usman, a father of five who drives for Uber and Lyft. "Driving for Uber, I have lots of interaction with the public, especially people who are traveling. I'm the first in my family to get vaccinated, and this will help keep all of us healthy and safe."
The event was a well-coordinated partnership between the two unions and a number of public agencies. Firefighters from six regional fire departments, including the Tukwila Fire Department, screened, counseled, and administered a choice of the Moderna or Johnson & Johnson vaccines to attendees. More than a dozen Teamster staff and community members volunteered to ensure that CDC guidelines were enforced.
"We are incredibly grateful to our regional partners and all of the outstanding volunteers who came together to provide life-saving public health services to union members and our community," said John Scearcy, Secretary-Treasurer of Teamsters Local 117. "Our mission as Teamsters is to build power and unity for working people and to lift up our communities. I can't think of a better way to exemplify that goal than this vaccination event."
The King County Department of Public Health, which has been working to scale up pop-up vaccination sites across the Puget Sound region, was another important partner in making this event a success. King County Executive Dow Constantine stopped by for a visit on Sunday to lend his support.
"In the largest public health mobilization in more than a century, it takes many partners and a coordinated effort to keep people safe," Constantine said. "I thank Teamsters Local 117 for hosting a vaccine pop-up clinic specifically for taxi and rideshare drivers at their hall – a trusted and known location for many in the community. I'm grateful the Teamsters worked to prioritize serving members of the BIPOC community. Reducing the equity gap is an ongoing priority for King County as we confront this disease as well as historical barriers to healthcare."
The event was the first of two pop-up COVID-19 vaccination clinics sponsored by Teamsters 117 and the Drivers Union. A second event for vaccine-eligible union members and drivers will take place next Saturday, April 3, from 9 a.m. to 4 p.m. at the Teamsters building in Tukwila. At next Saturday's event, the unions will be partnering with the Somali Health Board to administer the vaccine.
« Previous
Next »