Teamsters, Unions Praise Neal for Pension Work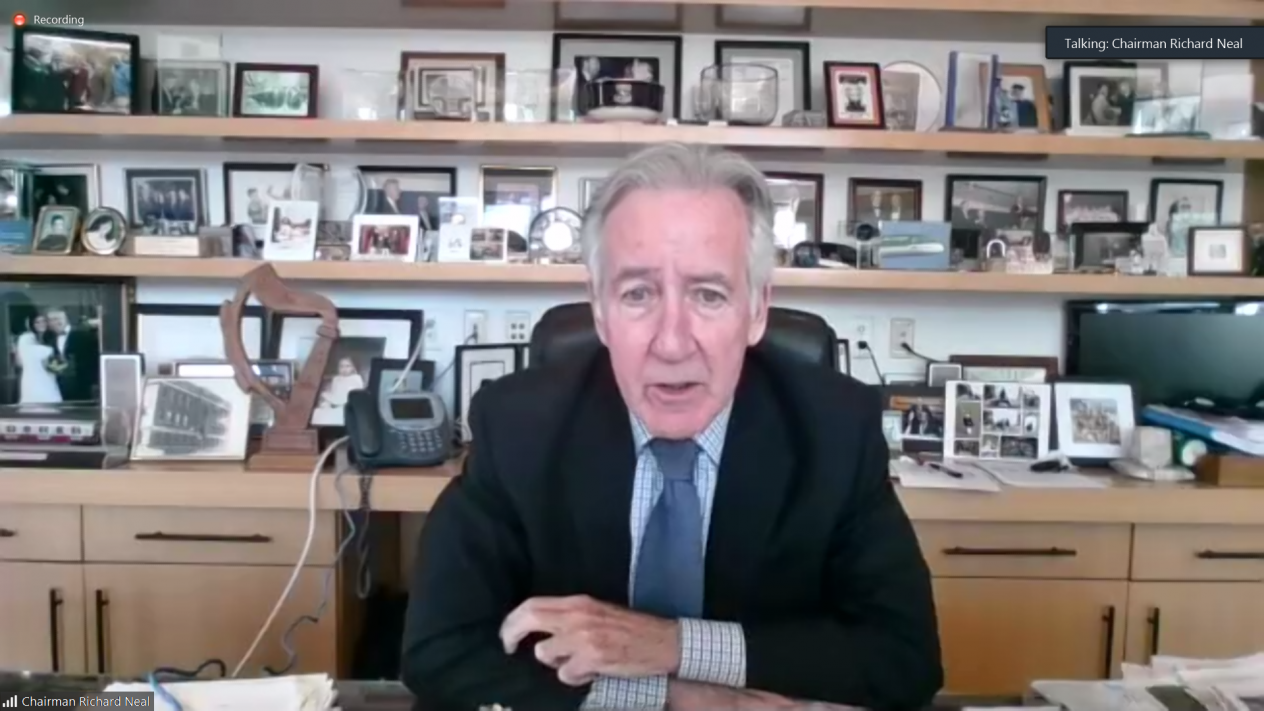 The Teamsters joined with other unions Tuesday in thanking House Ways & Means Chairman Richard Neal (D-Mass.) during a virtual meeting for his years of tireless work to ensure that the pensions of more than 1 million workers and retirees are protected for decades to come.
The online event hosted by the Teamsters was billed as a celebration, one that even some labor allies never thought would happen. Teamsters General President Jim Hoffa told attendees that after more than 20 years of fighting for multiemployer pension reform, it was incredible to finally have it fixed as part of the American Rescue Plan (ARP).
"We are really high on what happened here," he said. "What we did, what Richie Neal did, what we all did, they said it couldn't be done. But this wouldn't have happened if Richie Neal hadn't stayed on it."
Neal said the inclusion of the pension language in the bill was gratifying, especially when President Biden during a meeting at the White House earlier this year let him know he was behind the effort. But he said it meant the most hearing from affected retirees and their surviving spouses.
"I spoke to Rita Lewis a week ago, and she said it was the first time she had gotten a good-night's sleep in years," he said. "These pensions are secure and they are going to be there for those who need them with no cuts."
Other labor leaders chimed in to express their thanks for Neal's work. They said the inclusion of the pension provisions makes it clear that elected officials understand they need to listen to the concerns of hardworking Americans.
"When working people elected a new Senate this year, Chairman Neal and his colleagues delivered relief," AFL-CIO President Richard Trumka said.
Massachusetts-based workers and retirees also joined in to thank Neal for his efforts.
"I can't tell you how grateful I am for myself, my family and my brothers and sisters at Anheuser Busch," former shop steward and Local 122 retiree Joe Zuffante said. "It really shows what our forces can do when we work together."
Hoffa added that his phone has been ringing off the hook with calls from delighted members and retirees since President Biden signed the ARP into law on March 11, with many of them particularly pleased that they will see no cuts in their hard-earned benefits. Given many of these people are living on fixed benefits, that's essential.
"Most people are living on Social Security and their pension check," he said. "They can't afford cuts. But we got it done."
« Previous
Next »