Tenn. Teamsters Come Together to Fight RTW Amendment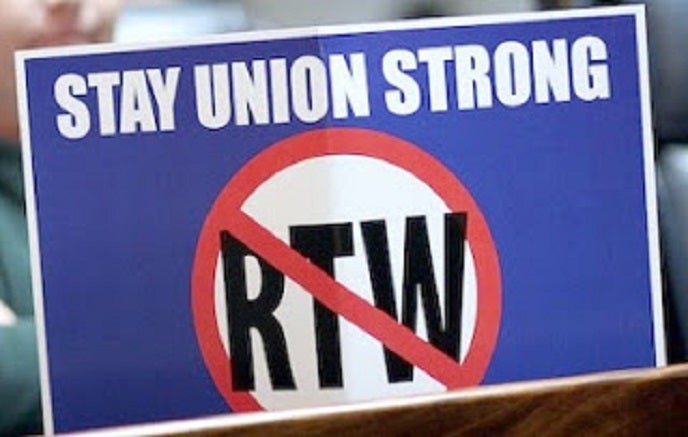 Tennessee Teamsters are joining with labor allies to fight a proposed state constitutional amendment that would enshrine so-called right to work in the document, even though the anti-collective bargaining measure is already law.
Local unions are engaging members through phone and Zoom calls, as well as texting and worksite visits. They are also empowering their stewards to get the word out about the effort and how it must be stopped. The Teamsters are noting that passage of HJR 72 is just a radical attempt to go after essential workers during a pandemic.
During a video call with statewide membership earlier this month, Teamster leaders and state Rep. London Lamar told attendees they need to contact lawmakers and spread the word about this no-rights-at-work amendment if they want to defeat it. And that means reaching out to people no matter their political affiliation.
"This constitutional amendment is no more than union busting," said Wes Trotterchaud, President of Local 519. "This isn't a Democrat, an independent or a Republican issue, it is a Teamster issue and it needs to be fought by the Teamsters. They are attacking us."
Local 480 President Lendon Grisham agreed, telling those on the call that union leadership alone cannot stop this from happening. "It is one of these issues that as your local leaders we can't do anything alone on this, but collectively we can do a lot," he said.
While the bill has passed the Senate, it must make it through committee hearings for a full vote on the House floor. Rep. Lamar urged members to contact legislative sponsors of HJR 72 as well as their own lawmakers to let them know they oppose the legislation. She also encouraged businesses opposed to the constitutional amendment to speak out against it. Teamsters can reach lawmakers by clicking here.
So why does Tennessee really need a constitutional amendment saying the same thing as current law in place since 1947? So big business interests can make it that much harder for workers to join together and negotiate for better wages, working conditions and benefits.
Don't let them do that to Tennessee workers!
« Previous
Next »