Harris, Rosen Applaud Teamsters' Role in Vaccine Rollout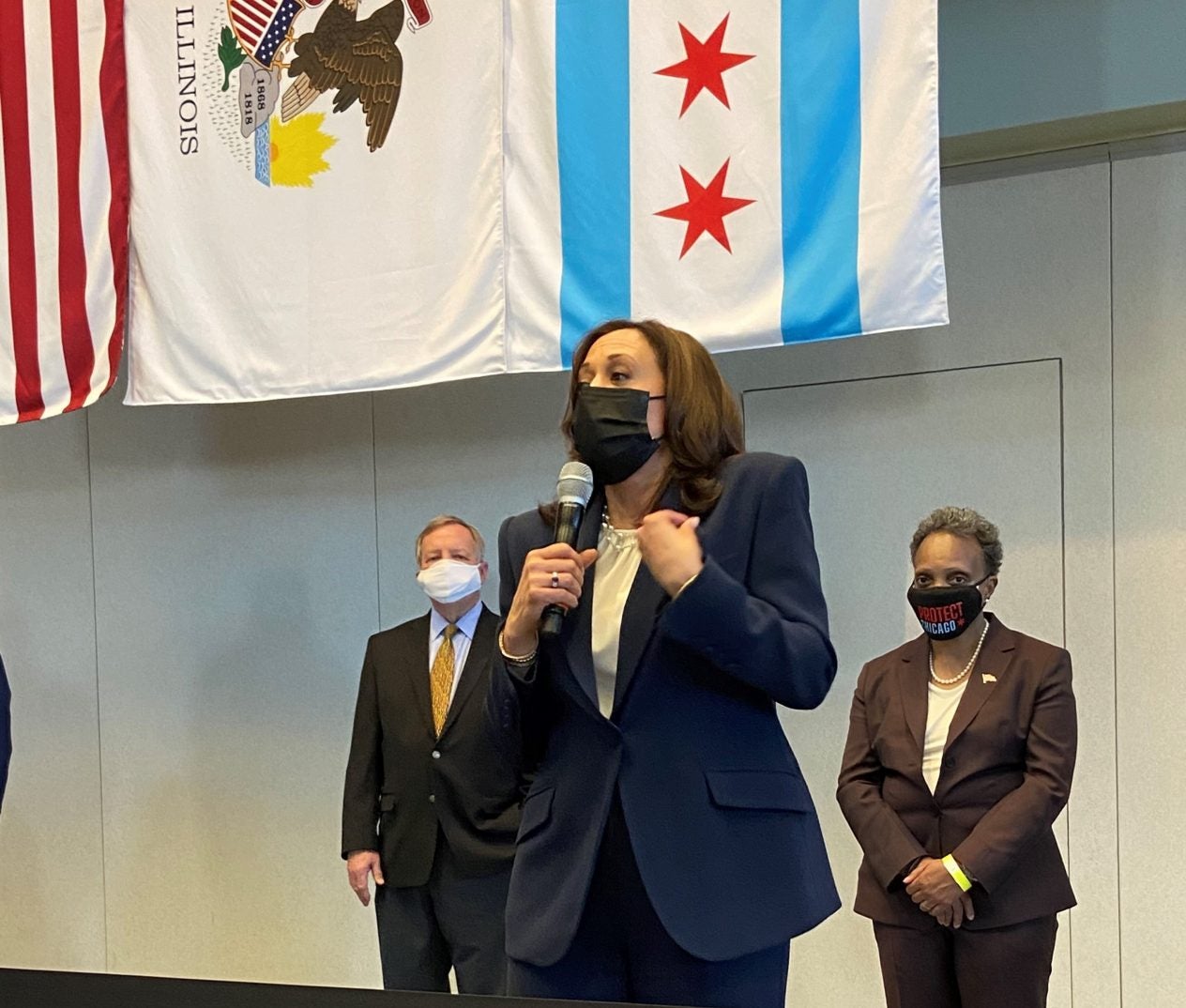 The Teamsters understand what is at stake when it comes to combatting the ongoing coronavirus pandemic. Teamsters have been working on the front lines during the pandemic, keeping our communities safe and our economy moving. The union is doing all it can to not only deliver the COVID-19 vaccine, but to create opportunities for members to be vaccinated as well. And those efforts are not lost on elected officials, who are noticing and giving thanks to the union.
Vice President Kamala Harris and Sen. Jacky Rosen of Nevada visited with Chicago and Las Vegas-area Teamsters, respectively, last week to get a better understanding of how union members are driving the vaccination process, whether through the vital distribution of the vaccine across the country or setting up vaccine clinics for union members and their families.
One example of the latter is in Chicago, where Teamsters Locals have coordinated with the Chicago Federation of Labor to organize a vaccine clinic geared toward union households. Vice President Harris visited the clinic along with Sens. Duckworth and Durbin as well Governor JB Pritzker and Chicago Mayor Lori LIghtfoot. Teamsters Local 727 Jewel-Osco pharmacists administered the Johnson and Johnson vaccine to their fellow union members. Some 1,200 immunizations have been given each day. The clinic will continue in the coming days both in Chicago and its suburbs and is open to members of Teamsters Joint Council 25 with an appointment.
"I am overwhelmed with pride when I think about how Teamsters Joint Council 25 members helped with the vaccine rollout during every step of the process, and continue to be an integral part," JC 25 President Terrence J. Hancock said. "Our Teamster drivers deliver the vaccine, our Teamster pharmacists administer the vaccine, and now we're partnering with the Chicago Federation of Labor to connect our Teamster frontline essential workers with access to the vaccine. No matter the task, Teamsters Joint Council 25 members get the job done!"
Meanwhile, in Las Vegas, Sen. Rosen met with Local 631 members at a UPS facility and learned about how the vaccine was been distributed. She spoke with the workers at the facility about operations and logistics needed to support vaccination efforts in Nevada and awarded drivers Bennie Harris Jr., a 35-year driver, and John Lemos, a 37-year driver, with a Certificate of Special Congressional Recognition for their hard work and dedication to their jobs during the ongoing pandemic.
"Vaccines are a key tool in our effort to overcome the COVID-19 pandemic," Rosen said. "This major public health initiative has been bolstered by the provisions I helped to secure as part of the American Rescue Plan, including over $6 billion in funding for the vaccine supply chain."
« Previous
Next »