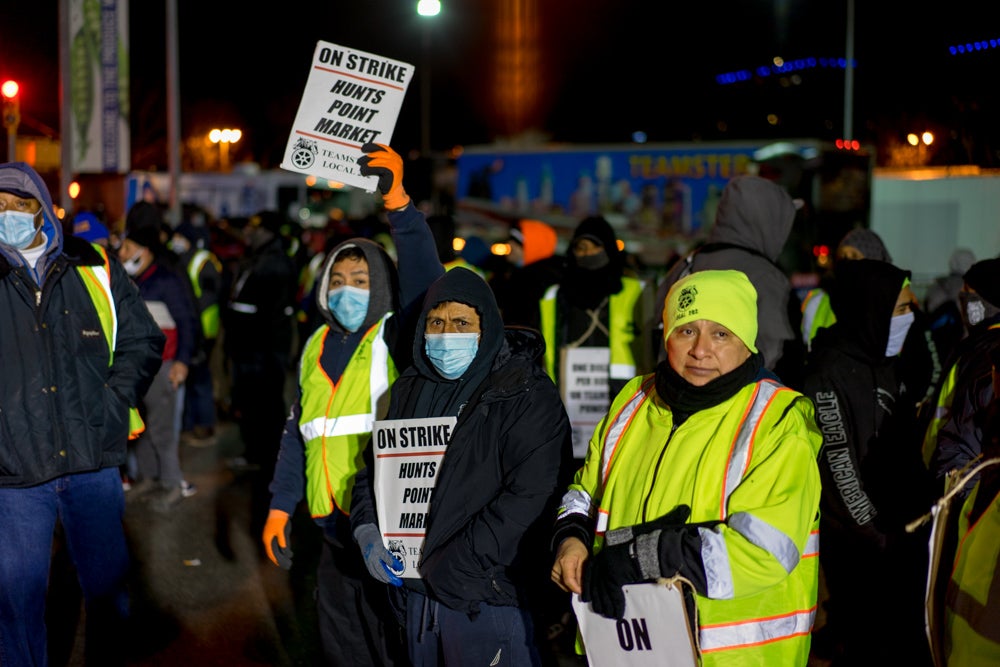 Hunt's Point Market in the South Bronx isn't just the beating heart of the food supply chain in the five boroughs. It's one of the most essential food distribution hubs on the planet.
The 1,400 workers at the market provide meat and produce to 22 million people in 49 states, including roughly 60 percent of the fruits and vegetables consumed in New York City alone.
When the pandemic hit New York City like a haymaker to the temple last March, Hunt's Point took a one-two punch: the near-overnight closure of the restaurant industry made supermarket demand skyrocket at a time when many truckers delivering produce didn't want to come to New York.
The facility was under pressure like never before and the members of Local 202 who worked there were shouldering the burden.
"Frontline workers can't telecommute, they can't phone it in," said Daniel Kane Jr., Local 202 President. "These folks didn't become essential during the pandemic. They have been essential forever."
The fight to get through the COVID-19 pandemic wasn't the last struggle the workers were going to endure, but neither was it the last they would triumph over.
'All We're Asking for is a Dollar'
As the pandemic dragged on and essential service workers were continuing to burn their candles at both ends of the stick more and more to keep the country moving, they started to be on the receiving end of more and more empty gestures of gratitude from their employers.
Hunt's Point was no exception. The company thanked the workers in a Facebook post on May 7, 2020:
"Even through the challenging times, the city never sleeps. Thank you to our incredible staff. Because of you, we can continue to supply New Yorkers with food—an essential we all need!"
Again, on June 18:
"Yesterday morning, NYCEDC, DSNY Commissioner Garcia, Bronx Borough DOT Commissioner Lopez, Bronx Borough President Ruben Diaz Jr., and Councilman Rafael Salamanca came to thank our businesses and employees for being essential workers during COVID19! Thank you to Local 202Teamsters for your support! #ThankYou #heroes #appreciationday."
Social media, however, rarely tells the whole story.
Toward the end of last year Local 202 went back to the bargaining table with Hunt's Point Market to re-negotiate their contract. It had been a rough year but they were optimistic that they would get what they were asking for—a raise of one dollar per hour.
The workers were shocked then, after all of the platitudes about essential service workers, the company came back with an offer of 32 cents hourly and a push to increase the workers' out-of-pocket health care costs.
"We worry about getting COVID and bringing it home to our family, but we still come to work," said Local 202 Member Gilbert Moldonado. "They always give us cents. All we are asking for is a dollar."
Conditions had never been tougher. Six Teamsters from the facility died because of COVID-19.
Nobody ever wants to go on strike, but Local 202 members at Hunt's Point knew that they were out of options.
"You got to have dignity with yourself, you got to get respect where you work," said Hunt's Point Worker Jeff Ratliff. "Sometimes you work for companies, and you're just like a machine to them. Nothing else. You're in this market more than you're home. Who wants to come to a house where you don't get no respect from your kids?"
Local 202 members Neiko Berry and William Brown agreed.
"With the pandemic, we fought our fears to feed our families and feed the city," Berry said. "Now we are fighting for what we are worth."
"Our bosses don't feel we're essential workers—we're only essential when they say we're essential," Brown said. "We're showing them that they need us."
'You're Not Just Asking for a Dollar'
Marching a picket line—during a brutal job market, in full view of your employer, in the freezing cold—is a proposition that would terrify most people. You wouldn't know that by talking to the workers who stood in front Hunt's Point in January.
"We have been out here breaking our backs every night, no matter rain or snow, sick or healthy, to support our family," said Local 202 member Gerson Castillo. "We were here during Hurricane Sandy and we're here during COVID. That's why we are fighting for a dollar."
Predictably, the company didn't make things easy for the striking workers.
One night, the NYPD was called and six people on the picket line were arrested. Workers were brought in to replace those had walked off the job, which Kane condemned in no uncertain terms.
"The people who didn't stand with us, they're always going to have that little twinge in their belly that they did the wrong thing," Kane said.
"Every one of you around here with each other is never going to have to feel that," he said. "Because when it was your time to stand up, you stood up and did the right thing. That's the power."
Support for the Hunt's Point Teamsters didn't just come from the union. A wide variety of community allies expressed solidarity with the workers, including elected officials like Rep. Alexandria Ocasio-Cortez and New York City Council Member Rafael Salamanca Jr., whose father was a Local 202 member at the Hunt's Point facility.
"I remember my dad coming in at three in the morning. I remember my dad coming home and talking about the struggles and how tired he was. But he was proud," Salamanca said. "You gave a Puerto Rican man with no education, which is my father, an opportunity. And my father was able to provide for my family. We got health care, he brought food to the table. And here I am today; this young man from the South Bronx, as a New York City Council Member because of Local 202."
On the day of President Joe Biden's inauguration, Ocasio-Cortez brought pizza to the striking workers and encouraged them not to give up their fight.
"When you're standing on this line, you're not just asking for a dollar," said Ocasio-Cortez. "You're asking for transformational change—for your lives and for the lives of every food worker across this country; for the kids of food workers across this country."
South Bronx Success Way
After the militant display of strength from workers, pressure from elected officials and the operational calamities a business endures when their workers strike, Hunt's Point Market went back to the table and met the workers' demands.
Hunt's Point Teamsters ended up getting more than $1 per hour in the long run; the agreement contains a $1.85 raise over its three-year duration with no increases in out-of-pocket health care costs. After the contract ratified, workers celebrated with a rally.
With the pandemic putting workers' rights in the limelight, Local 202 Vice President and Hunt's Point worker Leonardo Servedio said the strike could be a catalyst for a new generation in the labor movement.
"They must know the struggle of their forefathers and ancestors from whatever country they come from, that came to America and suffered," Servedio said. "And they worked hard, and they built the American dream. Without struggle, there is no reap. And that's what they have to understand. These young people today came here, and they absorb that knowledge. And now we're going to start to create a movement. It's called the new labor movement."
« Previous
Next »