Teamsters Hold National Day of Action at Stericycle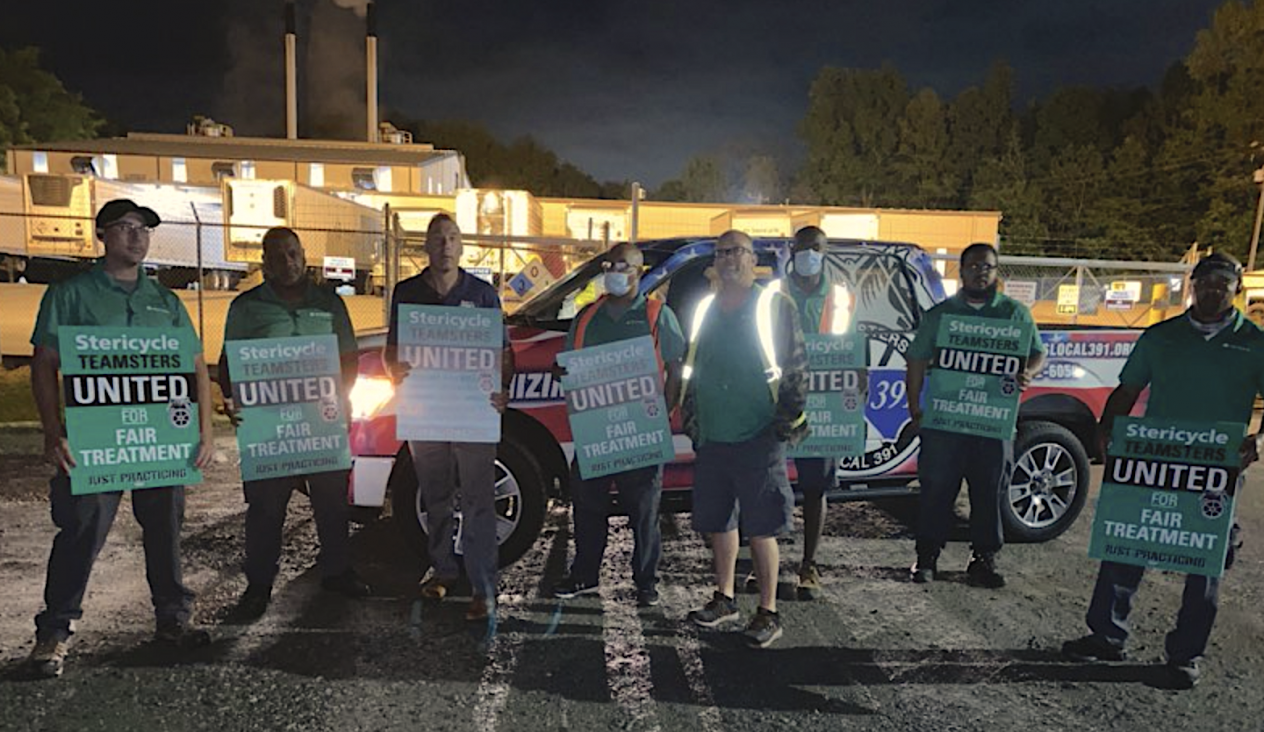 The Teamsters are stepping up their efforts at Stericycle, Inc., and its subsidiary, Shred-it, Inc. Yesterday, at locations across the country, workers stood together to protest workers' rights violations at both companies.
In Ohio, North Carolina and Rhode Island, Teamsters represented by Locals 377, 391 and 251, respectively, held practice pickets to demand the company stop violating workers' rights.
The Teamsters filed unfair labor practices (ULP) charges at the National Labor Relations Board (NLRB) for workers at all three locals and have spent the last several months fighting to win respect at the bargaining table.
"The company continues to deny us the respect we deserve, and certain management in Ohio is quick to follow their lead. It doesn't take much to show appreciation for workers. A little appreciation goes a long way. All we want is fair shake," said Casey Dominic, a 12-year driver at Stericycle and Local 377 member.
Dominic and his co-workers pick up and process medical waste from health care facilities in Northeast Ohio and Western Pennsylvania at the company's Warren, Ohio facility. Their contract expired in October, but Stericycle has delayed negotiations and only offered sporadic bargaining sessions via Zoom.
"We signed up for this job. Did we think we'd be having to work during a pandemic? Of course not. But if it's a normal workday for us, it should be a normal workday for everyone at this company. And we deserve negotiations to resume so we can secure a fair contract," Dominic said, noting that throughout the pandemic, Stericycle workers have been on the front lines handling biomedical waste—a crucial and dangerous job long before COVID-19 put workers' health and safety at even greater risk.
In North Carolina, Local 391 members who work at Stericycle also called on the company to bargain a fair agreement. Since voting for Teamster representation last year by a more than three-to-one margin, workers at the company's Haw River, N.C. facility have stood strong in the face of anti-union tactics from the company to secure a first contract.
"Before organizing with the Teamsters and becoming an active part of the Teamsters Solid Waste and Recycling Division, Stericycle workers in North Carolina needed a voice on the job," said Gregory Burnette, a route driver at Stericycle for nine years. "Now, the power of the Teamsters is on fully display during contract negotiations with Stericycle."
In Rhode Island, Local 251 held protests at two recently organized units at both Stericycle and Shred-it. During both organizing campaigns, the company attempted to misinform, intimidate and retaliate against workers for exercising union rights.
"We want our voices heard and we will keep standing strong for what's right. We want to be treated fairly and will work together for a fair contract," said Chris LaFlamme, a 23-year driver at Shred-it and active committee member for Local 251. "We had a great turnout today, and we showed the company that the Teamsters aren't backing down from our fight."
Following a September 30 organizing win for Stericycle workers in Woonsocket, R.I., LaFlamme and his co-workers at Shred-it's Pawtucket facility moved quickly to follow suit to secure representation with Local 251. On February 12, the 20-worker unit voted overwhelmingly to join the Teamsters Union. Since then, Local 251 has been bargaining for a first contract for both units and has seen all the anti-union tactics used by the same management in both locations.
"It is unconscionable that in the midst of a global pandemic, waste workers have to protest to demand the most basic union rights all workers deserve," said Chuck Stiles, Director of the Teamsters Solid Waste and Recycling Division. "I am both immensely proud of the workers protesting nationwide today and saddened that they even have to. We urge Stericycle to take notice of these demands immediately."
Stiles noted that the Teamsters Solid Waste and Recycling Division is also increasing their organizing efforts at both companies. On April 22, Shred-it drivers and helpers in Tenton, N.J., overcame an aggressive anti-union campaign from management to become the fifth Stericycle-owned facility organized by the Teamsters in the past two years by voting for representation with Local 469 in Hazlet, N.J.
"The success we are seeing in organizing has made the need for a union voice at Stericycle all the clearer. By growing our numbers and building union density throughout North America, the pressure will only increase," Stiles said. "The Teamsters campaign at Stericylce is a fight for worker justice and our members are united when it comes to holding this company accountable."
« Previous
Next »