Teamsters Mourn the Death of Corporal Keith Heacook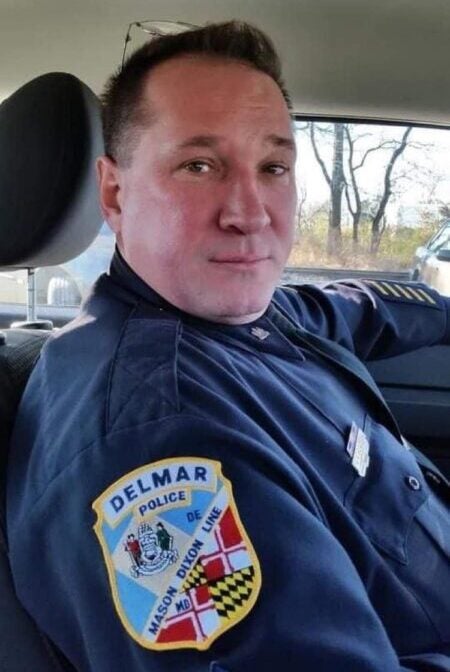 The Teamsters Union is mourning the death of Corporal Keith Andrew Heacook, a 22-year veteran with the Delmar Police Department and member of Local 326 in Delaware. On the morning of April 25, Cpl. Heacook made the ultimate sacrifice in the line of duty when he was attacked while responding to a domestic disturbance call. He died from his injuries on April 28.
"Keith always answered the call. He was selfless—a hard worker who was deeply devoted to his family. I don't know how he did all that he did, and how he always kept a smile on his face while doing it. Keith believed in living life to the fullest. He was a great guy, and he will be deeply missed." said Cpl. Ron Marzec, a friend, co-worker and fellow member of Local 326.
Cpl. Heacook joined the Delmar Police Department in 1998 and proudly served his community for more than 20 years. He believed deeply in his oath to protect and serve the community, and he viewed the members of the Delmar Police Department as part of his extended family.
When off-duty, Cpl. Heacook worked as an accomplished carpenter and countertop fabricator and was happiest when spending time with family and friends. He was the biggest supporter and best friend to his 12-year-old son, Matthew. He was also a devoted son to his mother, Anita, and known for his unwavering commitment to his wife, Susan.
"Keith took care of his mother and visited her daily. He was a dedicated husband and father. He loved riding motorcycles, attending his son's baseball games and traveling to the beach with his wife. He also cared deeply about the people of Delmar and was beloved by all who knew him. The outpouring from the community has been spectacular," Marzec said, noting that Cpl. Heacook remained on life support so his organs could be donated. "His adamant last wish was to donate his organs so that others may live. Even in passing, Keith is helping others and saving lives."
A full police procession was held for Cpl. Heacook earlier this month with first responders and local residents lining the route. Thousands of Delmar residents came out to show their respect at his funeral on May 10.
"Cpl. Heacook was one of those guys who wanted to live life to the most and get the most out of it. He looked out for everybody. When his unit organized with the Teamsters four years ago, he was an active supporter who wanted union representation to make things better for the people coming up," said Local 326 Secretary-Treasurer Paul Thornburg.
"Teamsters Local 326 is deeply saddened and grieving over the loss of Teamster brother Keith Heacook. No words can describe what this loss means to the union and the entire Delmar community. While our thoughts and prayers are with Cpl. Heacook's family, friends and co-workers, we know that thoughts and prayers aren't enough, and Local 326 will never back down in our fight to ensure our members in law enforcement are protected," said Local 326 President Joe Smith. "Cpl. Heacook will be remembered by our union as a courageous officer, a devoted family man and a loyal union member."
On Friday, the Teamsters Public Services Division paid tribute to those who died in the line of duty during the Teamsters Law Enforcement League Conference. Cpl. Heacook was among those honored during the virtual webinar.
"As the union for more than 30,000 members in law enforcement, the Teamsters mourn the tragic death of Cpl. Heacook. We extend our condolences to his loved ones and the whole Delmar community," said Jason Rabinowitz, Director of the Teamsters Public Services Division. "Cpl. Heacook's senseless death strikes a deep chord in all of us and reminds us of the tremendous risks and sacrifices that our members in law enforcement take every day. The Teamsters Union stands in solidarity with the brave men and women who protect us and keep our communities safe."
Local 326 is collecting donations for a fund that was set up by the Town of Delmar for Cpl. Heacook's family. If you would like to donate, please make the check out to Delmar Police/Heacook Family Fund and mail to Teamsters Local 326, 451 E. Churchmans Rd., New Castle, DE 19720.
« Previous
Next »