Colorado Teamsters Unite to Say No to Amazon in their Backyards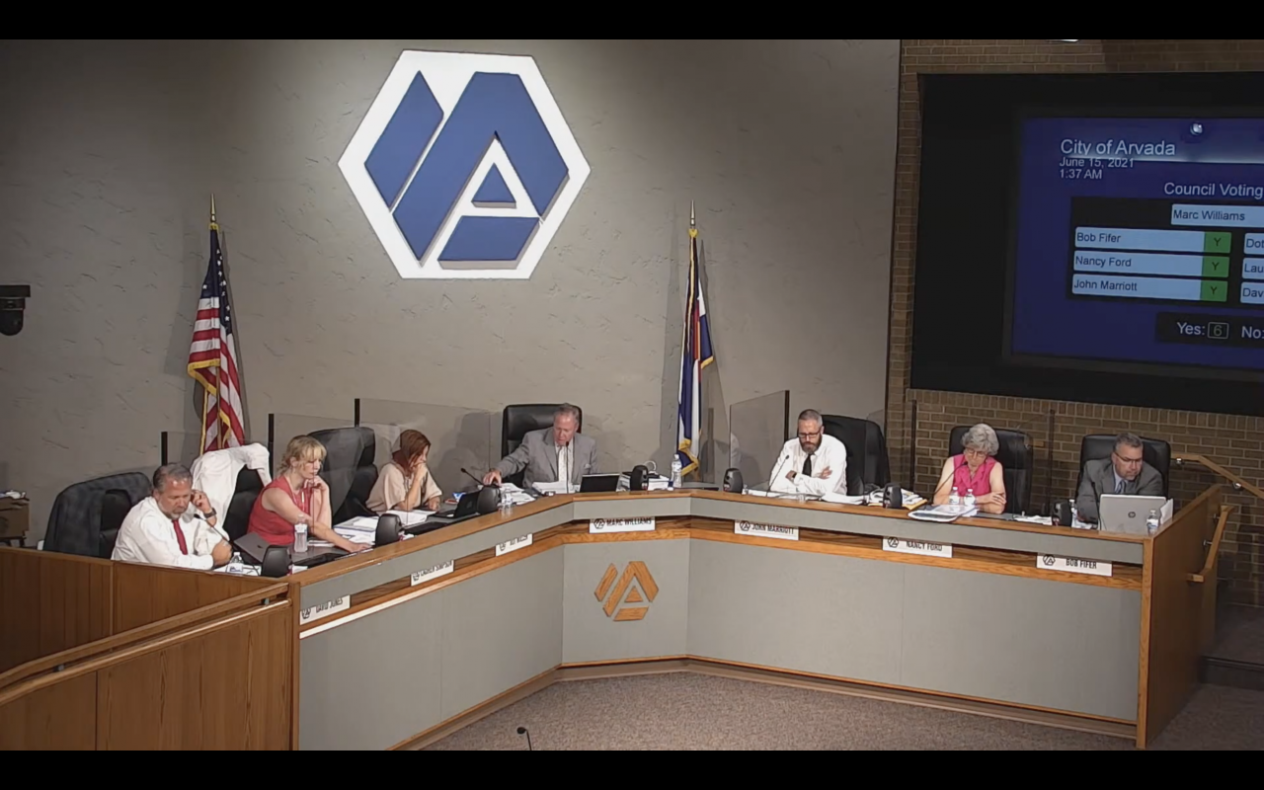 When residents in the Colorado town of west Arvada learned that an Amazon delivery station was being proposed for a site near beloved recreational areas, they started organizing to stop the project from moving forward. Community members were deeply concerned that the proposed 100,000+ sq. ft. facility would bring far more traffic than projected, and air and noise pollution that would become untenable for residents. On June 15, after bringing forward 9,800 petition signatures and hundreds of public comments against the project, Arvada residents claimed victory when Arvada City Council voted to reject a proposal that would have paved the way for Amazon's project.
Over 100 members of Teamsters Local 455 live in Arvada, many of them working at UPS. With Amazon increasingly becoming a competitor with absolute control of both warehousing and delivery operations, Local 455 members came out in full force on City Council's deciding day. Many of them spoke as both proud residents and proud Teamsters. Dan Murphy, a Teamsters Local 455 Business Agent who has lived and raised his family in Arvada for 20 years, was one of the hundreds who spoke in public comment, united in their opposition to the facility. Murphy spent his allotted time dispelling Amazon's low-ball claims on traffic estimates.
"Don't believe these people. They're not being honest," said Murphy, explaining that his long experience representing UPS members gave him insight into the flaws in Amazon's presented analysis. "They don't care about this neighborhood. They don't care about these people. They care about making money and that's all they're about."
Teamsters joined thousands of neighbors who had organized on local issues like traffic congestion, air quality and quality of life issues that typically come with Amazon's developments.
Kevin Potter, a Teamsters Local 455 business agent told City Council he was proud to stand with community allies and began listing the myriad issues that both workers and communities face. 
"Look at the turnover rate. Look at the accidents. Look at the families that will be put at risk. Mine included," Potter said. "Everybody here that drives the streets of Arvada. Shame on Amazon."
These on-the-ground efforts were bolstered by a letter sent to the city by Teamsters Local 455 Secretary-Treasurer Steve Vairma prior to City Council's vote, which used expert analysis of local zoning law to spell out distortions made by Amazon's developer on the community impacts that could arise from the development. Vairma said the project "should compel significantly more transparency" due to its size and scope of operations and that the current proposal lacked any meaningful checks on the company. Ultimately, Vairma announced that Teamsters Local 455 called on the City Council to reject an annexation of land that would facilitate the construction.
Teamsters and community allies were able to breathe a sigh of relief once the City Council voted 5-2 to not move forward with the proposal on June 15. By stepping up as Arvada's foremost defenders of working families, and highlighting Amazon's low-road approach to labor standards, Teamsters forged stronger bonds for future fights ahead. Teamsters Local 455, like other Teamster locals all across the country, is building the deep-rooted community and worker power we'll need to continue pushing back on the Amazon threat on every level, including the crucial first steps in the development process.
« Previous
Next »