Local 690 Members at St. Joseph Regional Medical Center Ratify First Teamster Contract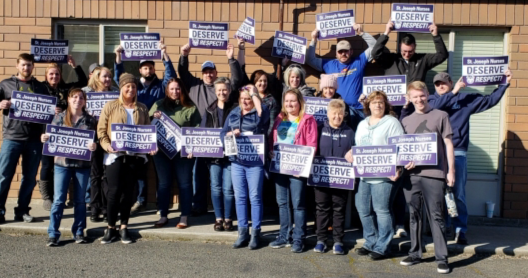 Registered Nurses in Lewiston, Idaho Secure Excellent Three-Year Agreement After Nearly Two Years Fighting for a Union Voice
(LEWISTON, Idaho) –Registered nurses at St. Joseph Regional Medical Center in Lewiston, Idaho, recently ratified a strong three-year agreement after nearly two years at the bargaining table. The group of 237 registered nurses are members of Local 690 in Spokane, Wash.
In addition to negotiating pay increases every six months for the duration of the three-year agreement, Local 690 was able to secure improvements to grievance procedure, job bidding and staffing levels. The contract also protects the registered nurses' current working conditions and benefits.
"We are all very happy with what we have accomplished in this new contract. Under this new agreement, nurses at St. Joseph will have a stronger voice to make sure our patients receive the excellent care they deserve," said Joe Thon, a 16-year registered nurse at St. Joseph Regional Medical Center. "We also addressed job security and protection of our benefits. We want to thank Local 690, the Teamsters Health Care Division and the entire labor community for supporting us throughout this campaign."
Thon and his co-workers at St. Joseph Regional Medical Center first approached the Teamsters about forming a union in early 2018. On April 11, 2019, Lewiston nurses voted overwhelmingly, by a more than 4-1 margin, for representation with Local 690.
"We are proud of what we have achieved in this agreement. This contract will provide nurses at St. Joseph with the security they have long been seeking," said Larry Kroetch, business agent for Local 690. "I want to thank our bargaining committee for working tirelessly throughout the bargaining process. They fought the good fight, and they got the job done."
Kroetch praised the unit for their solidarity throughout the 22-month campaign for a union voice at St. Joseph. Earlier this year, the Lewiston nurses nearly went on strike to protest the pace of negotiations. In March, nurses rallied with labor allies and ally organizations, displaying signs in their cars with slogans such as "I don't want to strike … but I will."
"I am proud of the resolve and determination St. Joseph nurses have shown throughout the organizing and contract campaigns. This was a long, tough fight, but and these workers stuck together and never wavered. The contract language in this agreement will ensure that nurses are protected for the next three years, and it will also allow for them to continue gaining in the future," said Val Holstrom, Secretary-Treasurer of Local 690. "I want to thank Teamsters Health Care Division Director Nina Bugbee for being a constant source of support throughout this campaign. Her advice was invaluable, and her support was crucial throughout the organizing and bargaining effort."
"St. Joseph nurses knew they needed a powerful union representing them. As Teamsters, they now have the backing of the most powerful union in North America to continue making improvements to their lives as well as the lives of their patients," said Nina Bugbee, Director of the Teamsters Health Care Division. "I want to congratulate these nurses on a terrific first Teamster contract and thank them for their strength and solidarity throughout the past two years."
« Previous
Next »