Teamster Member Dan Gross to House Members: 'The threat to the industry I work for is Amazon'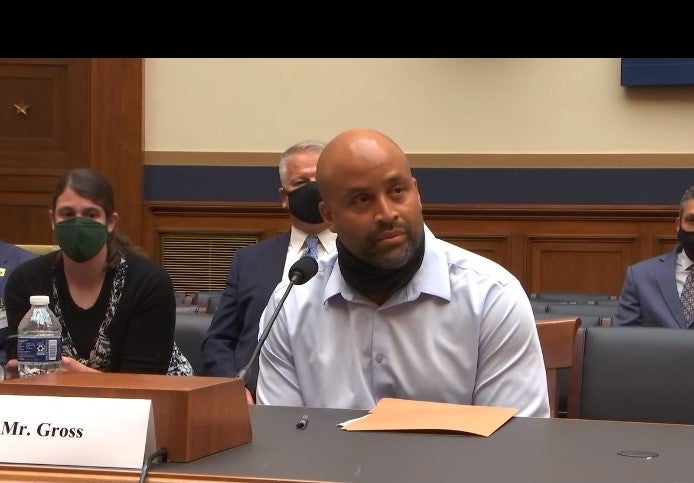 Local 177 member and UPS Feeder Driver Testified Last Week to a U.S. House Judiciary Subcommittee About the Importance of Antitrust Reforms for American Workers
(WASHINGTON) — In a hearing last week, titled, "Reviving Competition, Part 4: 21st Century Antitrust Reforms and the American Worker" held by the U.S. House Judiciary Subcommittee on Antitrust, Commercial, and Administrative Law, UPS feeder driver and Teamsters Local 177 member, Dan Gross, urged Congress to pass antitrust laws addressing the excessive power that large, powerful corporations, like Amazon, have over their workers.
"I've seen firsthand what large corporations try to get away with due to corporate greed when workers don't have a collective voice to demand decent pay and working conditions," said Gross to members of the Subcommittee. "My union has provided that collective voice at UPS for nearly a hundred years. Unfortunately, our standards and those of the hundreds of thousands of United States Postal Service workers are also under attack by a new type of company, a company that uses its dominant presence in e-commerce to exert power over its contractors and its workers. The threat to the industry I work for is Amazon."
Gross described how he's built a career and supported his family at UPS by using his seniority and progressing from a part-time job to various higher-paid full-time jobs, all with health insurance and a retirement plan under his union contract. He contrasted his experience with what he sees daily among the subcontractors and independent contractors Amazon relies on for its network.
"Amazon uses drivers that are paid varying rates that are below industry standards, possibly by as much as half, even before benefits are factored in. I have even been told that sometimes Amazon restricts the ability of the so-called independent contractors to carry backhaul loads, forcing them into non-paying empty loads on their return trip."
And for Amazon's last-mile delivery network, he added: "While the drivers are in Amazon-branded vehicles and now wear Amazon colors, they are not Amazon employees but employees of one of the nearly 1,000 Delivery Service Partner ("DSP") contractors. These DSPs work solely for Amazon. Amazon set up this system to exert total control while shifting all their risk and responsibility onto the smaller businesses and of course workers."
He also spoke to Amazon's dominant position as an e-retailer and how that power enables Amazon to dictate terms in business relationships over small businesses like its captive DSPs and large contractors like the United States Postal Service and UPS.
He concluded by encouraging lawmakers to consider antitrust policy reforms that help to rebalance the unilateral power that corporations like Amazon have over labor markets and said, "If we don't do something now, workers will be forced into dead-end, unsafe, and high turnover jobs, instead of enriching careers that allow our families to thrive."
The testimony comes after the Teamsters passed a historic resolution at their national convention in June, committing members and all levels of the union to address the existential threat of Amazon to all workers in the logistics industry.
Gross also answered questions from Subcommittee members, including House Judiciary Chairman Jerrold Nadler of New York, and Representatives Matt Gaetz and Val Demings of Florida, Lucy McBath of Georgia, Jim Jordan of Ohio and Dan Bishop of North Carolina.
« Previous
Next »