Teamsters Hold Day of Action at Stericycle and Shred-it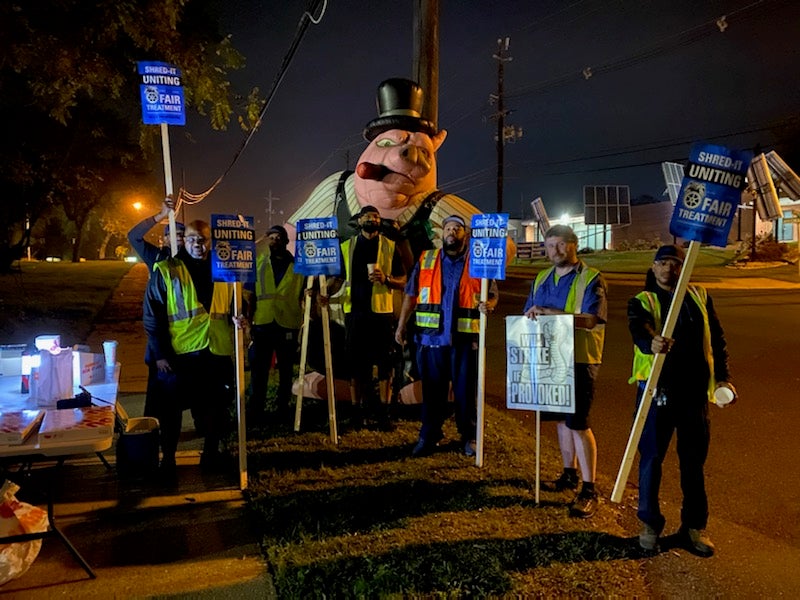 Stericycle and Shred-it Workers in New Jersey, Ohio and Rhode Island Take Part in National Protest for Respect and a Fair Contract
On Monday, Oct. 4, workers at Stericycle, Inc., and its subsidiary, Shred-it, Inc. took part in a worker-led national day of action to demand respect and dignity on the job. Teamsters at both companies are currently in negotiations and represented by Local 377 in Ohio, Local 251 in Rhode Island and Local 469 in New Jersey.
Workers came together in the early morning hours Monday at Stericycle locations in Woonsocket, R.I. and Warren, Ohio; and Shred-it locations in Pawtucket, R.I. and Lawrenceville, N.J.
"We're going to do this together. We're all going to get a contract, and we're going to go to work happy," said Joe Cappite, a six-year plant operator at Stericycle and member of Local 377 in Youngstown, Ohio. "It's not a matter of if we get it, it's a matter of when we get it."
The Teamsters Solid Waste and Recycling Division has launched a union-wide campaign to organize Stericycle and Shred-it workers throughout the U.S. and Canada.
"Throughout the pandemic and long before, Stericycle failed to support its essential frontline waste workers," said Chuck Stiles, Director of the Teamsters Solid Waste and Recycling Division. "What Stericycle doesn't understand is that our demands for respect are also a demand for public health and safety. These workers protect America, and they called on us calling on them to support us and ensure they are treated fairly under a strong Teamster contract. It's time for this company to stop dragging its feet and meet at the bargaining table to negotiate a fair deal."
Sanitation work is considered one of the most dangerous jobs in the country, and even more so during the COVID-19 crisis, Stiles noted.
"Stericycle workers perform one of the most dangerous jobs in the private waste industry, especially during the pandemic, handling and disposing of hazardous biomedical waste," Stiles said. "The Teamsters Union is fully behind them in their fight for a better, safer and fairer worker place."
Since October 2020, the Teamsters Solid Waste and Recycling Division has organized workers in New Jersey, New York and Rhode Island. Just last month, workers in New York City became the fifth unit at Stericycle and Shred-it to join the Teamsters in less than a year, voting for representation with Teamsters Local 813.
« Previous
Next »