Teamsters Ballot Count Underway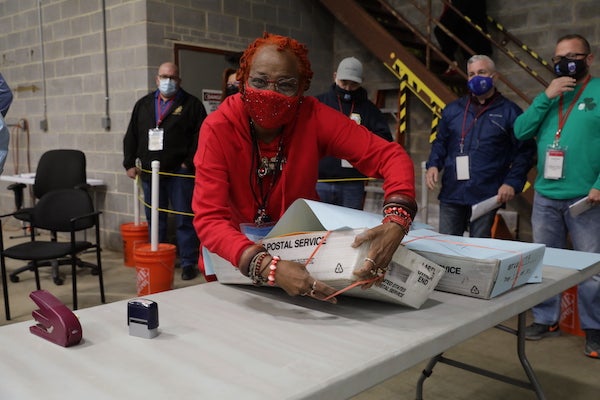 (Alexandria, VA) Ballots in the Election of International Union Officers are being counted this week by the independent Office of the Election Supervisor at a warehouse just outside of Washington, D.C. Teamster members from across North America returned 189,335 ballots. Teamsters Communications staff spoke with the Election Supervisor, Richard Mark, about the count. Here's what he had to say:
TC: We are in day two of the ballot count, how are things going?
RM: Things are going very well. We counted about 17,000 ballots on the first day. It's always a little slow getting started but once people get into they rhythm the pace picks up and we should easily finish by the end of this week.
TC: What kind of staffing does it take to run the Teamsters election count?
RM: We have two levels of staff. There are people who work for the election office throughout the cycle who come in from around the country to supervise the count. Then we hire several hundred temporary workers from the local area to actually open the ballots, extract them and run the count machines.
TC: This is your fourth election as Election Supervisor, how have you adapted over that time with technology?
RM: We have moved from using pure paper to a lot more database usage for the membership database. We have a system using iPads to track each local at each stage of the process so that we know where it is – are they being checked for eligibility, are the envelopes being slit, are they being extracted or are they being counted. We know where every local is at every point on the floor and technology has helped us be more on top of that than just shouting across the room.
« Previous
Next »