Biden, Congress Helped Fuel Worker Policy Wins in 2021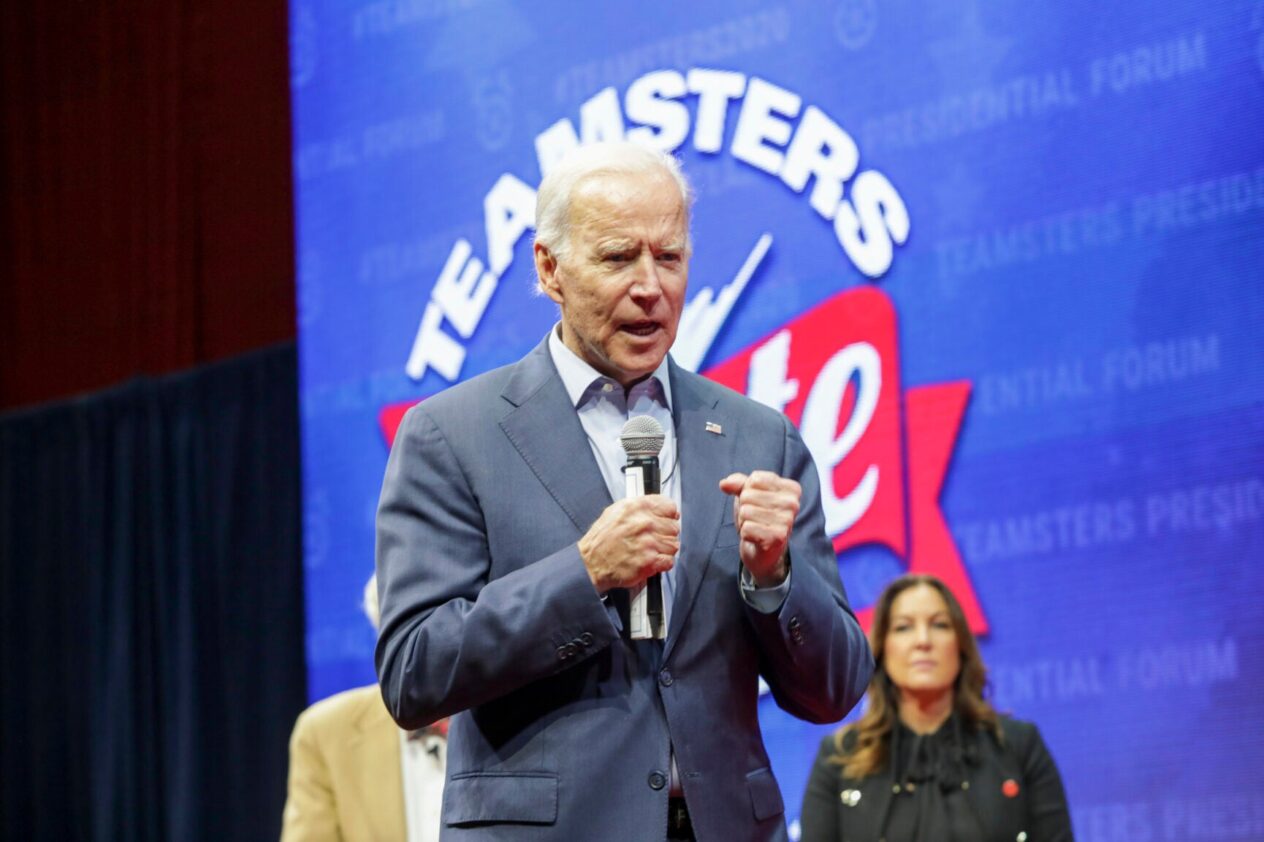 This past year has been a time of real progress for Teamsters and working Americans. Thanks to the hard work of Teamsters, President Joe Biden and pro-worker candidates were elected to the U.S. House and Senate in 2020. Since they took office, Teamster pensions have been saved, unions have been encouraged and good, safe, union jobs have been created and protected. That's not something Teamster members should forget or take for granted moving forward into 2022.
From the jump in early 2021, the White House with help from allies in Congress began delivering on an aggressive agenda that included the priorities in the Teamsters' Build Back Stronger program – good jobs, secure pensions and strong unions. None of these was a bigger, more long-fought win than saving the faltering multiemployer pensions plans, a years-long effort affecting some 1 million workers and retirees nationally.
For far too long retirees, active union members and their families faced an uncertain future when it came to their retirement. Through no fault of their own, Teamster retirees were told the pensions they had paid into were likely going insolvent. Despite this looming crisis, previous administrations and some congressional leadership sat on their hands.
But within the first 52 days in office, President Biden and the Democratic Leadership took bold, decisive action. The American Rescue Plan passed by Congress and signed by President Biden included the Butch Lewis Emergency Pension Protection Act, which brought relief to retirees in more than 200 multiemployer pension plans teetering on the edge of financial disaster. Eligible plans will be fully funded thanks to funds coming directly from the U.S. Treasury Department in the form of grants which would not need to be repaid. Plan participants will receive 100 percent of their earned pension benefits.
The efforts to lift up hardworking Americans didn't stop there. President Biden and congressional leaders also rose to the occasion when it came to putting policies in place that helped workers during the ongoing coronavirus pandemic.
That included ramping up production of personal protective equipment under the Defense Production Act; issuing stimulus checks and tax credits that put more money into workers' pockets; expanding unemployment benefits; providing funds to state, county and local governments that employ hundreds of thousands of Teamsters, preventing furloughs and cuts to pay and benefits; and making funds available to Teamster industries directly affected by COVID restrictions like tourism, airline, rail and passenger transportation.
Similarly, the Biden White House leveled the playing field for workers by appointing officials like fellow union member Marty Walsh to U.S. Labor Secretary and new members of the National Labor Relations Board (NLRB) who would stand up for their interests. President Biden also created the Task Force on Worker Organizing and Empowerment, chaired by Vice President Harris and Secretary Walsh, to promote organizing and collective bargaining.
As a result, in the first 100 days of the Biden Administration, the Walsh labor department overturned Trump era rules that made it easier to misclassify employees and weakened joint employer protections. And the NLRB has more teeth than ever before, issuing a number of directives such as an expansion of damages so workers are truly made whole and ordering a company to recognize and bargain with the union.
Finally, Teamster members will benefit not only from the union jobs created by the Infrastructure Investment & Jobs Act but from the improvements to their communities. That includes a historic investment of more than $110 billion into building and repairing roads with union labor; $29 billion to upgrading drinking water and clean water programs with American-made materials; prioritizing registered apprenticeship programs supported by unions; and $150 million that will benefit Teamsters working in rail, air, roads and ports.
Those are the kind of accomplishments Teamsters can get behind and that's just the beginning!
« Previous
Next »