Striking Republic Services Teamsters Continue Picket Line Extensions in Seattle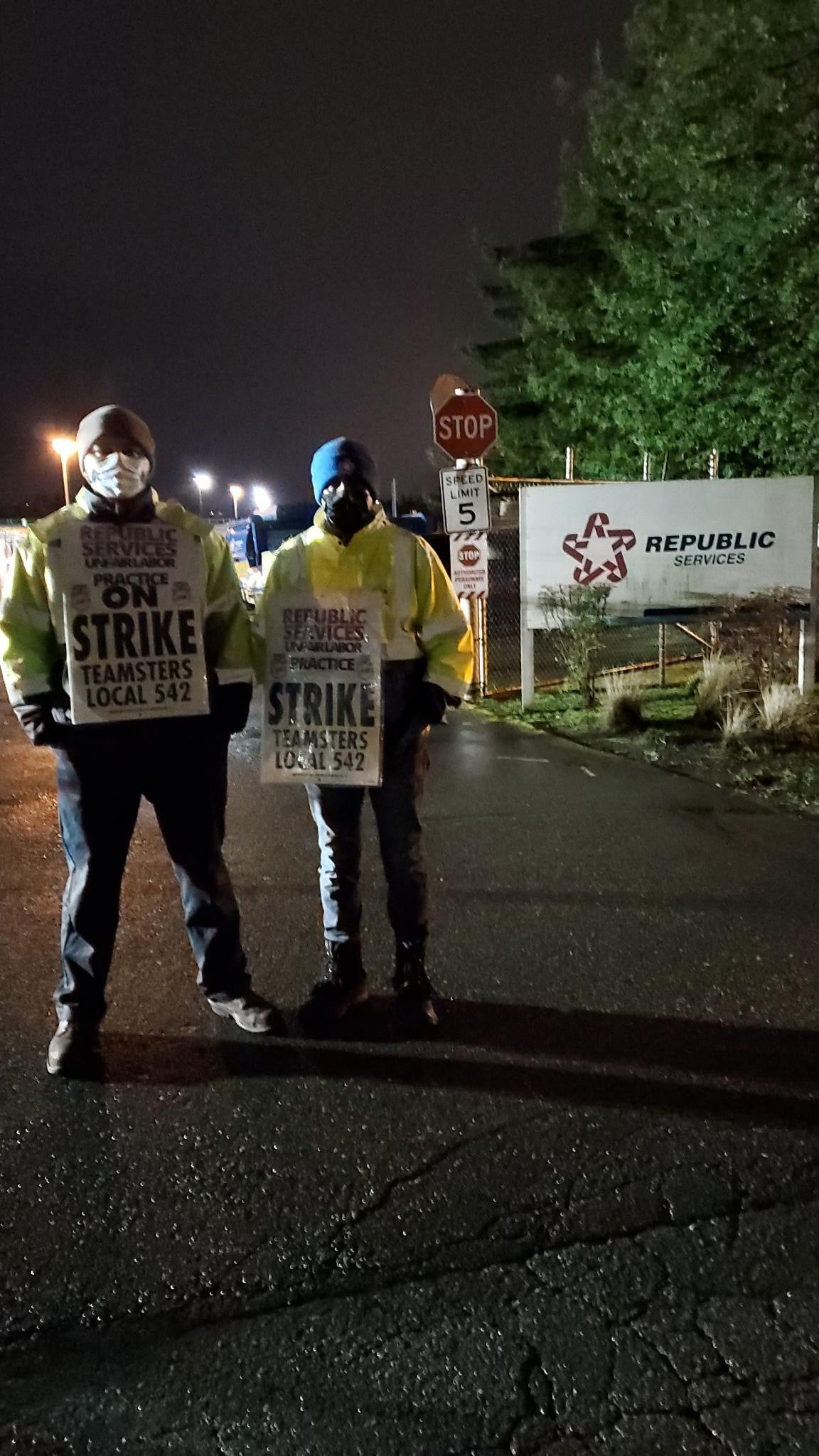 Workers from Republic Services facilities in San Diego and Chula Vista, Calif. put up picket lines at four Seattle-area locations for second day in a row
(SEATTLE) – Sanitation workers on strike at Republic Services [NYSE: RSG] in the San Diego area arecontinuing their picket line extensions at four Republic facilities in Seattle, Bellevue, Lynwood and Kent, Wash. today. Over 300 Teamsters who work at these trash and recycling facilities are refusing to cross the picket line.
Today marks the second day in a row that these Republic Services facilities have been shut down. Some of the cities the company serves include Bellevue, Hunts Point, Medina, Kenmore, Lake Forest Park, North Bend, Auburn, Sammamish, Kent, Renton, Covington, Maple Valley, Black Diamond, Lynnwood, Monroe, Edmonds, and commercial recycling disposal in the City of Seattle.
Over 250 workers at the $10 billion corporation's San Diego and Chula Vista facilities who are members of Teamsters Local 542 went on strike on December 17, 2021.
"The equipment is sitting here and our members are ready to go if the company will bargain fairly for a good contract," said Jaime Vasquez, Secretary-Treasurer of Teamsters Local 542 in San Diego. "When the trash piles up, that hurts our communities and the neighborhoods that our members live in, too. This doesn't have to be happening – in our opinion, the County should look into whether it can declare a state of emergency and take over Republic Services' equipment. Republic is effectively a middle-man sucking taxpayer dollars out of the County in order to enrich its shareholders like Bill Gates. Our members would be happy to work for the County directly and go back to providing this public service to everyone"
Republic Services is the second-largest trash collection and landfill corporation in America. In 2020, Republic Services earned over $10 billion, with $1.2 billion in net profit, while its CEO's total compensation totaled over $12 million. Republic's largest shareholder is Microsoft founder Bill Gates, and Gates' investment advisor sits on Republic's board of directors. Last week, Republic gave its board members their annual compensation of hundreds of thousands of dollars in cash and stock.
Chuck Stiles, Director of the Teamsters Solid Waste and Recycling Division, said, "This strike and these extensions show a pattern of disrespect that Republic has for its workers and the communities they serve. Just before this strike by workers in San Diego, workers who are members of Teamsters Local 396 went on strike in Orange County and extended their picket line to New Orleans before the company finally bargained fair contracts."
The International Brotherhood of Teamsters represents more than 7,000 Republic workers nationwide. Teamster members who work for Republic Services are in negotiations for contracts that expired in 2021 in seven locations: San Diego, San Francisco, San Jose, Stockton, and Richmond, Calif.; Seattle; and New Orleans.
« Previous
Next »