Report Shows Unions Make a Difference in Workers' Lives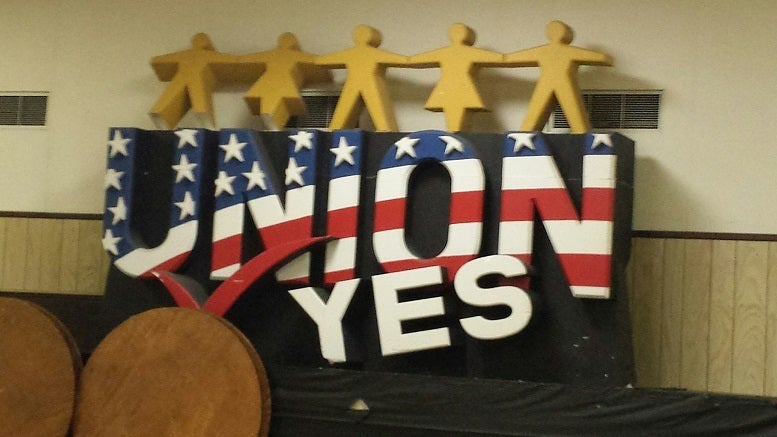 There is a popular saying withing the labor community – the union difference. But what does that really mean? A report by the Economic Policy Institute (EPI) details how a higher presence of unions in ones state leads not only to higher wages for all workers there, but to increased health care availability and a better functioning democracy as well.
Unions exist to give workers a bigger voice at work, with a direct impact on wages and working conditions. But there also is a correlation between that and unions giving workers a larger say in shaping their own communities. Where workers have this power, the report says, states have more equitable economic structures, social structures and democracies.
The 17 U.S. states with the highest union densities have state minimum wages that are on average 19 percent higher than the national average and 40 percent higher than those in low-union-density states. They also have median annual incomes $6,000 higher than the national average and have higher-than-average unemployment insurance recipiency rates, meaning a higher share of those who are unemployed actually receive unemployment insurance.
"Unions promote economic equality and build worker power, helping workers to win increases in pay, better benefits, and safer working conditions," said Asha Banerjee, economic analyst at EPI and co-author of the report. "But the benefits of unions extend far beyond the workplace. The data suggest that unions also give workers a voice in shaping their communities and political representation."
The document finds that states with the highest union densities have an uninsured health care population 4.5 percentage points lower, on average, than that of low-union-density states. These states also all elected to expand Medicaid under the Affordable Care Act and are more likely to have passed paid sick and family and medical leave laws than states with lower union densities.
Additionally, these 17 states have passed significantly fewer restrictive voting laws than in the middle 17 states and the 17 lowest-union-density states (which includes the District of Columbia). Over 70 percent of low-union-density states passed at least one voter suppression law between 2011 and 2019.
So what can pro-worker allies do to make sure those benefits are made available to more hardworking Americans? They can push the Senate to pass the Protect the Right to Organize (PRO) Act which would make it easier for workers to join together and bargain for better pay and benefits.
The Teamsters are a leading advocate for turning the priorities included in the PRO Act into law. Across the country, Teamster members have taken to the streets calling on lawmakers to act now to protect their constituents on the job and ensure they can support their families in return for the essential work they do each day.
The PRO Act, approved by the House in March, would restore fairness to the economy at a time when income inequality has stifled the ability of far too many hardworking Americans to earn a decent wage that allows them to make ends meet. It's time to make it happen.
« Previous
Next »