Costco Negotiations Update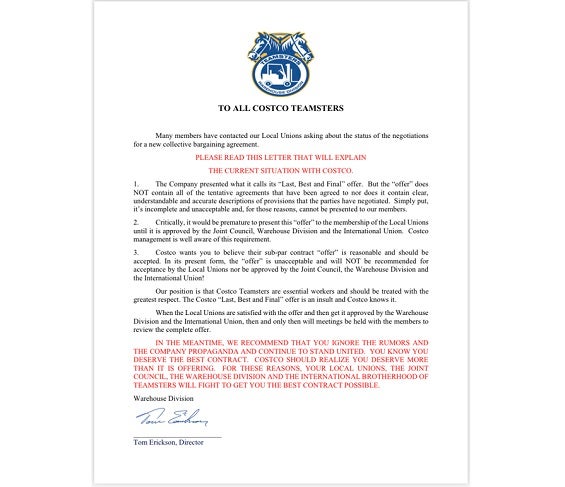 TO ALL COSTCO TEAMSTERS:
Many members have contacted our Local Unions asking about the status of the negotiations for a new collective bargaining agreement.
PLEASE READ THIS LETTER THAT WILL EXPLAIN THE CURRENT SITUATION WITH COSTCO.
1) The Company presented what it calls its "Last, Best and Final" offer. But the "offer" does NOT contain all of the tentative agreements that have been agreed to nor does it contain clear, understandable and accurate descriptions of provisions that the parties have negotiated. Simply put, it's incomplete and unacceptable and, for those reasons, cannot be presented to our members.
2) Critically, it would be premature to present this "offer" to the membership of the Local Unions until it is approved by the Joint Council, Warehouse Division and the International Union. Costco management is well aware of this requirement.
3) Costco wants you to believe their sub-par contract "offer" is reasonable and should be accepted. In its present form, the "offer" is unacceptable and will NOT be recommended for acceptance by the Local Unions nor be approved by the Joint Council, the Warehouse Division and the International Union!
Our position is that Costco Teamsters are essential workers and should be treated with the greatest respect. The Costco "Last, Best and Final" offer is an insult and Costco knows it. When the Local Unions are satisfied with the offer and then get it approved by the Warehouse Division and the International Union, then and only then will meetings be held with the members to review the complete offer.
IN THE MEANTIME, WE RECOMMEND THAT YOU IGNORE THE RUMORS AND THE COMPANY PROPAGANDA AND CONTINUE TO STAND UNITED. YOU KNOW YOU DESERVE THE BEST CONTRACT. COSTCO SHOULD REALIZE YOU DESERVE MORE THAN IT IS OFFERING. FOR THESE REASONS, YOUR LOCAL UNIONS, THE JOINT COUNCIL, THE WAREHOUSE DIVISION AND THE INTERNATIONAL BROTHERHOOD OF TEAMSTERS WILL FIGHT TO GET YOU THE BEST CONTRACT POSSIBLE.

---
Tom Erickson, Warehouse Division Director
« Previous
Next »