LA, NYC Casting Directors & Associate Casting Directors Ratify Three-Year Agreement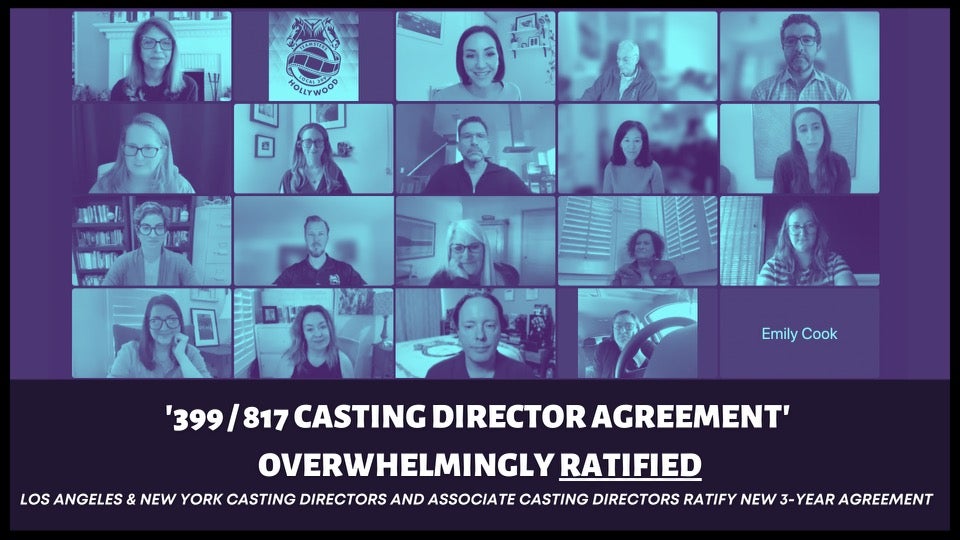 (LOS ANGELES/NEW YORK)—Teamsters Local 399 and 817 members overwhelmingly ratified a new three-year 'Casting Director Agreement' with the Alliance of Motion Picture and Television Producers (AMPTP) today. The new contract covers casting directors and associate casting directors at both locals in Los Angeles and New York City.
"Our casting professionals play an essential and unique role in bringing any story to life. Casting directors and associate casting directors balance the creative vision and logistics required to enlist an actor for a part," said Lindsay Dougherty, Local 399 Secretary-Treasurer and Teamsters Motion Picture and Theatrical Trade Division Director. "These were difficult negotiations in which we worked diligently and collaboratively with our member-led committee throughout the entire process. Our fight for both groups centered around equity and compensation. As a unit, we not only made gains across the table, but we also identified areas where we can further grow, strengthen and support our casting members moving forward."
Dougherty and Local 817 President Tom O'Donnell co-negotiated the new agreement. The main priority for the unit was to secure clean and concise language that addressed a weekly rate to protect members, specifically during episodic productions with drawn-out production schedules.
For associate casting directors, the fight centered around securing a significant increase to wages.
Though Local 399 and Local 817 voted their groups separately, the ratification numbers are reflected as the collective unit. The Local 399/817 'Casting Director Agreement' collectively saw a 70 percent voter turnout, with a 90-percent "YES" vote to 10-percent "NO" vote. The 2021-24 'Casting Director Agreement' will take effect this Sun., May 29.
"There's a lot to feel good about in this agreement. It's our sixth, and easily our best, round of bargaining. I'm happy for our casting members, and hats off to the leadership at Local 399," O'Donnell said.
The full 'Casting Director' Memorandum of Agreement was shared alongside a Summary of Key Changes to Local 399 and 817 members working under this agreement following an informational meeting on Sun., May 22.
Local 399 has concluded their bargaining cycle with the AMPTP for this round of negotiations. Local 817 is currently in negotiations for their 817 'Location Agreement' with the AMPTP.
Teamsters Local 399 represents almost 6,000 members working in the Motion Picture Industry based in Hollywood, Calif.
Teamsters Local 817 represents almost 2,000 members in the Motion Picture Industry across New York City.
« Previous
Next »