Teamsters Local 639 Member Serves on DOL Panel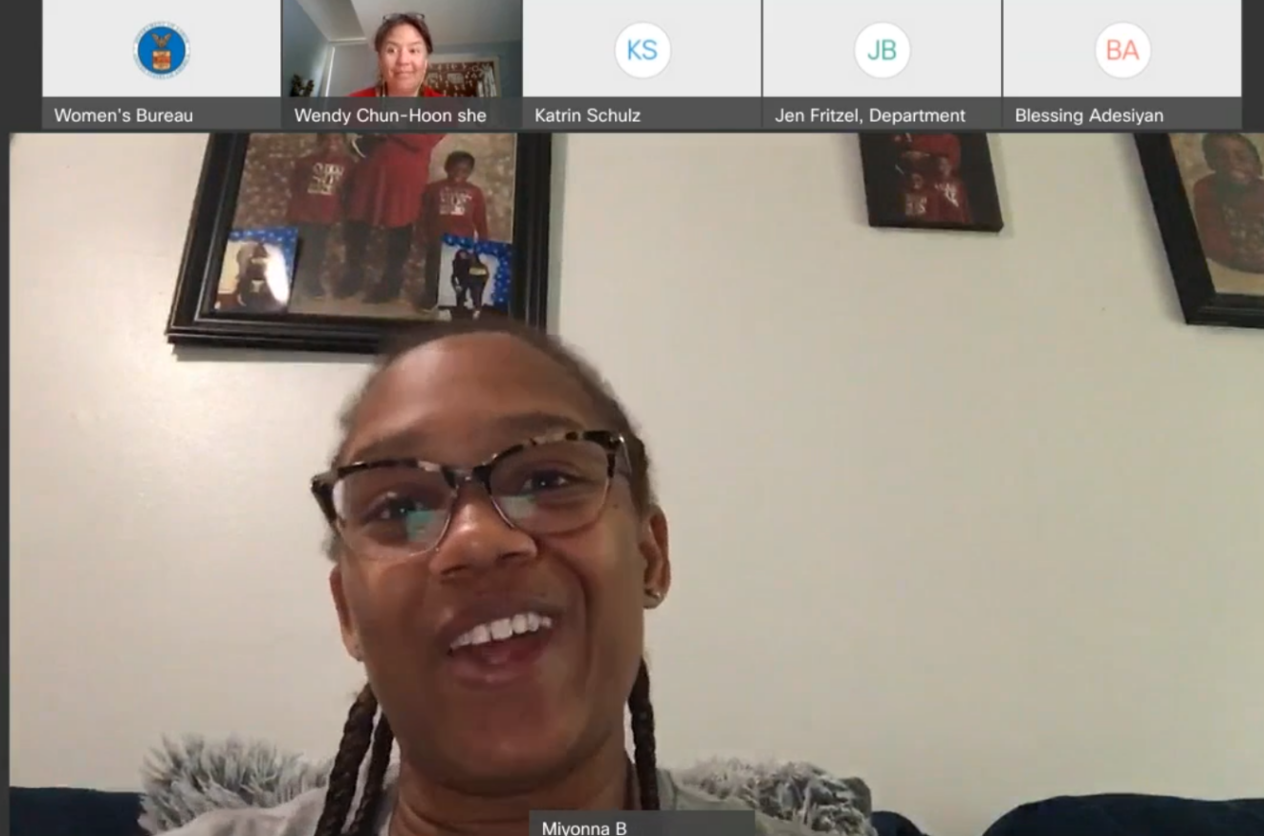 Miyonna Bennet Speaks Up for Equity in the Workplace, Protections for Pregnant and Nursing Mothers
Yesterday, Teamsters Local 639 member Miyonna Bennet served on a virtual panel for the U.S. Department of Labor Women's Bureau, titled, "Equity in the Workplace: Protecting Pregnant and Nursing Mothers."
Sister Bennet is a UPS package car driver, parent of three and advocate for pregnant and nursing mothers. The panel's discussion focused on public policy initiatives to improve occupational equity for pregnant and nursing women. Topics discussed included addressing issues for working mothers through collective bargaining, paid family leave, the Pregnant Workers Fairness Act (HR1065) and enforcement for the Family Medical Leave Act (FMLA).
Sister Bennet discussed her experience being pregnant and nursing as a working mother. After turning in a doctor's note saying she needed light-duty accommodations, she was sent home. Fortunately, after researching the law and with the help of her union, she was able to get back pay for the time she was gone. Thanks to her IT degree, she was able to get a light-duty accommodation doing work behind a computer when she returned to work. Her union and the legal nonprofit organization First Shift Justice Project also helped her keep her job and get a medical accommodation when she returned to work and was nursing her newborn.
"I'm glad to be here to tell my side of the story and what women in a male-dominated industry go through," Bennet said.
Others who participated in the panel included Laura Brown, Co-Founder and Executive Director, First Shift Justice Project; Blessing Adesiyan, Founder & CEO, Mother Honestly; Jennifer Carlo, Lead Systemic Investigator, EEOC New York District Office; Wendy Chun-Hoon, Director, Women's Bureau, U.S. Department of Labor; Margaret Kraak, Deputy Regional Director, Office of Federal Contract Compliance Programs; Fran Linn, Manager, Collective Bargaining and Member Advocacy Department, National Education Association; Udochi Onwubiko, Senior Policy Advisor, U.S. Department of Labor's Wage and Hour Division and Clarke Wheeler, Federal Policy Manager of the Black Mamas Matter Alliance.
« Previous
Next »