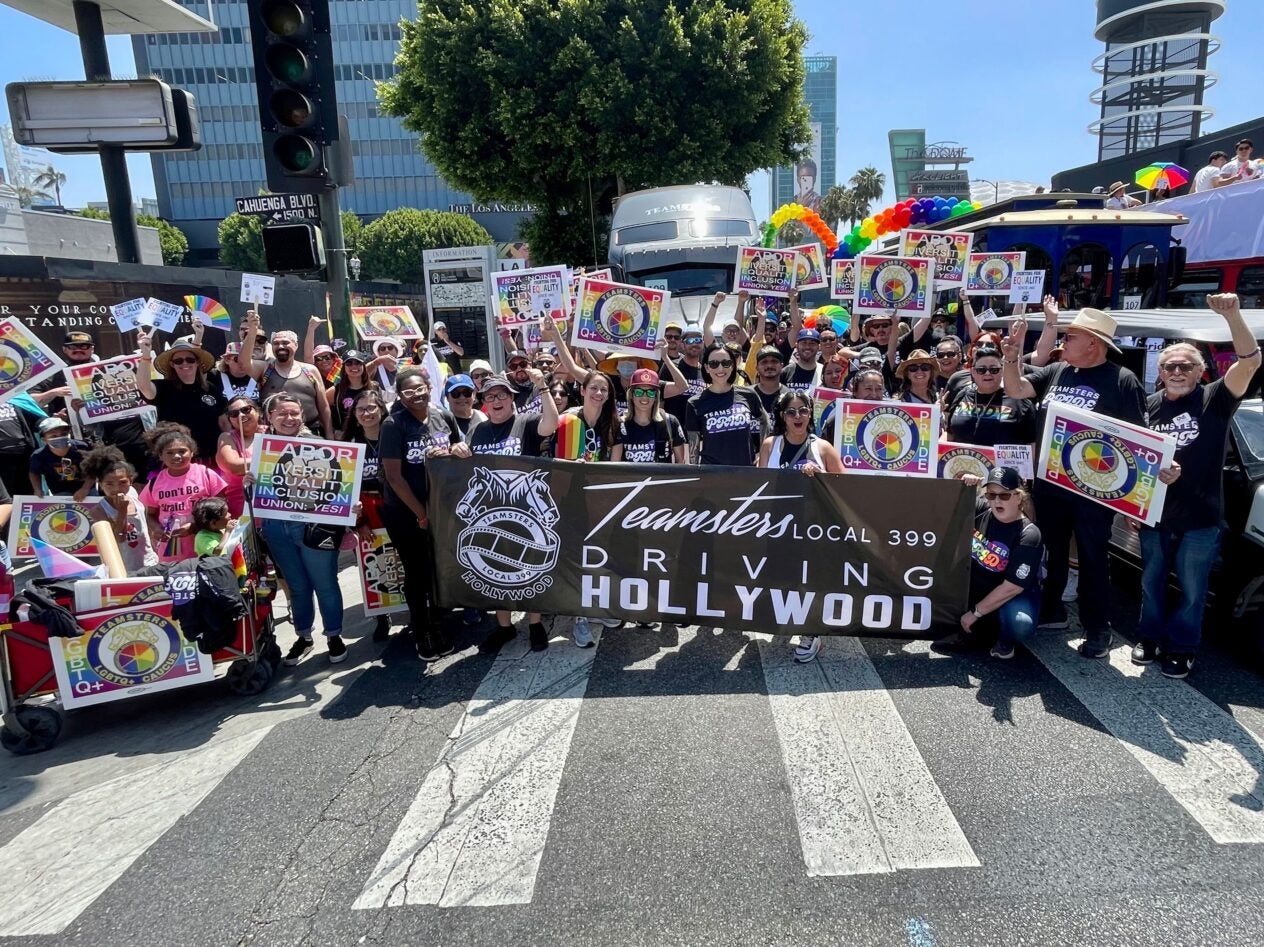 On Sunday, June 12, more than 100 Teamsters gathered in Hollywood, Calif. to march in the 50th Annual Los Angeles Pride Parade. This was the first time ever that Teamsters had a marching contingent in this iconic and historic parade. Joining the Teamsters were over 130 community coalitions, non-profits, businesses and even some other Unions. This year was especially significant because due to the COVID-19 pandemic; the parade had been suspended since 2020. This year marked the parade's comeback, and it was reported there were over 100,000 people in the audience for this year's event. 
Teamster members from across ten different Southern California local unions marched alongside the Joint Council 42 truck and the Teamsters Local 1932 bus, making the Teamster presence one of the largest in the entire parade. Teamsters Local 399, Teamsters Local 1932 and the Teamsters LGBTQ+ Caucus were among the parade organizers this year. 
"We must be inclusive of all people. Civil rights and the labor movement go hand-in-hand," said International Western Region Vice President and Local 399 Secretary-Treasurer Lindsay Dougherty. "This is only the beginning for the Teamsters participating. Every year, you see more progression in all labor unions, especially the Teamsters, and that's what we must do — continue to move forward."
Teamsters Local 399 Key Assistant Location Manager and Local 399 Diversity, Equity and Inclusion Committee member, Chris Fuentes had long been dreaming of the day to see the Teamsters participate in the Los Angeles Pride Parade.
"Teamsters participating in this parade signals to members that the organization is not only here to talk the talk, but also walk the walk when it comes to supporting all Teamster, no matter of ethnicity, race, socioeconomic status, gender, religion, sexual orientation, geographical location, and beliefs," said Fuentes. "We must have each other's back. The labor movement in the United States and worldwide has always been on the forefront of human rights, civil rights, socioeconomic justice. This is what we stand for. These are our roots, and we must continue to advance the diversity, equity, and inclusion in and out of the workplace."
For more than a century, Teamsters have understood that workers are first human beings that deserve to have equal rights and protections both under a collective bargaining agreement, and throughout their community.
"Now more than ever, our community needs our union," said Kathleen Brennan, Teamsters Local 1932 President and one of the parade organizers. "Teamsters has been fighting for equality since 1903 and we are not going to stop now."
The energy from the day was high and the spirit of solidarity, strength and the power of Teamster family was felt by all in attendance. No matter if directly part of the LGBTQ+ Community, an ally, family member or friend, the love, support, and Teamster pride was infectious. As Teamsters, we may be defined by our differences, but it is our solidarity that continues to bring us strength on and off the job.
"It's important to maintain the rights that we have because once we're stripped from our rights it's very hard to get them back," said Local 1932 Business Agent Rommel Fuller, who served as the creative director for the Teamster parade presence. "It is important to understand that it's not about wearing boots, high heels, or wearing a dress — it's about being seen. We want to stop being invisible. We came out of the closet for a reason."
For those unable to attend this year's event, look at some of the great photos from the day captured by Local 1932's Romualdo Sanchez. Teamsters plan to show up even bigger and better next year.
Special thanks to: Joint Council 42 and Donna Culwell for bringing out the Teamster semi-truck, Teamsters 1932 Business Agent and bus driver, Doug Martinez, LA Pride Parade organizers and all Teamsters, family and friends that made Sunday so special.
Interested in learning more about the Teamsters LGBTQ+ Caucus? Head to: https://lgbtqteamsters.org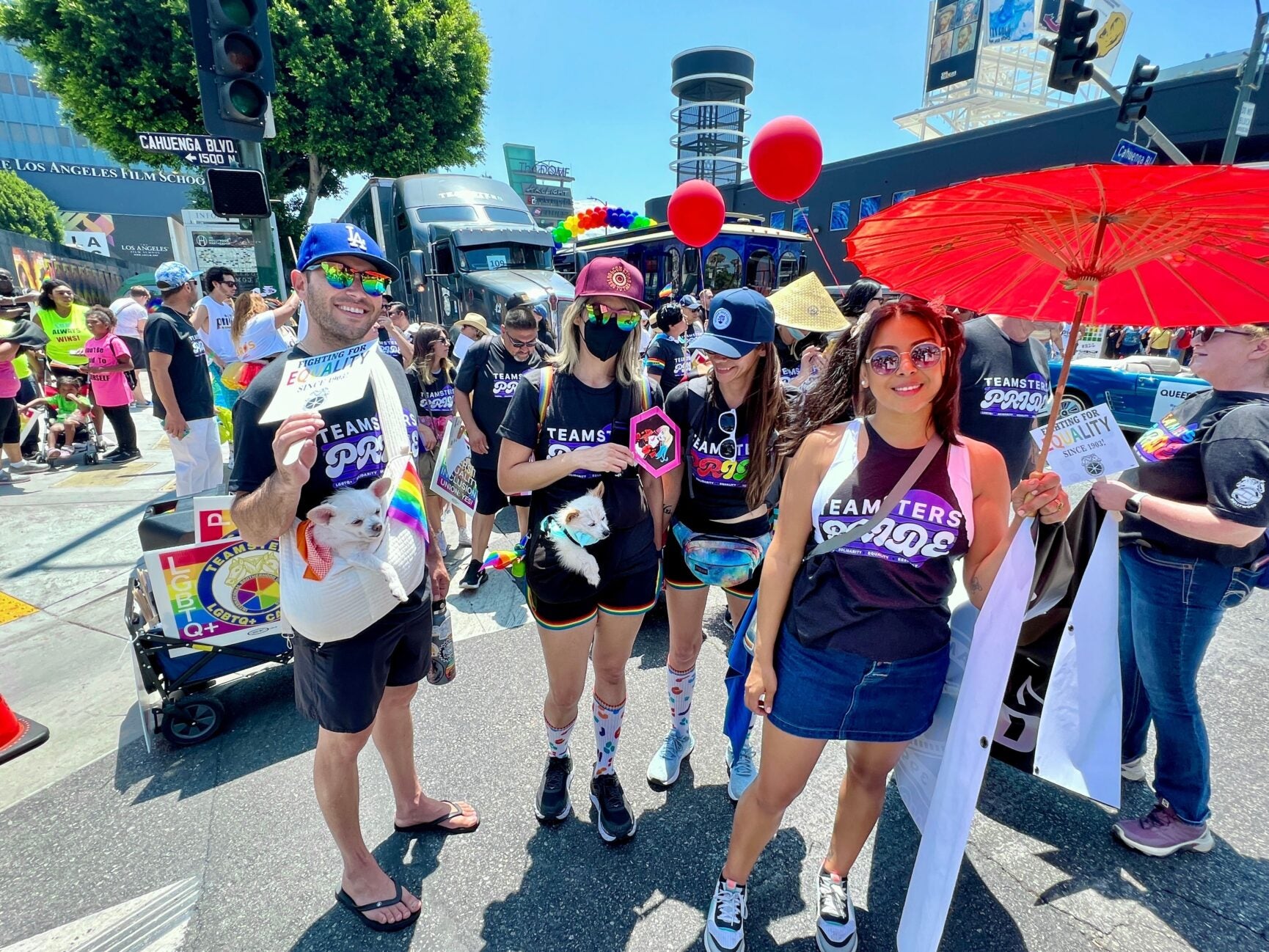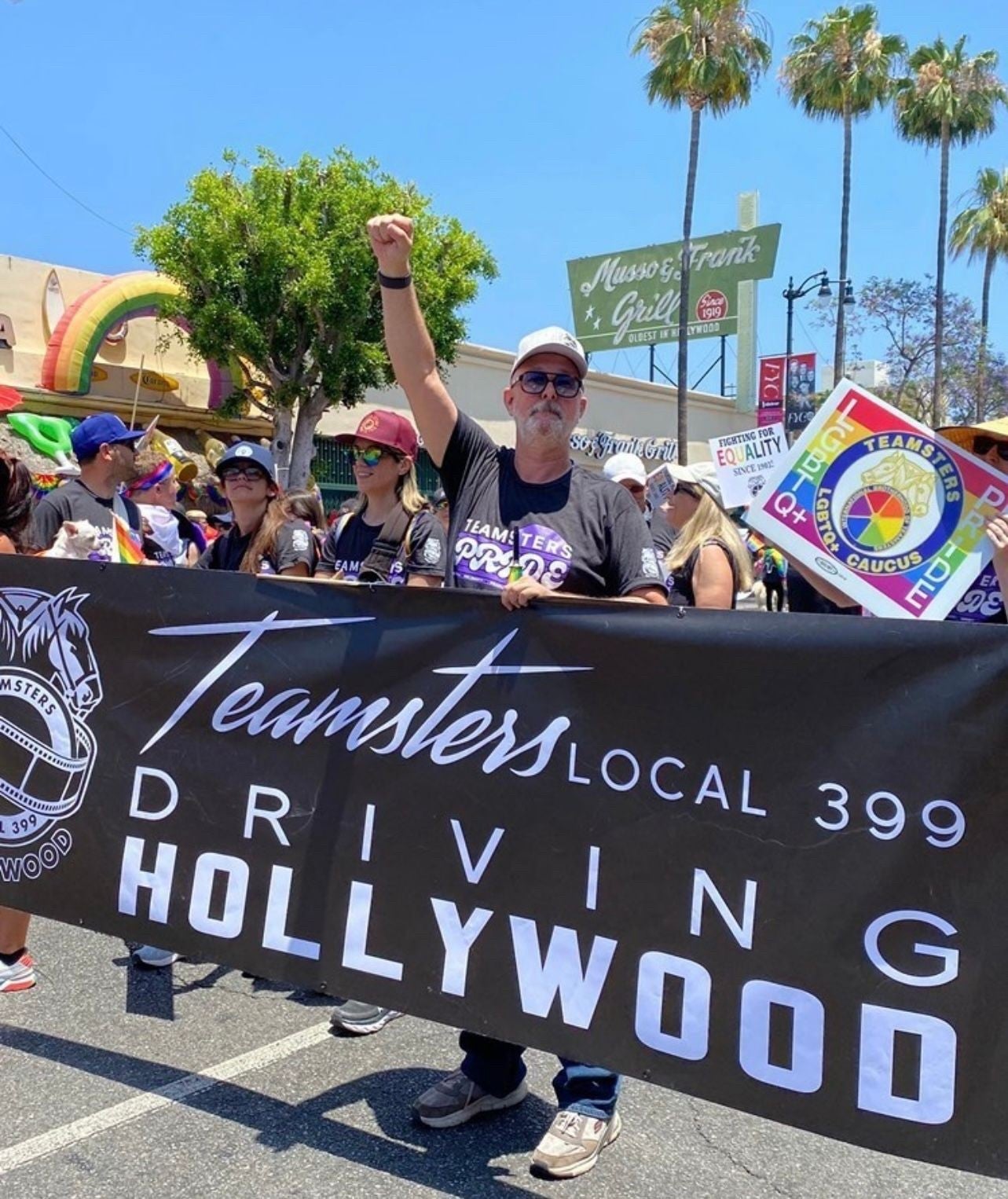 « Previous
Next »