Teamsters Local 959 Alascom Workers Reach Agreement with AT&T on New Contract, Avoid Strike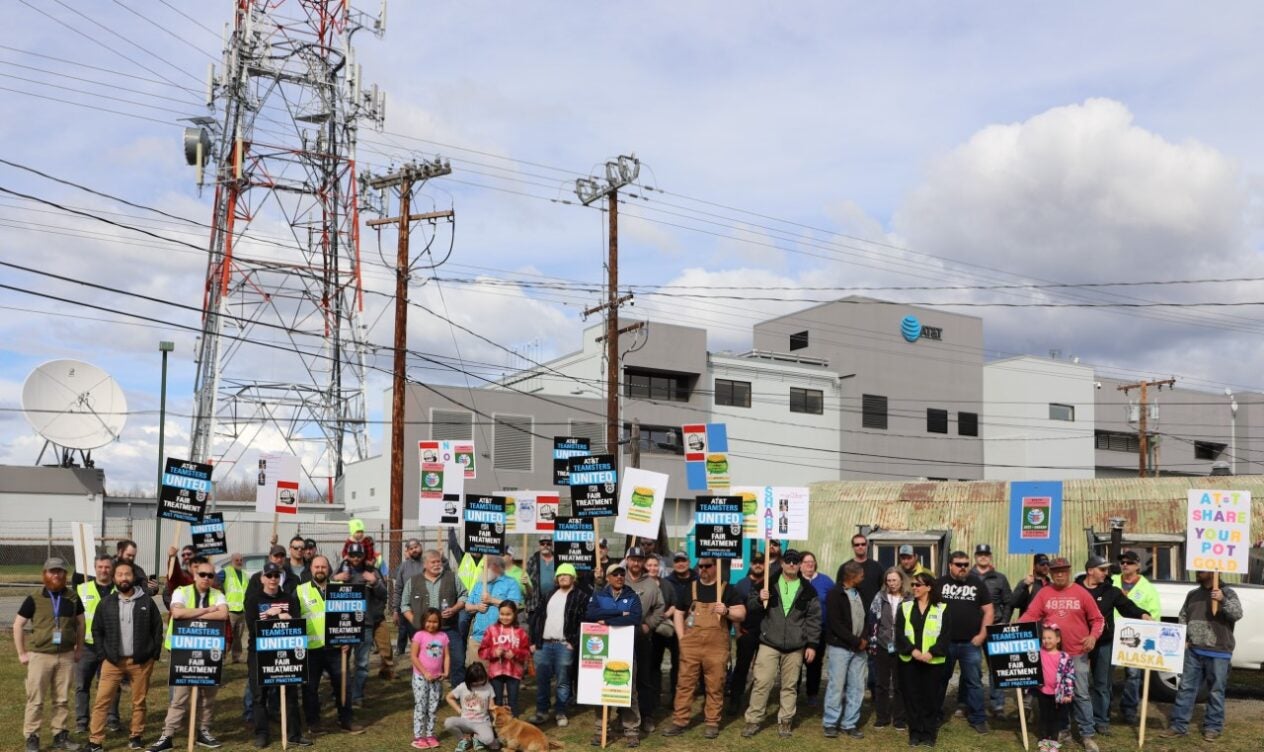 Alaska Tower Climbers, Frontline Telecommunications Workers Secure Raises, Health Care Contributions, Protection Against Subcontracting
Press Contact: Kara Deniz Phone: (202) 624-8142 Email: kdeniz@teamster.org
(ANCHORAGE, Alaska) – Teamsters Local 959, representing 175 tower climbers, technicians, and other frontline Alascom telecommunications workers, reached an agreement with AT&T on a new contract following months of negotiations. The deal includes significant wage increases, a 27 percent reduction in the monthly rate for family health care, and ensures qualified AT&T workers in Alaska will continue to build, maintain, and service the company's telecommunications infrastructure.
"Teamsters Local 959 members stood strong to win a contract that honors their contributions to AT&T and the State of Alaska," said Teamsters General President Sean M. O'Brien. "These workers risk their own safety day-in and day-out in extreme weather conditions to repair equipment and keep vital phone and internet services running. This entire union is proud to successfully stand up to corporate greed alongside them."
In Alaska, AT&T owns and operates the Alascom telecommunications infrastructure system, which serves as the primary backbone for all telecommunications throughout the state, including more than 200 satellite, microwave, and other non-satellite-related radio system facilities, the Anchorage-Prudhoe Bay fiber optic cable, and transmitter/repeater sites throughout the Alaska Panhandle and other key areas. The Alascom system provides communications services for the Alyeska Pipeline, numerous critical national security and defense systems, facilities and installations, and many communities throughout the state, including Anchorage, Fairbanks and Juneau.
"Our members refused to let AT&T exploit Alaska or let our community down in the process," said Gary Dixon, Secretary-Treasurer of Local 959. "While the company's initial offers were inadequate, we are proud to have reached a fair agreement so our members can continue serving Alaska. I would also like to thank Teamsters Local 25 in Boston, Teamsters Local 507 in Cleveland, and Teamsters Local 745 in Dallas for standing in solidarity with our members."
Local 959 members had filed over half a dozen unfair labor practice charges, asserting that AT&T had violated federal labor law by making unlawful unilateral changes to working conditions, bad faith bargaining, and refusing to supply requested information needed for negotiations during the negotiations process. 
« Previous
Next »