A New Deal for Aviation Platform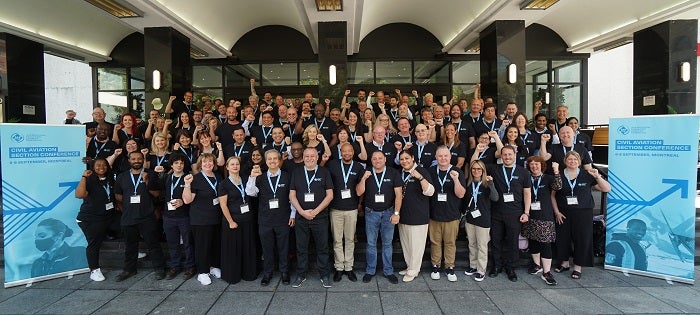 Teamster Airline Division Representatives Attend ITF's Civil Aviation Sector Conference
During the week of September 6th-8th, Teamster Airline Division representatives attended the International Transport Workers' Federation Civil Aviation Sector Conference. At this year's conference, aviation unions from around the world came together to discuss the ITF's A New Deal for Aviation platform, which aims to combat travel chaos from becoming a permanent crisis and mandate the industry's action on passenger violence, post-COVID worker shortage, fatigue, worker safety and health, organizing airport workers, industry sustainability, net zero emissions, and digitization effects on workers.
The framework would also allow unions, governments, employers, and the public to create country-specific aviation plans to address the significant impact that deregulation, fragmentation, and outsourcing, had on the aviation industry. "Today, we are seeing a rise in passenger violence against airline and airport workers, a post-COVID worker shortage, and extreme fatigue," said Joe Ferreira, Director of Teamsters Airline Division, "Our top priorities are ensuring the safety and health of these hardworking airline and airport workers and providing good wages and benefits throughout the industry, and we are proud to have the opportunity to represent the International Brotherhood of Teamsters on the world stage regarding these critical worldwide issues."
More details can be found, here.
About the ITF:
The International Transport Workers' Federation (ITF) is a democratic, affiliate-led federation recognized as the world's leading transport authority. We fight passionately to improve working lives, connecting nearly 700 affiliated trade unions from 150 countries that may otherwise be isolated and helping their members to secure rights, equality, and justice. We are the voice for nearly 20 million working men and women worldwide.
« Previous
Next »