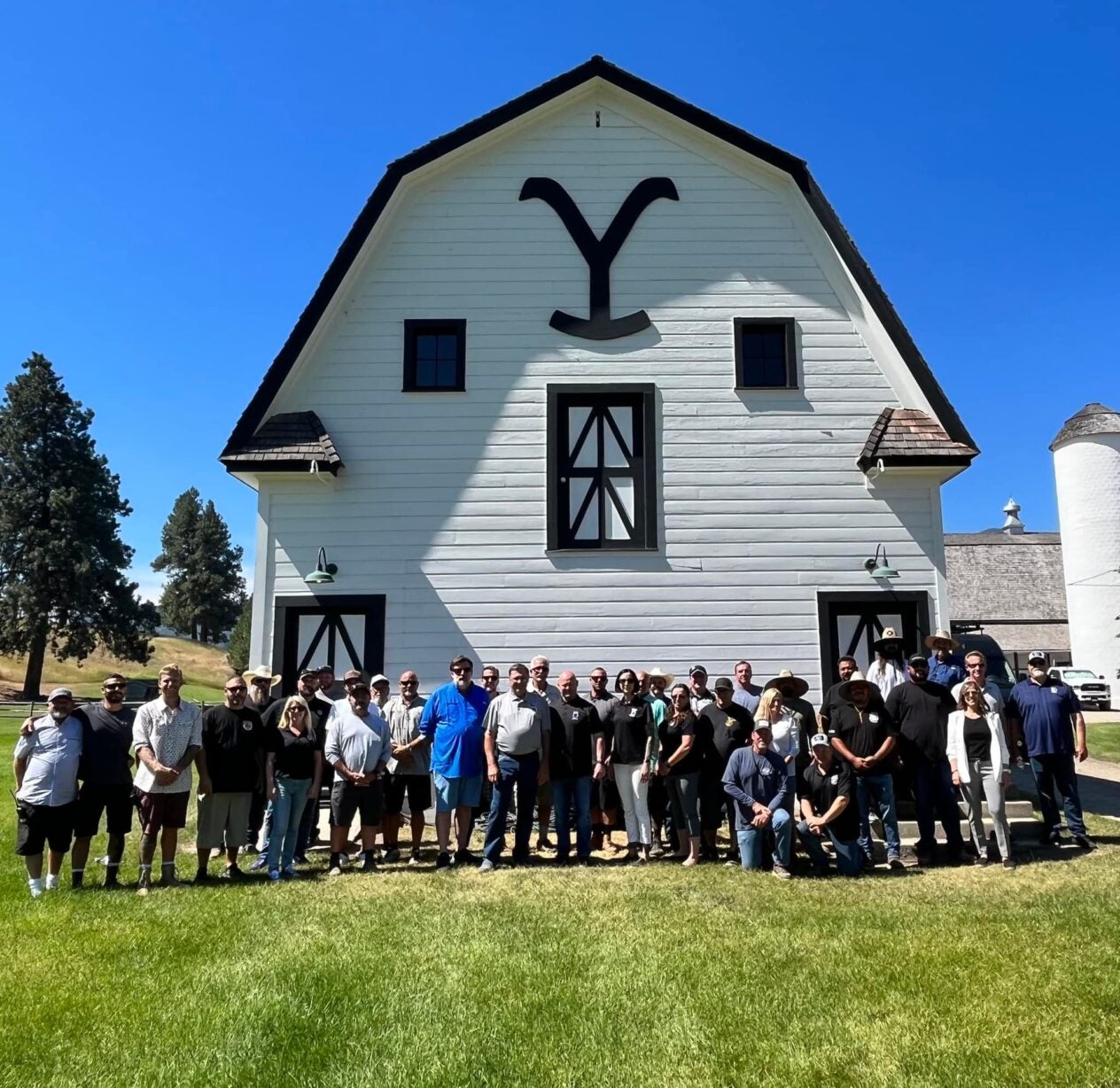 Sunrise in Montana is a breathtaking sight. It's particularly impressive outside the UPS barn in Missoula, where Teamsters in the Big Sky State begin their day delivering packages on some of the most scenic routes in North America.
On a recent trip, General President Sean M. O'Brien, General Secretary-Treasurer Fred Zuckerman, and International Vice President Lindsay Dougherty joined Local 2 Secretary-Treasurer Erin Foley for a full day of site visits with Montana Teamsters, starting at the UPS center.
"Our UPS members work in some of the toughest conditions in the country, and they take great pride in what they do. It meant a lot to them to see Sean and Fred that morning," Foley said. "They were both so down to earth and accessible, taking time to listen to members' concerns and talk with them about how the International is fighting for them at UPS. They made a point to hit on specific issues that mattered most to our members, like how the 9-5 grievances aren't getting paid in a timely fashion, a really big issue here in Montana."
It had been over a decade since anyone from the International had made their way to Montana, and O'Brien and Zuckerman were eager to let Local 2 members know the new administration was focused entirely on the rank-and-file.
"As you know, we've got a big fight coming up at UPS. And we need everyone to join us as we take on the company in negotiations," O'Brien told Local 2 members as they prepared to start their routes for the day. "It's time to mobilize and send a message that UPS Teamsters are united and ready to fight for a strong contract in 2023."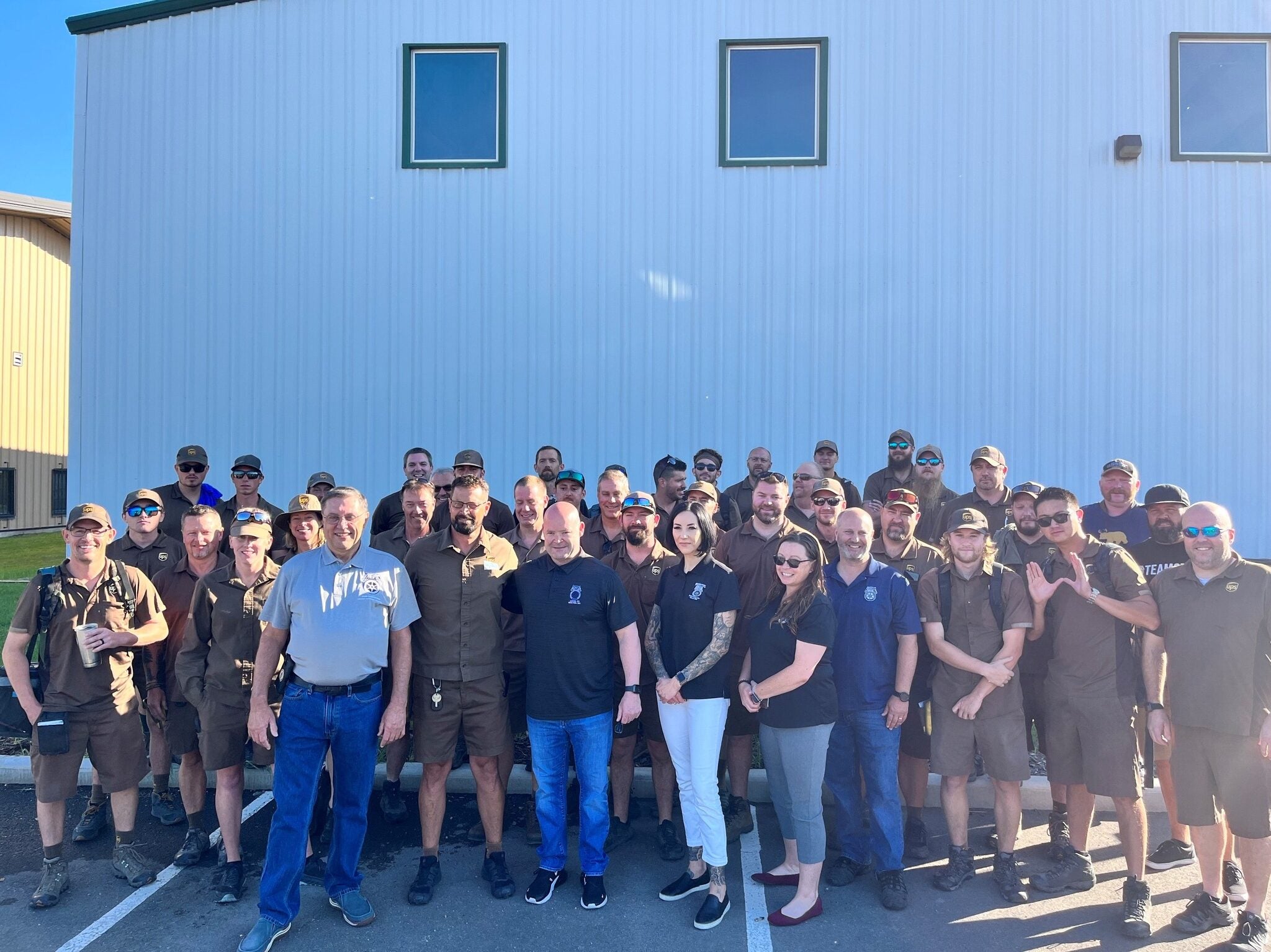 Visiting with members across the country had been a priority for the administration since taking office, and Montana was high on O'Brien and Zuckerman's list.
"Our biggest fight is just around the corner at UPS. We have to rebuild our union's power from the bottom up," Zuckerman said. "The days of go-along to get-along are over. The future of our union will depend on the success of our next contract at UPS."
For UPS Teamsters in Montana, the need for a strong contract at UPS is critical to addressing some key concerns. In addition to pay, workers are hopeful that new contract language will put an end to the backlog of grievances in Missoula due to management taking advantage of the current agreement.
For Casey Frank, a 28-year UPS driver and shop steward at Local 2, the visit from International leadership was a first, and it gave him hope for the new direction the union is heading going into national contract negotiations.
"It was great to see the leadership pay attention to us, especially in a place as small as Montana. We aren't as big as other places, and it was reassuring that they made a point to make the visit. It was the first time that [International] leadership had been out here, and it meant a lot to us," he said. "I feel a new momentum with this administration, like we are being proactive instead of reactive. UPS has made record profits, but nothing seems to change on the ground."
Frank said he averages 200 miles roundtrip a day on his route with 80 stops through the epic vistas of the Rocky Mountain wilderness.
"They call it the lake car because I cover all the lakes in the northwestern part of the state called Swan Valley. It's a lucky place to be," he said of his picturesque route.
Frank and his co-workers spoke with O'Brien and Zuckerman about the upcoming contract fight at UPS. He noted that they are looking forward to the new strategy in negotiations.
"After talking with Sean and Fred about the new strategy, and how we have a strike fund that could maintain a strike, it gave us more confidence about the upcoming negotiations. Under their leadership, we know we're a priority and in good hands. We didn't have that back in '97, and it just puts that much power back in our court to know that we're financially stable to withstand a strike," he said. "We need to get the best contract possible at UPS. For years, UPS was a top-tier employer; we were above the rest. But now, it doesn't feel like our jobs provide a premium wage anymore. The gap has shrunk."
Modern-Day Western
After visiting with UPS members, the Teamster caravan made its way from Missoula to Darby, Mt., for a special behind-the-scenes tour on set of America's most popular TV show, Yellowstone.
As they pulled up to basecamp—known to cast and crew as "the Beehive"— Teamster wranglers were rounding up the youngest members of the show's 450 herd of cattle for what is known as a branding party: an annual event where new calves are vaccinated, tagged, and branded.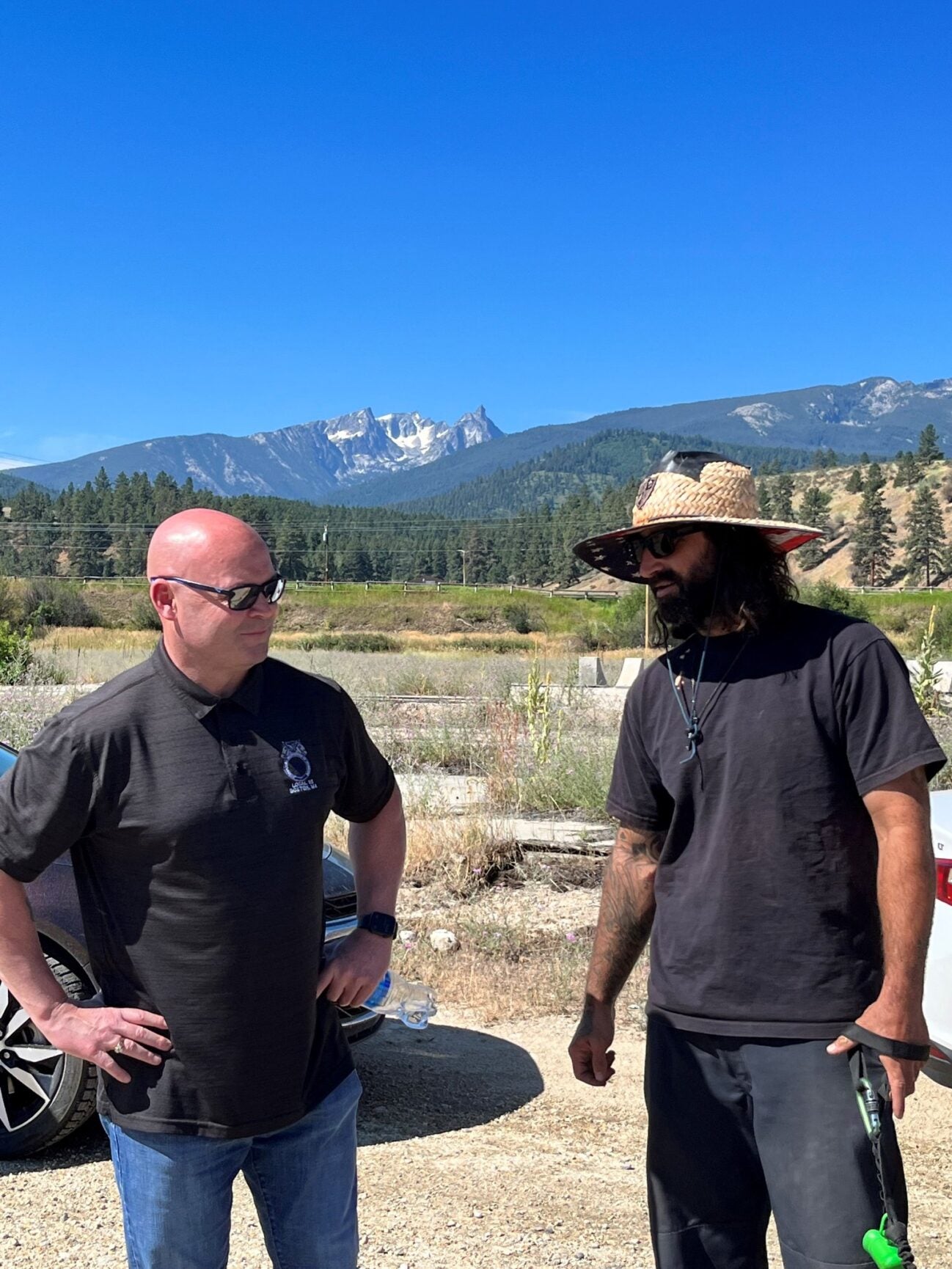 "It's a big to-do, so it was lucky timing for everyone to be there that day to see it," said Local 399 member Rich Bennetti.
As the Transportation Coordinator on Yellowstone, Bennetti oversees most Teamsters on set. He noted that there are two facets of transportation: on-production and off-production.
"On-production drivers handle anything being moved on set that appears on camera, while off production drivers are tasked with responsibilities that range from construction to set dressing to anything that isn't being moved but being filmed, like special effects [e.g., rain, smoke, gunshots, and explosions]. They also build all the sets and make the exterior camera-ready," he said. "There are also dispatchers, DOT admins, and drivers who support rigging, grip, and electric. I work closely with our 399 Transportation Captain, who's responsible for keeping records of times and costs reports and making sure that everything runs on time."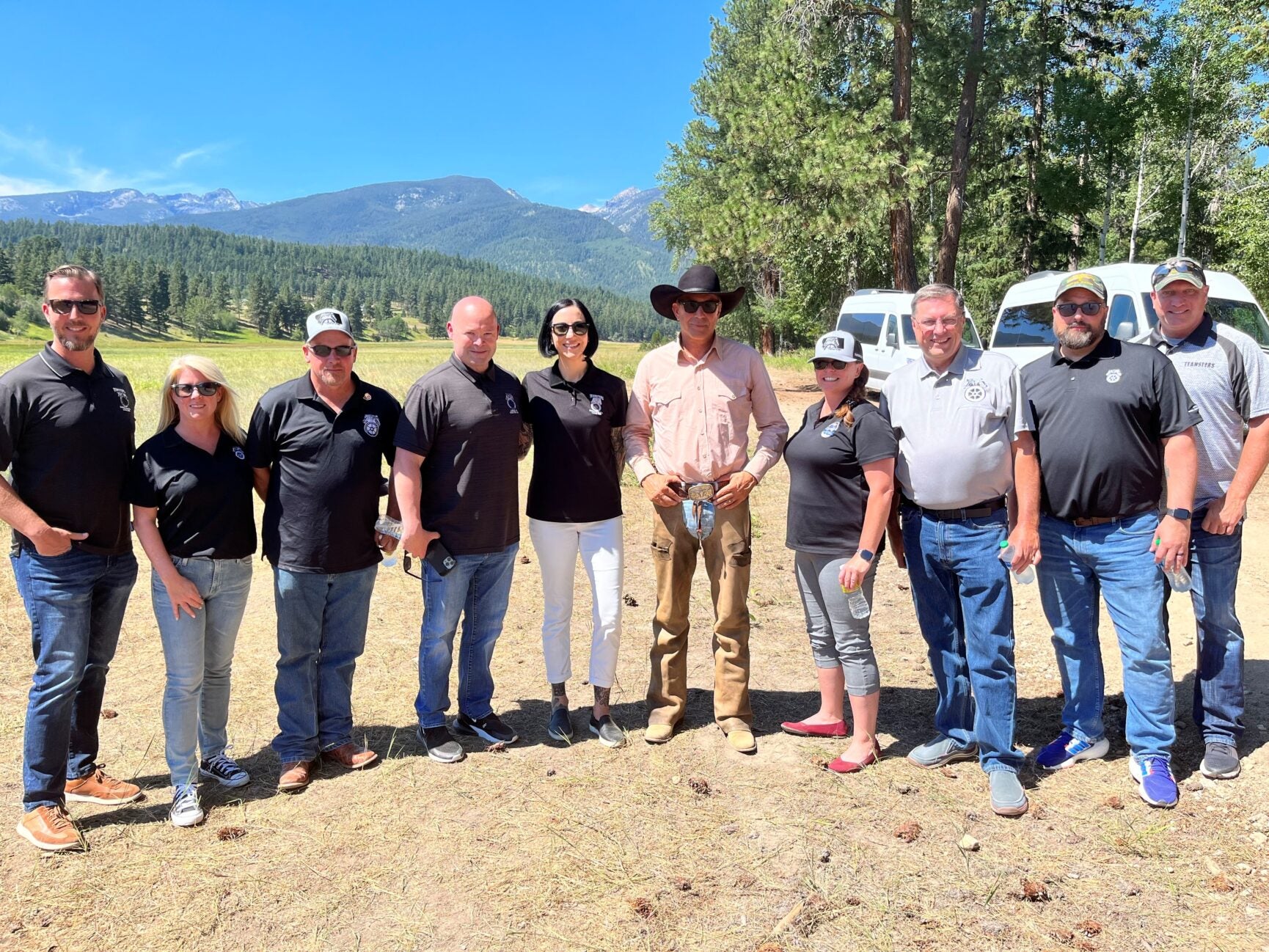 After meeting with crew members at the Beehive, a familiar face appeared from the distance. It was Kevin Costner, dressed in character, making his way to meet with the Teamsters and share stories from more than three decades working alongside the hardworking members of the Motion Picture and Theatrical Trade Division.
"Sean and Fred spoke with drivers, and then, lo and behold, we got lucky again and ran into Kevin Costner," Bennetti said. "He had a nice conversation with everyone and talked about how much he appreciated working with the Teamsters throughout his career."
Back in the Saddle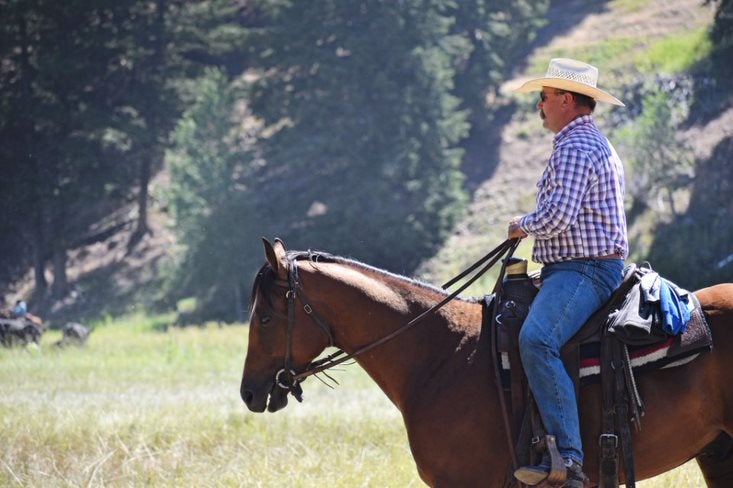 Fans of the show know that Costner and the cast of Yellowstone share the screen with many equine co-stars. What many don't know is that for every horse, there is a Teamster wrangler behind the scenes working to make sure the actors are safe in the saddle.
"I first started working as a wrangler in 1998, on Kevin's film The Postman, and I've been working with him ever since," said Mark Warrack, a Local 399 member working as Costner's wrangler on the hit show. "Right now, westerns are popular and horse work is big, so there's a demand for wranglers. We work hard to keep everyone safe and prevent any accidents from happening on set."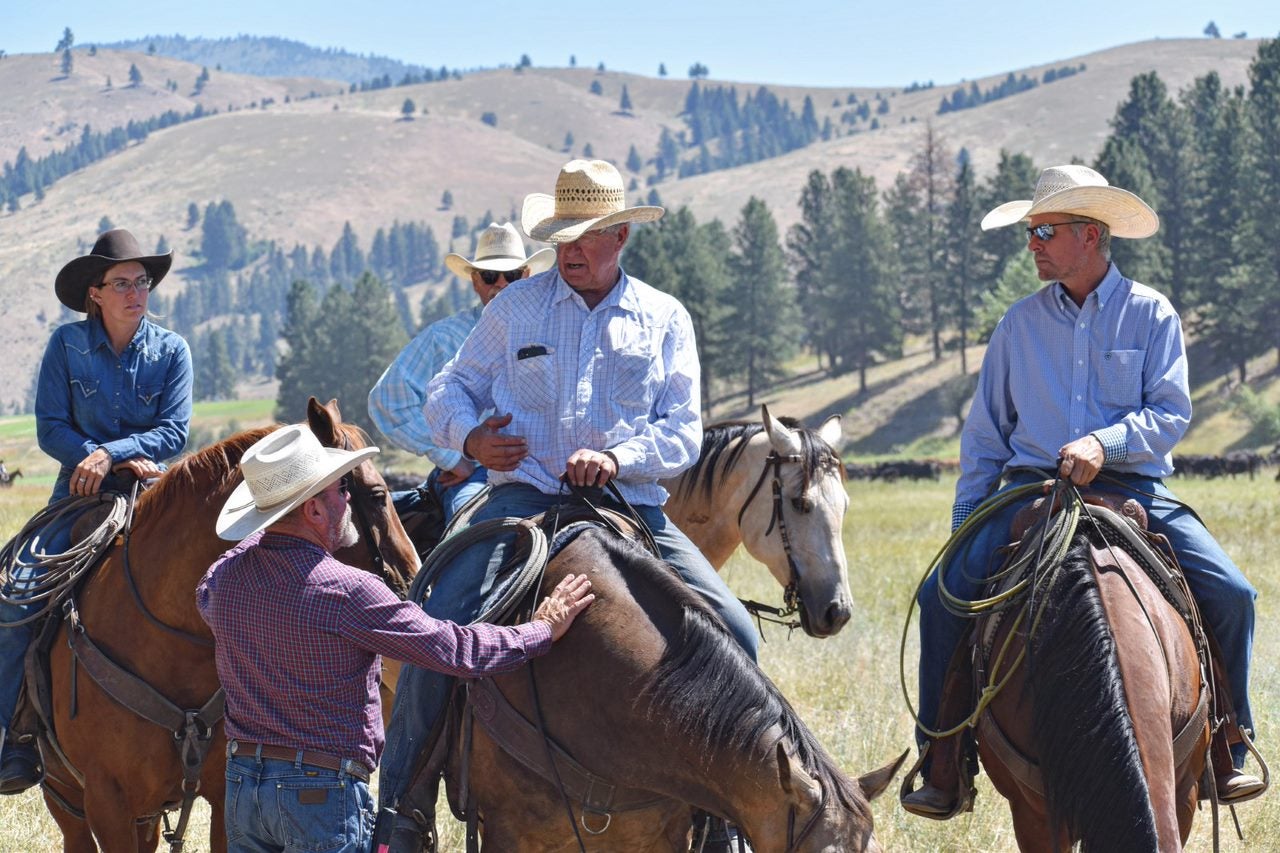 Warrack has served as a wrangler on some of the most well-known horseback rides in modern cinema—True Grit, Seabiscuit, The Hateful 8, Django Unchained, and Once Upon a Time in… Hollywood, just to name a few.
"It's a great time to be a Teamster wrangler," he said. "We are proud of the work we do, and we are proud to have such a strong union representing us."
Leading Locals
Since Yellowstone first aired in 2018, the Teamsters Motion Picture and Theatrical Trade Division has represented crew members on the Paramount production. Taylor Sheridan—creator of Yellowstone and its spinoff prequel series' 1883 and the upcoming 1923 and 6666—is busy creating even more Teamster jobs, allowing for new opportunities of employment for members at both locals.
"Anyone who works in production knows that your crew often becomes your family. The grueling hours and outlandish requests to make a movie or television show a success is in large part due to a hardworking group of Teamsters," said Dougherty, Local 399 Secretary-Treasurer and Director of the Teamsters Motion Picture Division. "Talking with Teamster members on set of Yellowstone gave me a glimpse of what is possible for our locals, our division, and our International at-large."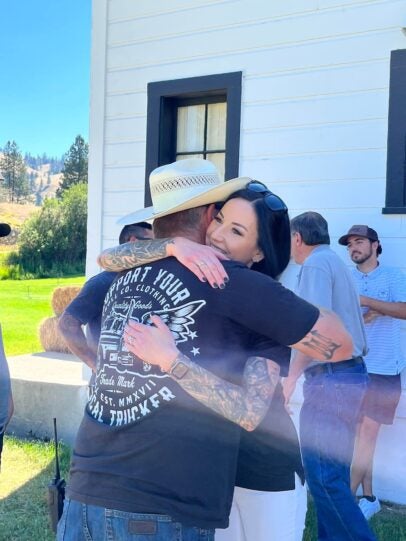 For Foley and Dougherty, the Yellowstone visit marked another season of collaboration between the two locals. There are approximately 110 members of Local 399 currently working as wranglers and drivers in Montana, and Local 2's herd continues to grow thanks to the state's shiny tax incentive and Sheridan's ever-expanding family saga.
The new tax incentive has been career changing for Renae Franklin, a Local 2 member working as a Transportation Captain on Yellowstone. With more shows in the works, she is hopeful the work continues to grow for Montana Teamsters.
"It's been eye-opening to see everything that goes into a production like this, and it's great to see even more big productions are coming to our state," Franklin said.
Franklin said the visit from Teamster leaders was an inspiring display of solidarity and a reminder of the union's full scope.
"It was an absolute privilege and an honor to have Sean, Fred, and Lindsay come and visit us," she said. "It made me realize that we are part of a bigger picture, and how important being part of a union truly is."
For Bennetti, who witnesses teamwork and solidarity every day on set with his brothers and sisters at Local 2, the move to Montana has been a "seamless" transition.
"It's been a pleasure working with them the past two years. Everything has been seamless. They [Local 2 members] are a lot of fun and just as skilled as we are," he said. "Being a driver on the set of a production takes a different kind of skillset than other drivers, but everyone did an excellent job of getting trained and integrated."
Through the Ranks
As principal officers of Local 399 and Local 2, respectively, Dougherty and Foley are working together to represent a growing number of Teamsters on the set of Yellowstone and its many spinoffs. Both Teamster leaders are rising stars of the labor movement.
"Lindsay and I were both in the same BASIS training in 2014," Foley said. "Our paths didn't cross much afterward; before I took over, the film industry in Montana was slowing down. Then everything changed with Yellowstone. The past two years have been a busy time for Teamster productions."
Local 2 members in the Motion Picture and Theatrical Trade Division are covered under the Black Book Agreement, a contract that Dougherty negotiated earlier this year covering members across 13 of the Western states.
"I think Lindsay did a great job during negotiations. Our members received lots of communication and saw the solidarity from other Teamsters who work in this industry from all over the country," Foley said. "Members are in good hands under her leadership, and it's great to have her serving the International as Western Region Vice President."
Foley is also no stranger when it comes to fighting for members. After serving as a Local 2 Business Agent, she was elected Secretary-Treasurer; shortly after, in 2021, she was elected President of the Montana AFL-CIO, which represents more than 50,000 unionized workers throughout the state.
"Erin a strong leader who will help to shape and inspire the next generation of leaders in this organization," Dougherty said. "She is driven by her members and works tirelessly engaging and representing them."
Montana Workers Rising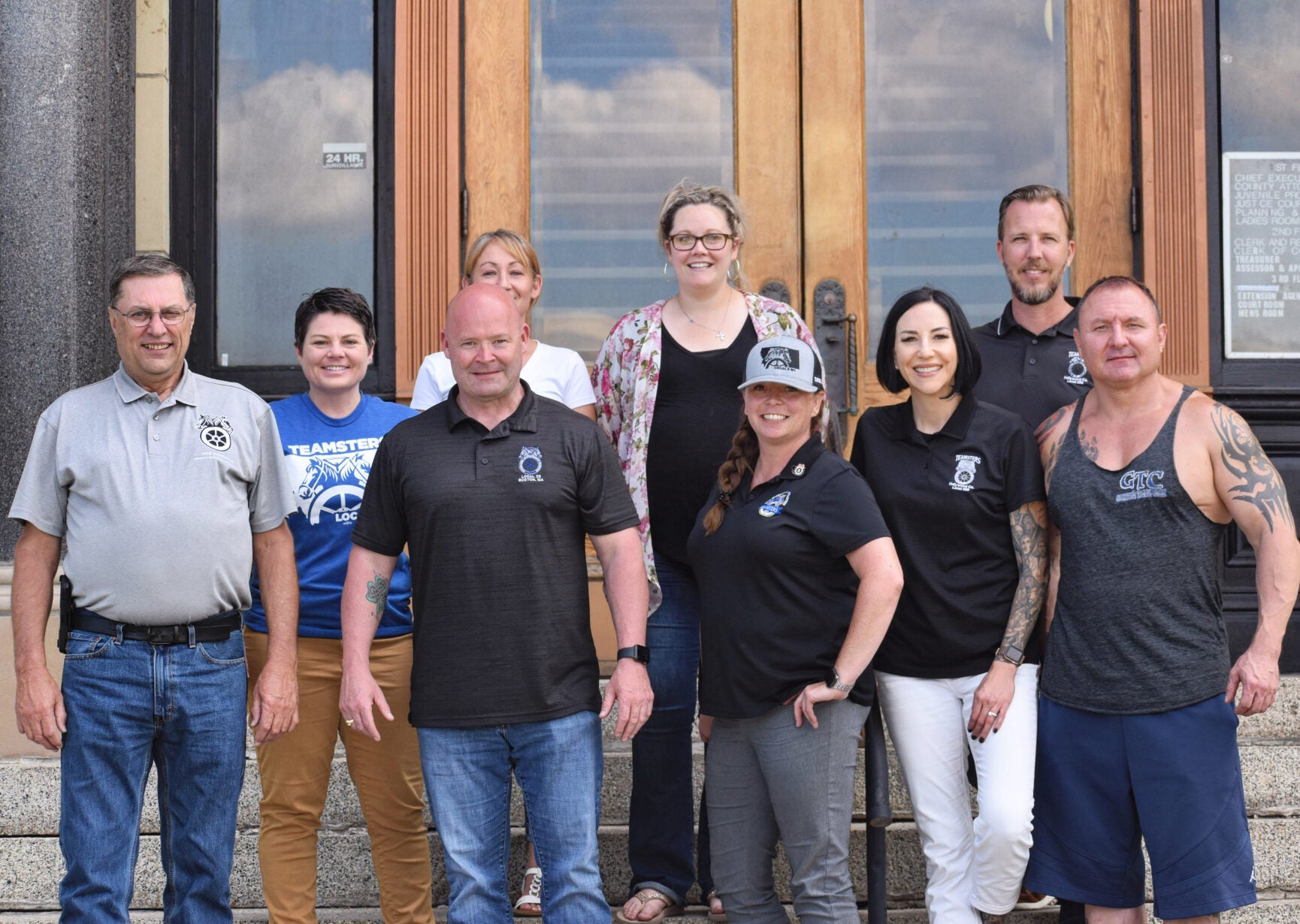 The next stop in the day's itinerary was to meet with 30 clerical workers at Anaconda Deer Lodge County Courthouse.
Meeting with members of the Public Services Division in Montana was an important and timely visit for the group. Last year, Local 2 and Local 190 members took on the anti-worker special interests attempting to take away the rights of Montana's public sector workers, successfully defeating an effort to enact right-to-work legislation.
The victory was made possible due to the efforts of the Teamsters and other unions who organized their members and successfully lobbied lawmakers not to turn their back on hardworking Montanans.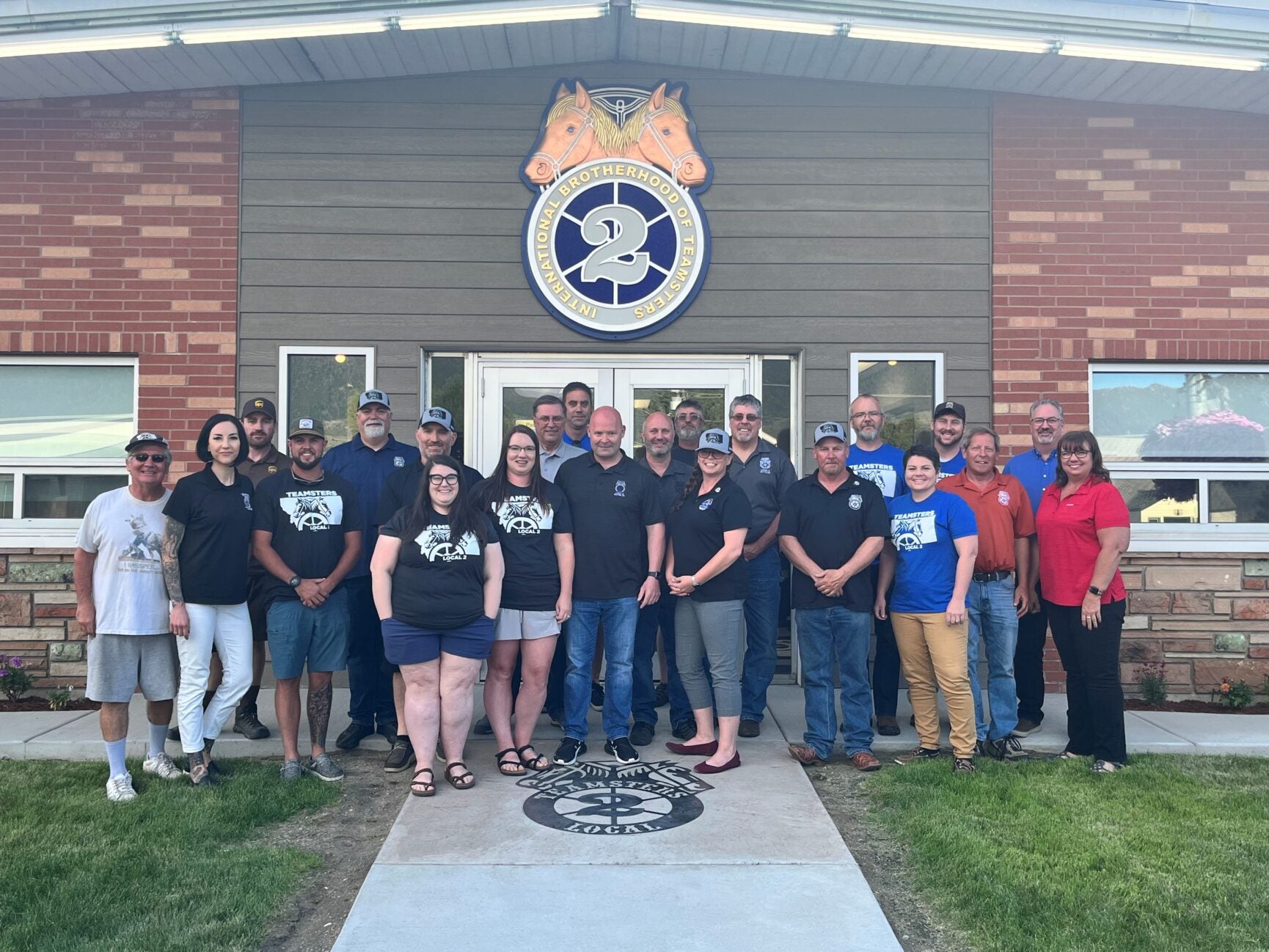 "It was the most extreme anti-worker set of bills Montana had ever seen. I was truly blessed to have been a part of the historic win for workers," said Foley, who joined the Teamsters as a hospital radiology technician and was just recently appointed Western Region Representative for the Public Services Division.
From the courthouse, it was off to Butte for a special general membership meeting at Local 2— one of several union offices scattered throughout the vast state.
The sun began to set as Teamsters from across the state poured into the hall.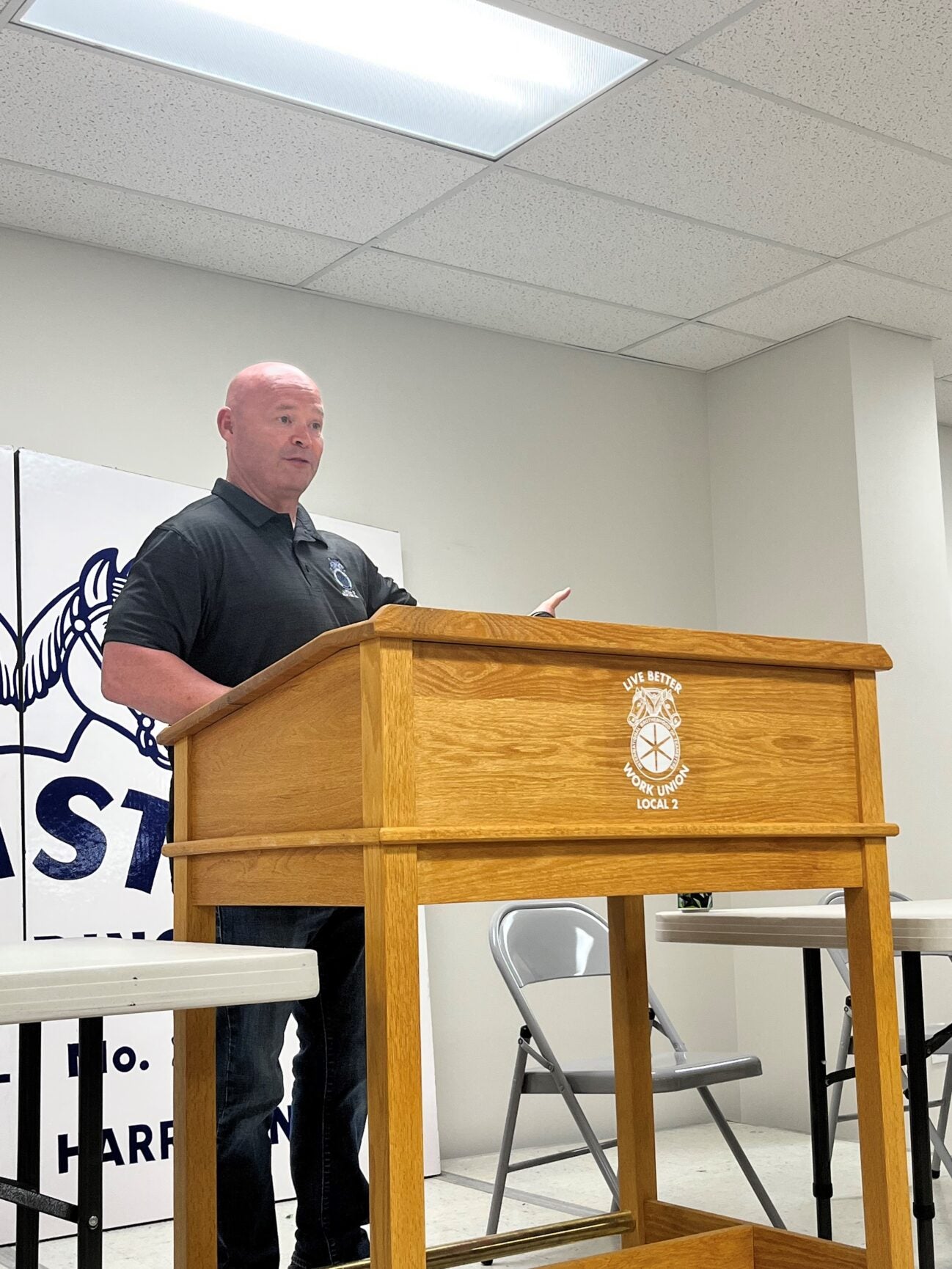 "We've covered a lot of ground today and have met so many dedicated Teamsters," Dougherty said. "Montana Teamsters are an integral part of the new vision for our organization. We have two of the strongest leaders I have ever met at the top: General Secretary-Treasurer Fred Zuckerman and General President Sean O'Brien."
O'Brien then took the stage and drove home the message of the trip. After a full day of solidarity in the Big Sky State, it was time to galvanize the troops for the battles ahead.
"We're the greatest, strongest union there is, and we are gearing up for some major fights," he said. "We are going to set the tone for everyone else. We are united—one vision, one direction, and one goal."
« Previous
Next »