Shred-it Workers in Boston Join Teamsters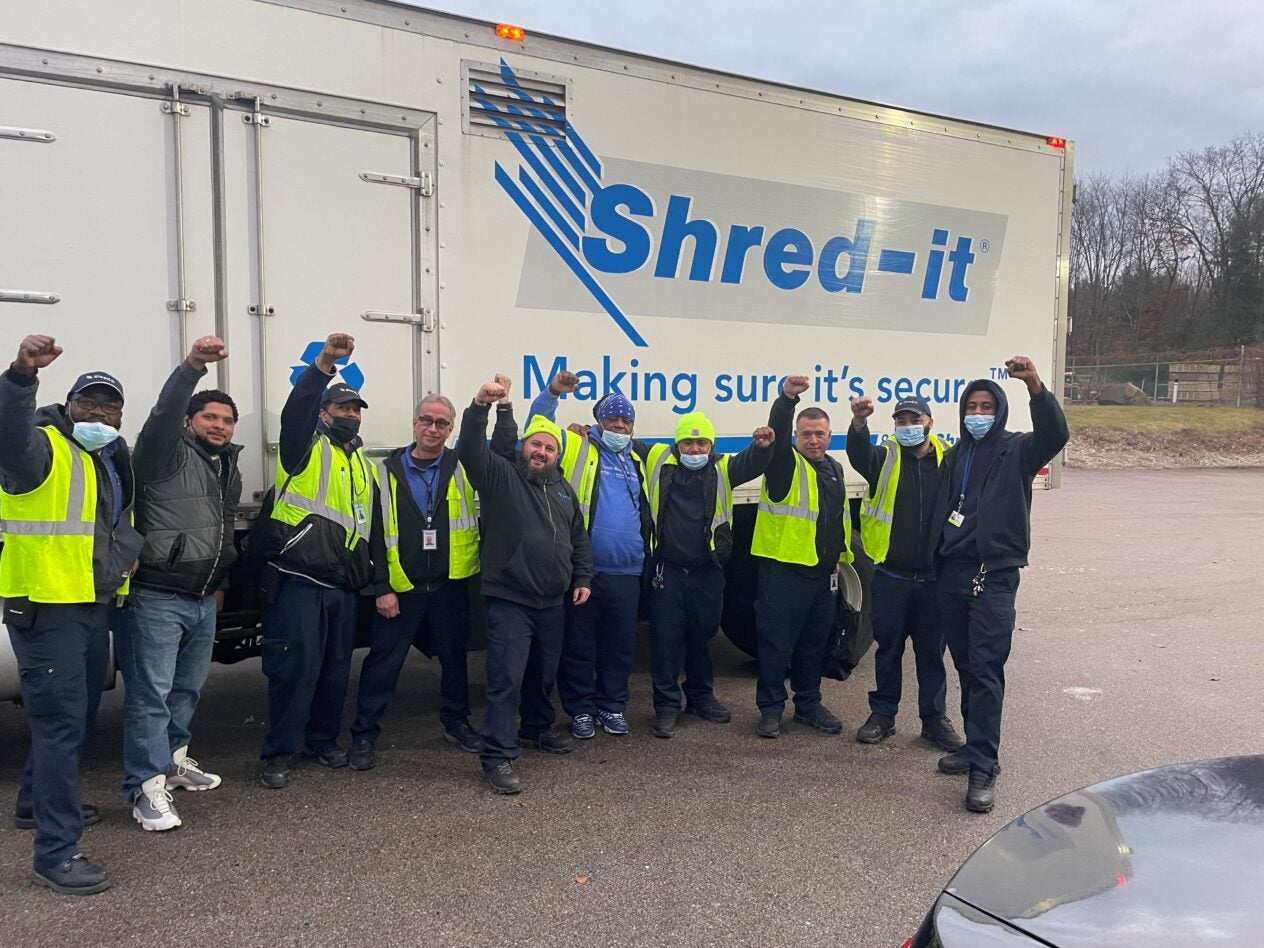 Drivers and Helpers Choose Union Representation with Local 25
(BOSTON)—Workers at Shred-it, Inc., in Sharon, Mass., have voted unanimously, 22-0, to join Teamsters Local 25. The 22-worker unit overcame an aggressive anti-union campaign by management throughout the organizing drive.
"We've been united since the beginning and stayed united regardless of what the company tried to pull. No matter what the company threw at us, we knew better than to fall for the lies and intimidation," said Rich McMullen, a six-year driver at Shred-it. "We look forward to the unity and the strength of the union backing us, and we're united going into negotiations. We know what we want to address, and we are going to get our fair share."
In addition to improved better pay and benefits, McMullen and his co-workers are also seeking respect on the job and fairer, safer working conditions.
"Our organizers met with each worker individually to speak with them about the benefits of joining the Teamsters, and to address any concerns they had. We wanted everyone to be fully committed from day one and I think we achieved that," said Tom Mari, President of Local 25 and Secretary-Treasurer of Teamsters Joint Council 10 New England.
While organizers had kept in contact with the group for the past several years, the real drive started only two months ago.
"It's not always about the large groups and this campaign is a perfect example of that. These workers are now part of a brotherhood and sisterhood 11,500 strong at Local 25. I look forward to working with them on a first contract that they can be proud of," Mari said.
Yesterday's victory is the latest effort to unionize workers in the private waste industry and follows a series of recent organizing wins at Stericycle, Inc., Shred-it's parent company. Shred-it, a wholly owned subsidiary of Stericycle, Inc., provides confidential shredding services to businesses across the U.S. and Canada.
"We proudly welcome this strong and determined group to the Teamsters. These workers are part of a growing movement to raise standards in the waste industry, and we look forward to working with local unions across North America to continue organizing workers at Shred-it and Stericycle," said Chuck Stiles, Director of the Teamsters Solid Waste and Recycling Division.
Founded in 1903, the International Brotherhood of Teamsters represents 1.2 million hardworking men and women in the U.S., Canada, and Puerto Rico. Visit Teamster.org for more information. Follow us on Twitter @Teamsters and "like" us on Facebook at Facebook.com/teamsters.
« Previous
Next »