Teamsters Strike California Waste Solutions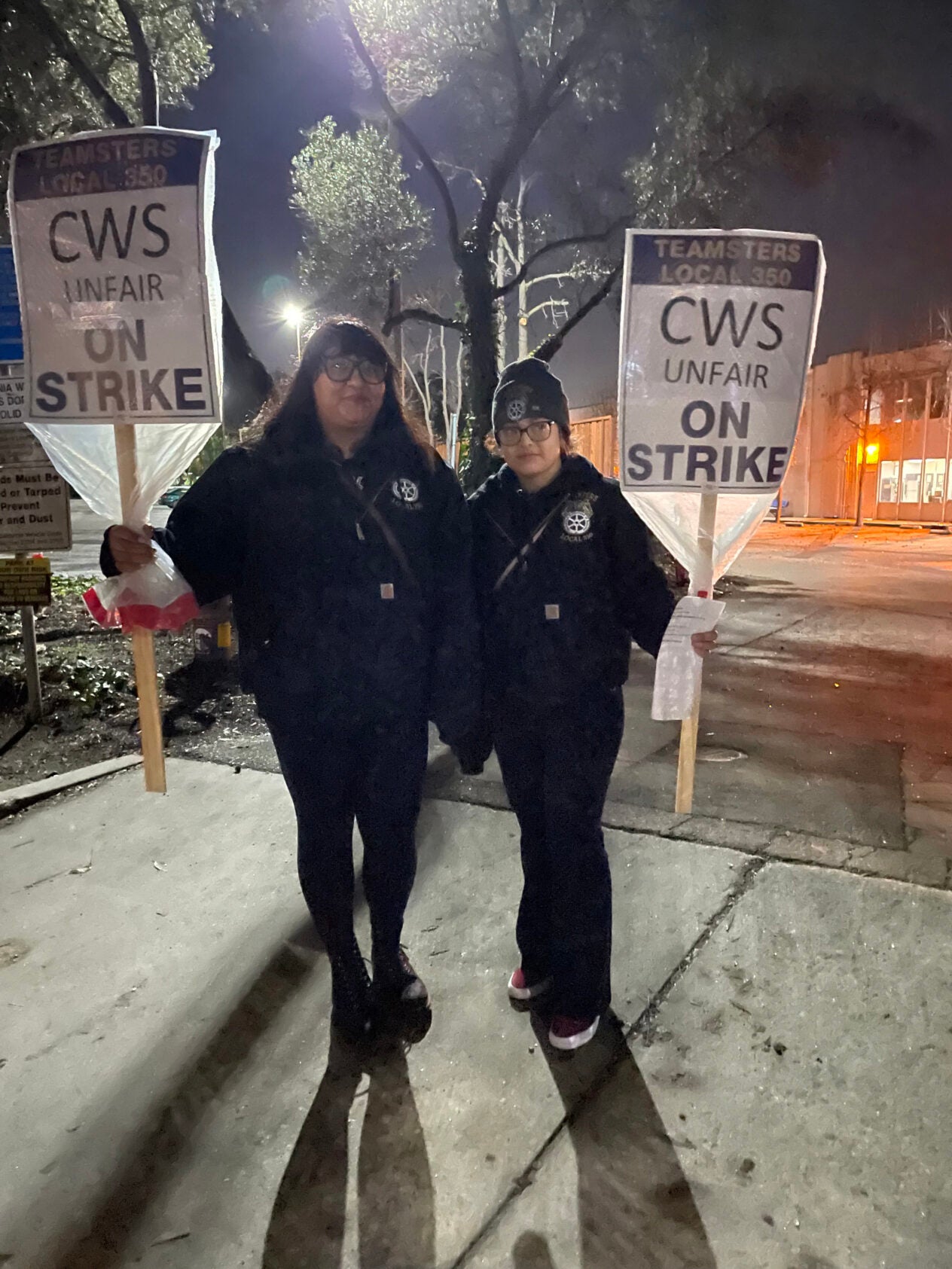 Nearly 150 Waste Workers Honor Picket Line in San Jose
(SAN JOSE, Calif.) – Clerical workers at California Waste Solutions (CWS) in San Jose are on an unfair labor practice (ULP) strike this morning to protest the company's violations of federal labor law. Nearly 150 drivers, mechanics, and landfill workers at two CWS facilities are honoring the picket line, causing major disruptions to recycling services throughout San Jose and surrounding communities.
The 10-worker clerical unit, represented by Teamsters Local 350, has been fighting for a contract for more than a year and a half. Local 350 filed ULP charges against CWS for refusing to negotiate in good faith and failing to have actual decision makers at the bargaining table.
"We're fighting for our future, for our security, and for the equality and respect we deserve for serving our community. We are asking that the company respect us and negotiate for real at the bargaining table," said Magaly Castillo, a two-year clerical worker at CWS.
Due to the prolonged negotiation process and pattern of bad faith bargaining by the employer, Castillo and her co-workers took a strike authorization vote in July. On Dec. 20, they unanimously voted down the company's contract proposal that would destroy their job security and allow the company to subcontract their work.
"We are the voice of this company. We love our San Jose residents and are grateful to serve this community," said Mayra Perez, a five-year clerical worker at CWS. "We are asking for this company to show us that they value our hard work and dedication to our community. Right now they are showing us the opposite by trying to take away our worker protections."
The Teamster waste workers joined with community and political allies on the picket line in solidarity and called on the company to bargain a fair contract.
"I am proud to stand in solidarity with the waste management professionals of California Waste Solutions in their call for a safe working environment that protects both workers and the communities they serve through essential collection and recycling services," said Sen. Dave Cortese, Chair of the California Senate Committee on Labor, Public Employment, and Retirement. "Fair and safe working conditions are essential to ensuring these workers can continue to conduct their important business to improve our environmental footprint, conserve resources, and protect public health."
In addition to the support from the public and their fellow Local 350 members, clerical workers have also received the support of workers represented by other unions in the area, including machinists who also work at CWS and are represented by the International Longshore and Warehouse Union.
"The South Bay AFL-CIO Labor Council authorized a strike sanction in solidarity with California Waste Solutions workers who are demanding safety on the job and a secure future for their families," said Jean Cohen, Executive Officer of the South Bay AFL-CIO Labor Council. "We encourage management to immediately resume negotiations to ensure employees have healthy working conditions and reliable employment."
The strike has shut down all curbside residential recycle pick-up in San Jose and halted operations at the company's material recovery facility.
"In 2019, Local 350 members publicly supported CWS' bid with the city, and we expect that the respect and support would go both ways," said John Bouchard, Secretary-Treasurer of Local 350. "These workers continued showing up to work during the pandemic to keep the company operating and even made it more profitable. They are striking today to show that they won't stand for these labor law violations or for being disrespected in this way. We won't back down until our members protected under a strong Teamster contract that addresses workplace concerns, protects jobs, and holds management accountable."
Chartered on October 8, 1936, Teamsters Local 350 represents members throughout the Bay Area who work in the public sector, the solid waste and recycling industry, the laundry industry, and other various industries.
« Previous
Next »