Workers at South San Francisco Scavenger Company Ratify First Teamster Contract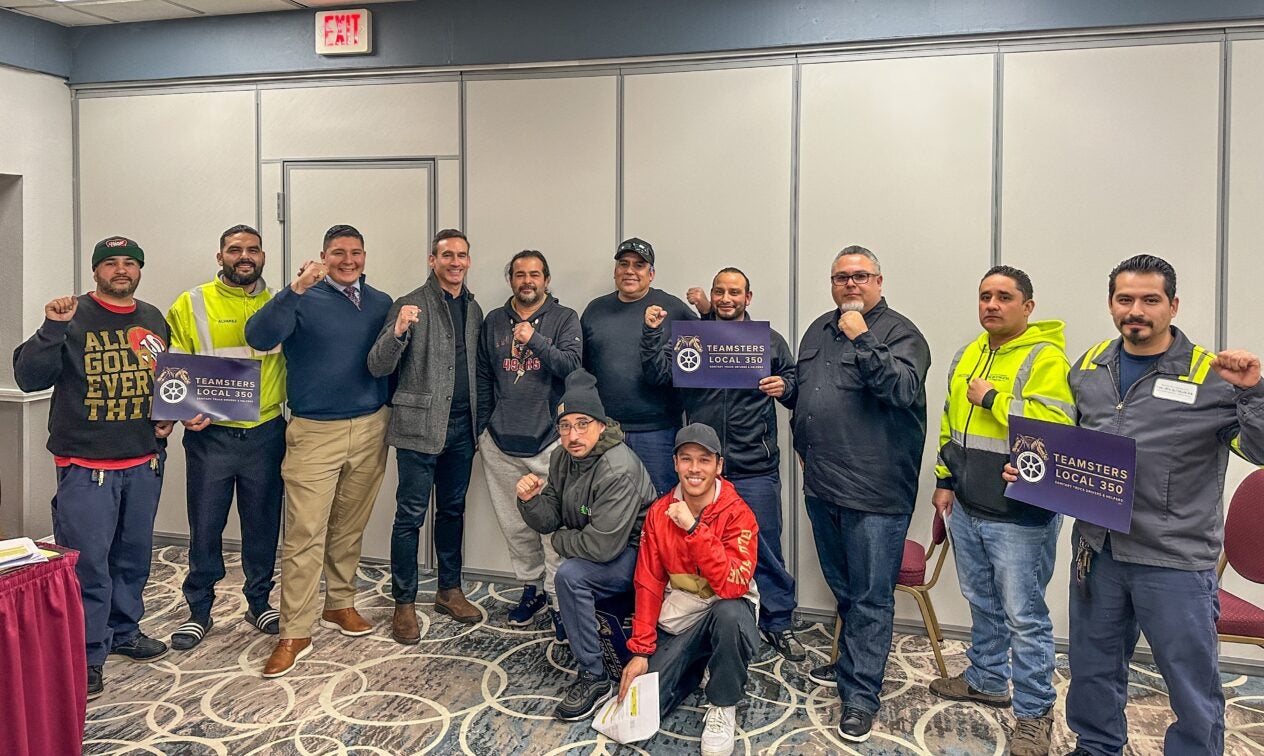 (SAN FRANCISCO) – Newly organized mechanics at South San Francisco Scavenger Company have ratified their first contract with Teamsters Local 350, guaranteeing protections to improve their lives on and off the job. They will now join drivers, sorters, and equipment operators already represented by Local 350 under a strong agreement that will provide significant annual pay increases, pension benefits, and other workplace improvements.
"To me, working under a union contract is a way of showing accountability and clarity across the board. For my unit, a union contract eliminates gray area and promotes a less stress environment thus enhancing personnel performance," said Jesus Antoinio "Tony" Alvarez, a seven-year mechanic at the company who also served on the bargaining committee.
Alvarez and his fellow mechanics voted to join Local 350 in August. Prior to organizing, they were one of the few remaining non-union waste workers within Local 350's jurisdiction.
"Our decision to organize is a victory not only for its members but for their families as well. Economically, the new agreement will bring more money to our households. Physically, it promotes a less stressful environment knowing we won't lose our jobs from one day to another," Alvarez said. "So, it's a weight off our backs. At an emotional level, we feel accounted for and respected knowing your work matters and you really can't put a price on that."
Notable highlights of the new contract include participation into the Western Conference of Teamsters Pension Fund, contractual pay for anyone on "standby time," tool allowance and insurance, boot allowance, and putting an end to the wage gap between workers, which will now across the board for all employees that have been underpaid for years.
"These individuals in the shop held fast and came together and realized that the time was now to join the Teamsters Local 350 family and be part a greater collective," said Robert Sandoval, Local 350 Business Representative. "They had been trailing for years to their union counterparts and to be able to negotiate a contract that reflects their true worth for the goods and services they provide is an amazing feeling." 
"I applaud this strong and determined group for standing strong to win the protections they deserve under the backing of a strong contract," said Chuck Stiles, Director of the Teamsters Solid Waste and Recycling Division. "Local 350 continues to lead the way for waste workers in the Bay Area, and this victory is just another example of how the Teamsters are growing our union density to gain more power at the bargaining table."
Chartered on October 8, 1936, Teamsters Local 350 represents members throughout the Bay Area who work in the public sector, the solid waste and recycling industry, the laundry industry, and other various industries.
« Previous
Next »