Idaho Teamsters Prevent Amazon from Destroying Public Land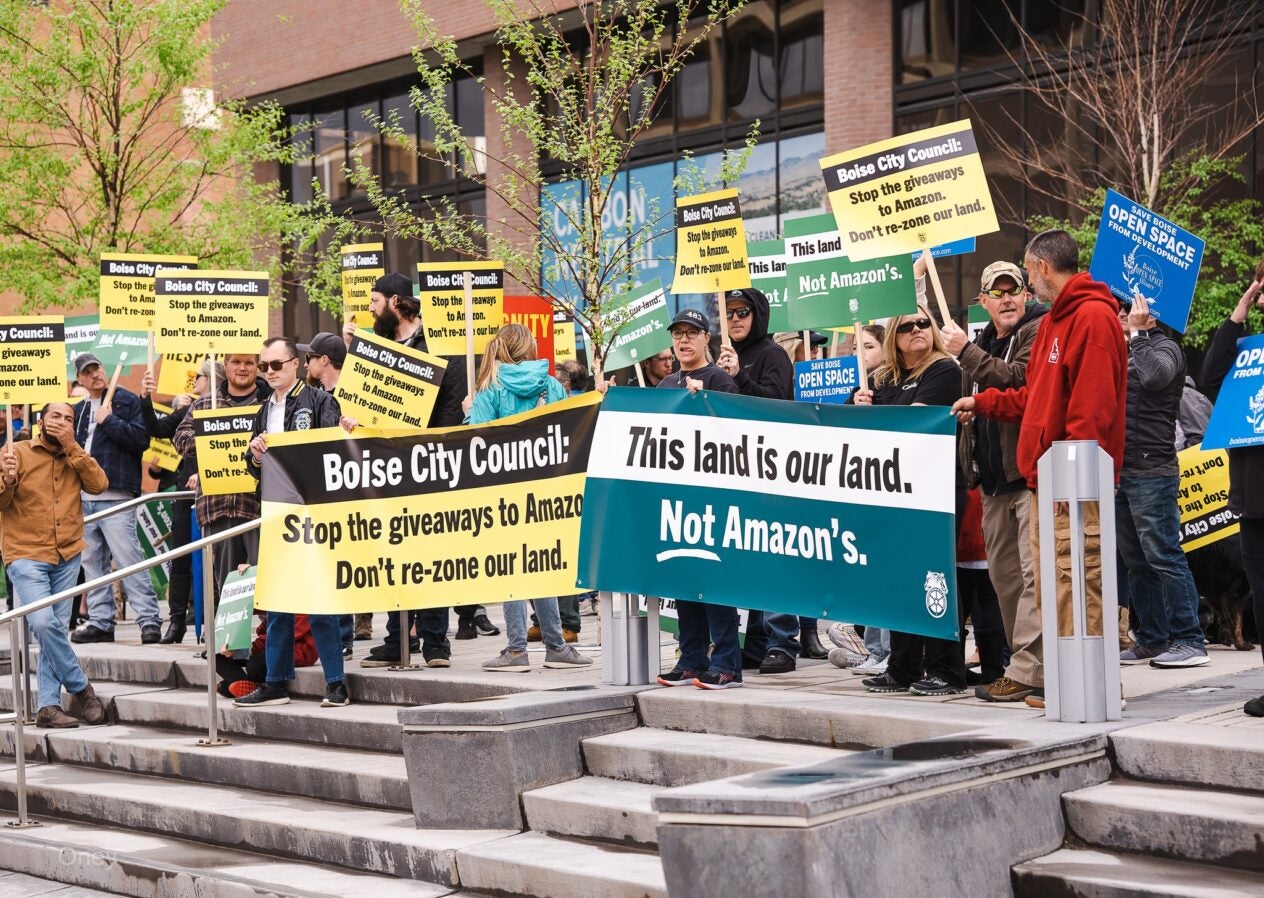 After an effective and intense organizing campaign on behalf of Teamsters Local 483 and their allies, the Boise City Council has unanimously approved a ballot initiative that would require a public vote on development of land that is designated for public use. The ballot initiative will prevent Amazon from buying and building in a 153-acre public space and nature reserve without a vote from citizens of the state's largest city. The company had reportedly been seeking to build an air hub on the site.
"Amazon isn't just a malignancy for America's working class, it's detrimental to the health of every community that hosts it," said Darel Hardenbrook, Secretary-Treasurer of Local 483 in Boise. "This is why the Teamsters are joining forces with environmentalists, civic associations, and other community stakeholders to fight this company."
Amazon loves to tout the supposed benefits that the company brings to communities where it does business, but often the tech behemoth does more harm than good. Jobs at Amazon are usually dangerous and short-term, and the facilities have a detrimental impact on nearby residents.
"One of the main citizen groups that were right beside us the whole time advocating for this ballot initiative was the Boise Open Space Alliance," Hardenbrook said. "Their main concern, and the reason they were so vocal about this fight, was the proposed area directly abuts a residential neighborhood."
In addition to the Boise Open Space Alliance, Local 483 also partnered with the Southwest Ada County Alliance and the South Cole Neighborhood Association to oppose the plan. Community civic associations such as these are right to be concerned. One study showed that opening an Amazon facility in a neighborhood leads to greater air toxification, more dangerous streets, worse traffic congestion and seemingly endless noise pollution. The environment in Boise could have suffered as well. The land also is home to a federally endangered plant species that is important to the local ecosystem and a habitat for many birds of prey.
While the success of the initiative benefited the entire community, it couldn't have happened without rank-and-file members.
"The lesson to be learned from this is that strength lies in numbers," said Scott Hardenbrook, Teamsters Southern Region Political Coordinator. "We never would've been able to do this without rank-and-file members who made time out of their busy schedules to show their support for this proposal. They came out and told elected officials 'we're not going to offer up the city on a silver platter to one of the wealthiest corporations in the world.' That made all the difference."
« Previous
Next »