Teamsters Rally for New Mexico Film Industry Jobs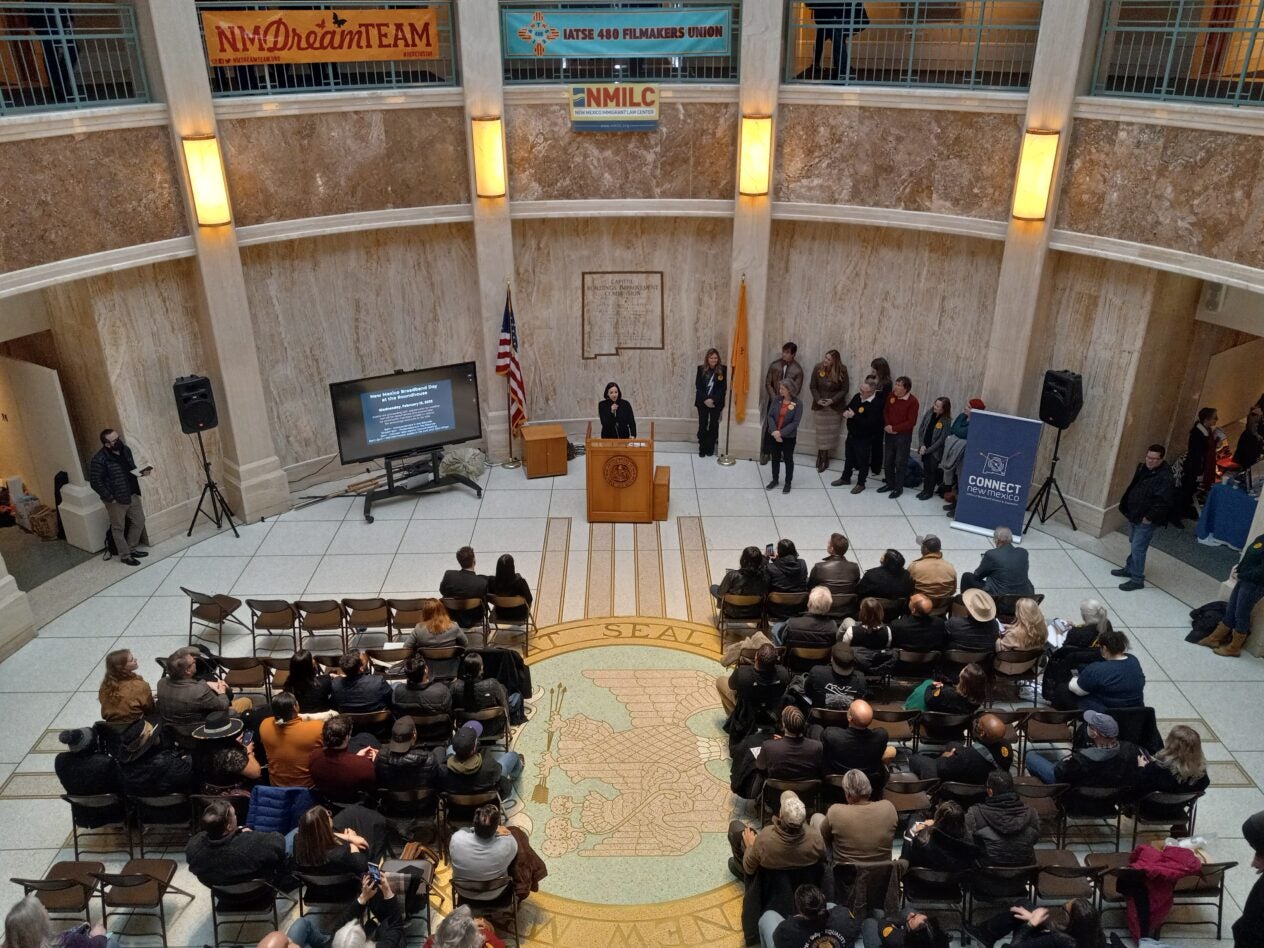 Press Contact: Daniel Moskowitz Phone: (770) 262-4971 Email: dmoskowitz@teamster.org
(SANTA FE, N.M.) – Teamsters Local 399 members rallied with hundreds of film industry workers at the state capitol in Santa Fe today in support of Senate Bill 12. The proposed legislation would revamp the tax incentive program for the state's film and TV industry, expanding the current program to support good union jobs.
Teamsters were joined by IATSE and SAG-AFTRA members in urging legislators to support Senate Bill 12 by highlighting the significant impact the legislation would have on New Mexico families and the state's economy.
"My entire life has changed because I had the opportunity to work in the New Mexico film industry. To go from living paycheck to paycheck to having a career as a Teamster in this industry has allowed me to provide for my family and prepare for retirement," said Mary Borg, a 17-year transportation driver/dispatcher and Local 399 member. "We bring incredibly unique skills to this industry. I am proud to call New Mexico home and share my support for an expanded program."
New Mexico Governor Michelle Lujan Grisham, union leaders, legislators, studio representatives, and the New Mexico Film Office also voiced their support for Senate Bill 12 and called for the expansion of the tax incentive program. Governor Lujan Grisham is a fierce advocate for the film and television tax incentive program and has worked closely with labor unions to ensure the legislation received input from workers.
"The Teamsters support tax incentive programs that prioritize workers in the motion picture industry," said Lindsay Dougherty, Local 399 Secretary-Treasurer and Teamsters Motion Picture and Theatrical Trade Division Director. "Our members in New Mexico work hard and have built careers in this industry. Their lives are better for it. The Teamsters are committed to continuing training opportunities in New Mexico and urge state legislators to protect and expand this program. We commend those who have already voiced their support."
"I've worked in the New Mexico film industry for over 10 years as a driver, grip, prop maker, picture car mechanic, and in other roles," said Marc Terrien, a Local 399 driver who helped coordinate the camera car at the event. "This is a phenomenal career, one I want to retire in. We can't get complacent about the fight. We must stay competitive to keep good jobs here. We are all proud of the work we do and our contribution to the state's economy."
Senate Bill 12 will be heard in first committee tomorrow and, upon passage, land on Governor Lujan Grisham's desk for approval at the end of session in late March.
Teamsters Local 399 represents nearly 6,400 members in the motion picture industry in Hollywood and New Mexico, including drivers, animal trainers/handlers, wranglers, dispatchers, DOT admins, location professionals, casting professionals, chef assistants, mechanics, auto service workers, and warehouse workers.
« Previous
Next »