DHL Express Ohio, Kentucky Workers Call on Management to Stop Threats and Intimidation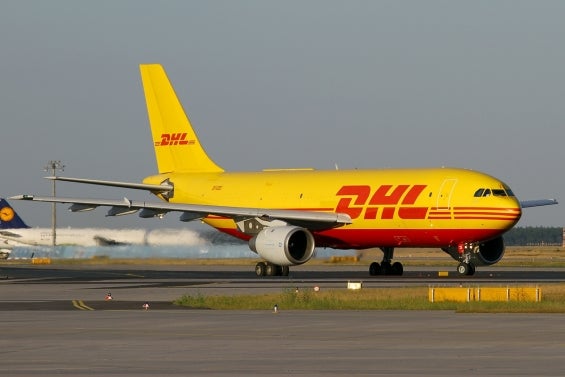 Logistics Workers Unite to Join Teamsters, Improve Their Working Conditions
Press Contact: Kara Deniz Phone: (202) 497-6610 Email: kdeniz@teamster.org
(HEBRON, Ky.) – On Friday, March 17, DHL Express workers at Cincinnati/Northern Kentucky International Airport (CVG) responsible for the domestic and international movement of goods held an action to demand management stop interfering with their right to organize with the Teamsters Union.
As they fight for their rights to freely join the Teamsters and improve their working conditions, the essential ramp and tug workers engaged in a "DHL-CVG Workers United for Change" campaign demanded that DHL Express and its publicly traded German parent company, Deutsche Post DHL Group, respect U.S. and German laws that govern workers' rights to form unions.
DHL Express workers demand a safe working environment, humane treatment, transparent policies that are fair and equitable, and the right to choose a union without employer interference.
"For almost a year, my co-workers and I have been fighting to join the Teamsters Union, but we've faced harassment, intimidation, and retaliation just for exercising our rights," said Steven Fightmaster, a DHL Express-CVG ramp lead. "The frustration and exhaustion have taken a toll on me and my family. We won't be silenced because we deserve respect, safety, and dignity at work. We will continue standing up for our rights until we become Teamsters!"
DHL Express and Deutsche Post DHL Group already have collective bargaining agreements with workers across the U.S. and Europe.
Rather than remain neutral and allow workers to freely and fairly vote on union representation, DHL Express managers have increased pressure on CVG workers with repeated acts of intimidation, threats, and retaliation for supporting the union. Teamster organizers have already filed 17 unfair labor practice charges with the National Labor Relations Board as they seek justice for DHL Express workers.
The recent termination of Linsey Farrell, a DHL Express worker fighting for a safe workplace, has rallied the workforce to organize.
The worker organizing committee strongly believes that DHL has not only violated the National Labor Relations Act, governing a worker's right to form a union without interference, but has also failed to abide by the terms of its National Neutrality Agreement between the Teamsters and DHL Express. In the neutrality clause contained in the DHL Express USA National Agreement with the Teamsters covering other locations, DHL pledged not to interfere in employee efforts to join the Teamsters in nonunion facilities.
The company is also failing to live up to its own stated core principle of respecting workers' rights to join a union as expressed in its Global Declaration of Worker and Human Rights.
« Previous
Next »