Republic Services Workers in Arizona Join Teamsters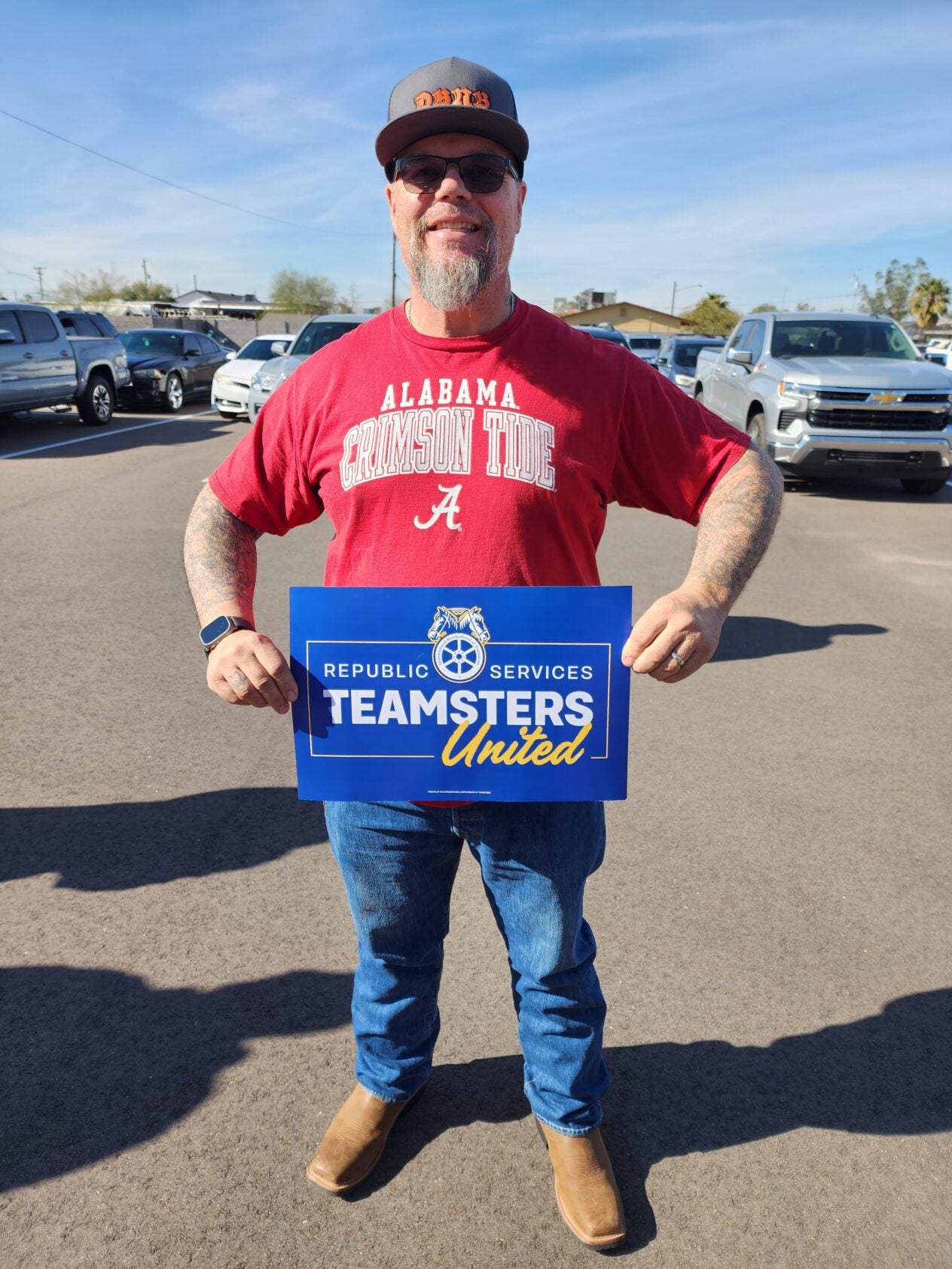 Teamsters Win Third Organizing Drive in Waste Giant's Backyard
Press Contact: Daniel Moskowitz Phone: (770) 262-4971 Email: dmoskowitz@teamster.org
(MESA, Ariz.) – Workers at Republic Services in Mesa, Ariz., have voted for representation with Teamsters Local 104 in Phoenix. The 62-worker group includes commercial and residential drivers who are seeking higher pay, affordable health care, improved safety, better working conditions, and respect.
"We're tired of being bullied and intimidated by management. That's the reason why we came together to win Teamster representation," said Keith Purcell, a Republic Services driver. "We want to be respected and appreciated for our hard work. The only way to get respect is with a contract."
This is the third group of Arizona workers at the company to join the Teamsters in under six months. In October, 116 drivers and support staff at Republic Services Phoenix overcame a vicious anti-union campaign from management to secure Teamster representation. On March 10, more than 60 workers at the company followed suit, voting overwhelmingly to join Local 104 despite the Republic's continued use of union busters.
"These workers knew that they were part of a growing worker movement at this company and never wavered in their campaign to become Teamsters. No matter what the company threw at them, they stood strong and united to win representation," said Josh Graves, Local 104 Vice President. "Now, the real work begins at the bargaining table to negotiate a strong contract that addresses years of workplace concerns."
Headquartered in Phoenix, Republic Services [NYSE: RSG] is the second-largest trash collection and landfill company in the U.S. The International Brotherhood of Teamsters represents more than 7,000 Republic Services workers nationwide.
"The Teamsters are declaring victory at Republic Services today. After months of fighting, workers have prevailed," said Chuck Stiles, Director of the Teamsters Solid Waste and Recycling Division. "The Teamsters took the fight to the company's backyard and won big. Let this be a lesson to Republic during future organizing campaigns: when workers are united, their momentum cannot be stopped."
Founded in 1903, the International Brotherhood of Teamsters represents 1.2 million hardworking people in the U.S., Canada, and Puerto Rico. Visit Teamster.org for more information. Follow us on Twitter @Teamsters and "like" us on Facebook at Facebook.com/teamsters.
« Previous
Next »