Striking Sysco Teamsters Extend Picket Lines to Nearly 1,000 Workers Nationwide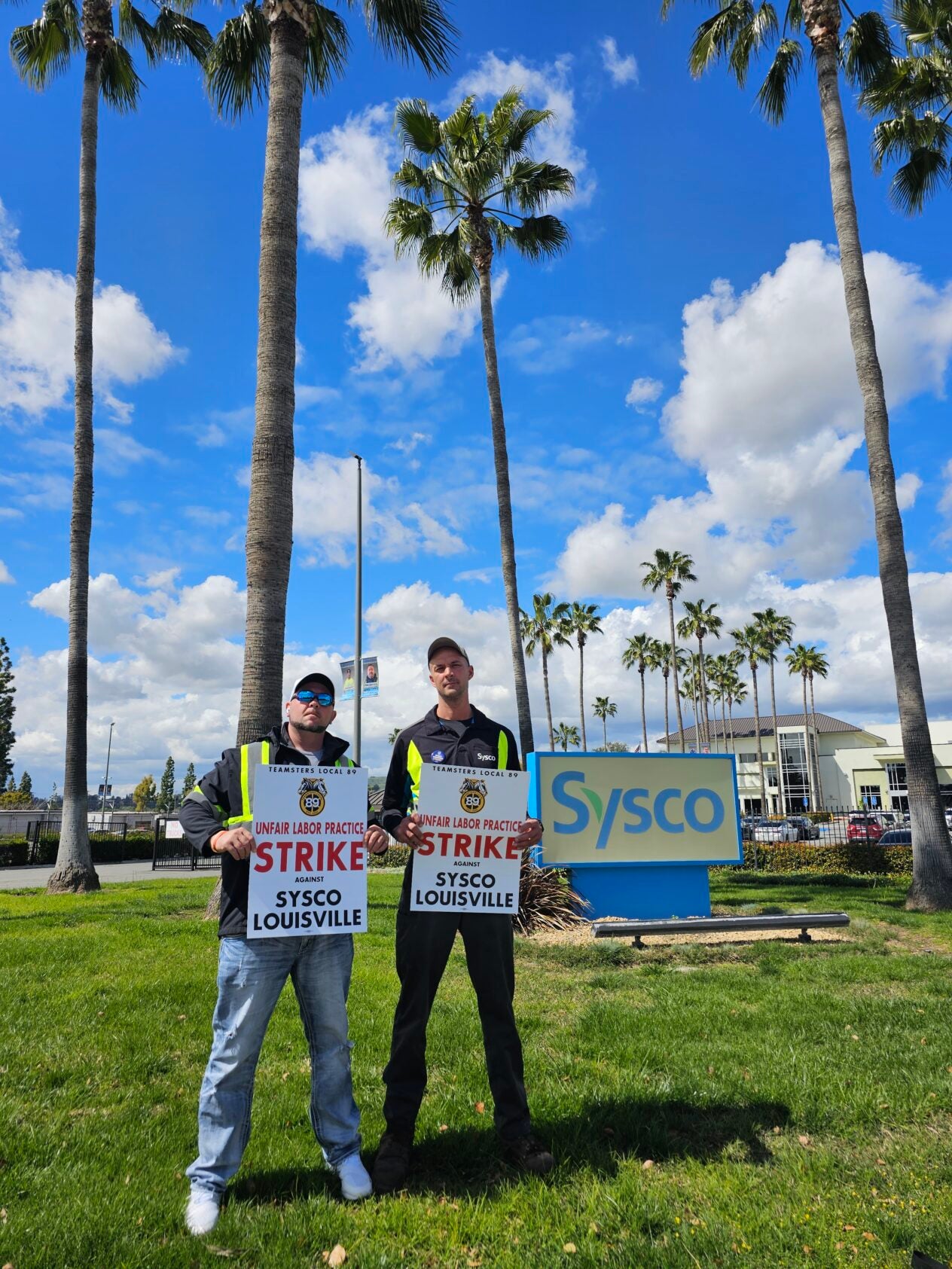 Strike Enters Day Four in Louisville and Indianapolis; Picket Lines Extend to California
Press Contact: Daniel Moskowitz Phone: (770) 262-4971 Email: dmoskowitz@teamster.org
(WASHINGTON) – Striking Teamsters at Sysco [NYSE: SYY] in Indianapolis and Louisville, Ky., extended their strike to California today. Nearly 1,000 members are now on the picket line nationwide as members of Teamsters Locals 495, 630, and 848 began honoring the strike in Southern California this afternoon, with more extensions expected to go up as early as tonight.
"The days of Sysco holding our members down are over. The Teamsters have made it clear that we will strike this company again and again to protect our members," said Teamsters General President Sean M. O'Brien. "The company's attitude toward its workers is despicable. It's time for Sysco to get its act together. Until then, we'll be out in full force to hold this company accountable."
Nearly 300 workers represented by Teamsters Local 89 and Teamsters Local 135 went on strike on March 27 at Sysco Louisville and Sysco Indianapolis after weeks of contentious contract negotiations and unfair labor practices (ULPs). At both locations, members are united to win higher wages, affordable healthcare, fair work rules, and protections against excessive overtime.
"This strike extension shows that we have the support from Teamsters across the country and that our fight will continue to spread," said Cody Combs, a striking Local 89 member. "We're standing up to Sysco by standing up for each other."
The nationwide strike is the latest example of coordinated bargaining and collective action by the Teamsters at Sysco. In October, Teamsters went on strike at Sysco for nearly three weeks to win contracts for more than 800 members in Arizona, Syracuse, N.Y., and Plympton, Mass.
"Our members at Sysco work up to 16 hours a day, six days a week, keeping our communities fed. They're fed up by the way they're treated by this company," said Teamsters General Secretary-Treasurer Fred Zuckerman. "Sysco's blatant disregard for workers is wrong and shameful. Our members are going to continue to take action until this company stops playing games and gets serious in negotiations. We won't stop fighting until strong contracts have been reached."
Founded in 1903, the International Brotherhood of Teamsters represents 1.2 million hardworking people in the U.S., Canada, and Puerto Rico. Visit Teamster.org for more information. Follow us on Twitter @Teamsters and "like" us on Facebook at Facebook.com/teamsters.
« Previous
Next »