Teamsters On Strike at Sysco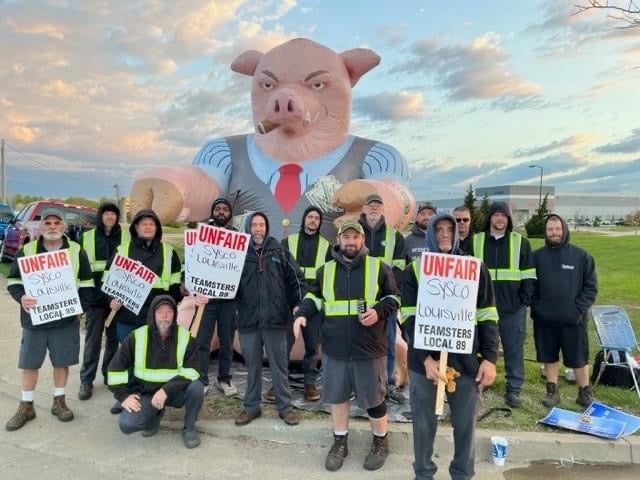 More Than 300 Workers at Sysco Louisville and Sysco Indianapolis Walk Off Job Over Contentious Contract Negotiations, Unfair Labor Practices
Press Contact: Daniel Moskowitz Phone: (770) 262-4971 Email: dmoskowitz@teamster.org
(WASHINGTON) – Teamsters at Sysco Louisville and Sysco Indianapolis are on strike in response to unfair labor practices (ULPs) after weeks of contentious contract negotiations at both locations. Picket lines could extend to more locations across the country in the coming days.
"We're asking to be compensated fairly for the hard work that we do," said Michael Bonner, a Sysco driver and Teamsters Local 89 member in Louisville. "The company would rather put its employees and customers in a negative situation than just compensate us fairly."
Bonner and his co-workers organized with Local 89 in August 2022, overcoming a vicious anti-union campaign from the company. Since then, management has failed to bargain in good faith for the 100 delivery drivers.
"We have had it with this company and their disregard for workers," said Brian Thomas, one of 160 members of Teamsters Local 135 on strike at Sysco Indianapolis. "We're tired of being taken advantage of and we are seriously concerned about benefits, workplace safety, and work-life balance."
Workers voted unanimously to authorize a strike at both Sysco locations.
"The Teamsters are not afraid of Sysco. We're ready to do whatever it takes to get these folks the contract they deserve," said Avral Thompson, Local 89 President and International Central Region Vice President.
Nationally, Sysco [NYSE: SYY] faces multiple federal investigations for violating U.S. labor law. The Teamsters are currently in negotiations at several Sysco-branded locations across the country. Hundreds of Teamsters at the company are currently working without a contract or have contracts about to expire due to the company's failure to bargain in good faith.
The International Brotherhood of Teamsters represents more than 10,000 Sysco workers nationwide.
"We are going to hold greedy employers accountable. If Sysco didn't learn its lesson last October, then we will remind them again this spring," said Tom Erickson, Director of the Teamsters Warehouse Division. "This is just the beginning. Teamsters nationwide are standing together to win the respect they deserve at this company."
« Previous
Next »