Amazon Drivers Ratify Teamster Contract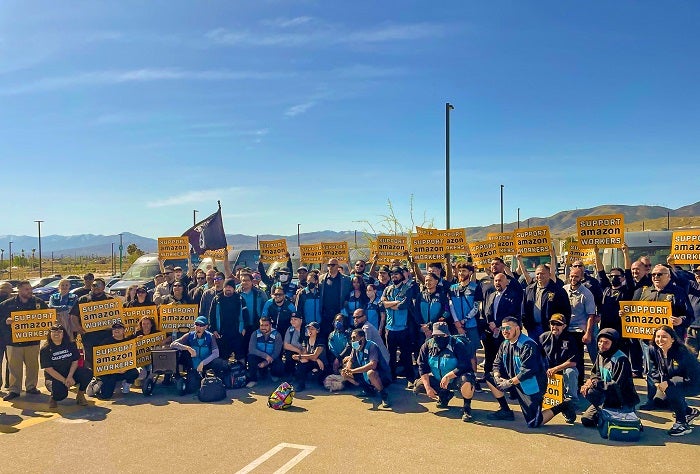 Workers Approve Agreement Including Better Pay, Safety Protections
Press Contact: Kara Deniz Phone: (202) 497-6610 Email: kdeniz@teamster.org
(PALMDALE, Calif.) – Amazon drivers and dispatchers voted unanimously to ratify their first union contract today, securing immediate safety protections and pay increases at the notoriously anti-worker company. The Teamster contract is the first union agreement covering workers in Amazon's massive delivery network.
The 84 workers at Amazon's Delivery Service Partner (DSP) Battle-Tested Strategies organized with Teamsters Local 396 in Los Angeles. Battle-Tested Strategies agreed to voluntarily recognize the union.
"These workers have been delivering Amazon packages as unionized drivers for a week now," said Randy Korgan, Teamsters Amazon Division Director and Teamsters Joint Council 42 Director of Organizing. "Fulfilling the promise of the contract will require fundamentally changing Amazon's exploitative business model and we will keep fighting until that happens. These drivers and dispatchers are showing that by building power in the workplace, you can take on the richest corporations and get what you deserve. We are proud to stand alongside them as fellow Teamsters."
"No one understands Amazon's business better than the workers who deliver their packages, and in Palmdale those workers are Teamsters now," said Teamsters General President Sean M. O'Brien. "Teamsters stand up to bullies and these workers stood up to one of the biggest corporate bullies on the planet. This win is historic, but it's only just the beginning. Amazon better pay attention because there's more to come."
"We shouldn't have to put our lives on the line to deliver Amazon packages in a heat wave," said Rajpal Singh, a driver. "We shouldn't have to worry about whether our kids will have enough to eat when we are working full time. We organized a union to protect ourselves and our families. The workers have spoken. Will Amazon listen?"
The union contract will bring driver wages to $30 per hour by September. It also guarantees the rights of workers to drive safe equipment and refuse unsafe deliveries. Under the contract, workers cannot be disciplined based solely on Amazon's dystopian surveillance technology.
The Amazon drivers organized with the Teamsters over concerns for their safety in extreme temperatures, which regularly exceed 100 degrees Fahrenheit during Palmdale summers.
The contract preserves the workers' right to strike during the length of the agreement to enforce the contract and protect their safety.
"People don't realize how dangerous delivering for Amazon can be. We all have experiences with aggressive dogs or other close calls when making deliveries for Amazon. Now we have the right to refuse unsafe deliveries thanks to our union contract. Amazon needs to respect that," said Jessie Moreno, a driver.
The workers also will receive paid holidays, including Martin Luther King Day, Cesar Chavez Day, and Juneteenth. Founded in 1903, the International Brotherhood of Teamsters represents 1.2 million hardworking people in the U.S., Canada, and Puerto Rico. Visit Teamster.org for more information. Follow us on Twitter @Teamsters and "like" us on Facebook at Facebook.com/teamsters.
« Previous
Next »