DHL Express Workers Join Teamsters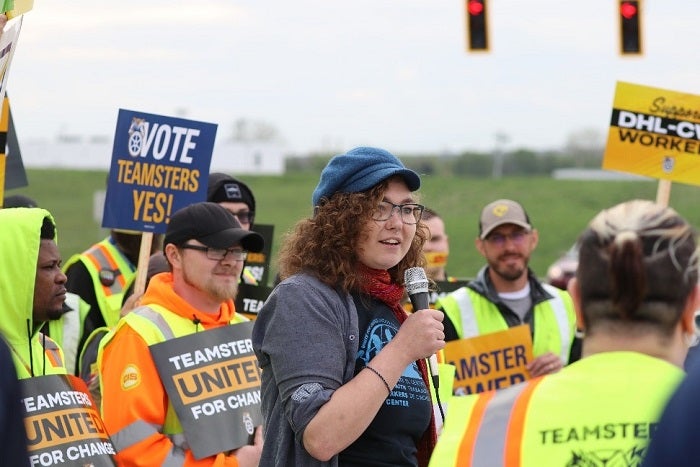 Logistics Workers Secure Representation at DHL's Largest Hub in North America
Press Contact: Kara Deniz Phone: (202) 497-6610 Email: kdeniz@teamster.org
(HEBRON, Ky.) – The International Brotherhood of Teamsters scored a massive organizing victory today for more than 1,100 DHL Express workers at Cincinnati/Northern Kentucky International Airport (CVG). Ramp and tug workers voted to join Teamsters Local 100 in Cincinnati after a yearlong campaign for representation.
"This was a long time coming!" said Steve Fightmaster, a ramp lead and DHL Workers United for Change committee member. "We stood strong to become Teamsters and changed over 1,000 people's lives for the better."
"This victory is a testament to what can be achieved when workers are united for a better future," said Bill Hamilton, Director of the Teamsters Express Division. "These workers overcame a tough anti-union campaign and fought hard against the retaliation and misinformation from management. Ultimately, they prevailed because they were determined to bring real change to their workplace."
Negotiations will begin for a first Teamster contract for DHL-CVG workers following certification of the election by the National Labor Relations Board.
"We are thrilled that more DHL Express workers have successfully fought to join our union," said Teamsters General Secretary-Treasurer Fred Zuckerman. "Our entire union stands with these workers, ready to keep holding DHL Express accountable."
"Today, DHL Express workers made the decision to join the most powerful union in the world. These new Teamsters showed courage and conviction in their organizing drive and we couldn't be more honored to welcome and protect them," said Teamsters General President Sean M. O'Brien. "Whether it's at DHL, Amazon, or UPS, Teamsters never stop in our fight to hold corporations accountable and to get the best contracts for our members."
Throughout their organizing campaign, DHL-CVG workers were fiercely supported by existing DHL Teamsters around the country. The International Brotherhood of Teamsters represents more than 6,000 members at DHL in the U.S.
Founded in 1903, the International Brotherhood of Teamsters represents 1.2 million hardworking people in the U.S., Canada, and Puerto Rico. Visit Teamster.org for more information. Follow us on Twitter @Teamsters and "like" us on Facebook at Facebook.com/teamsters.
« Previous
Next »