RISD Teamsters Continue Picket on Campus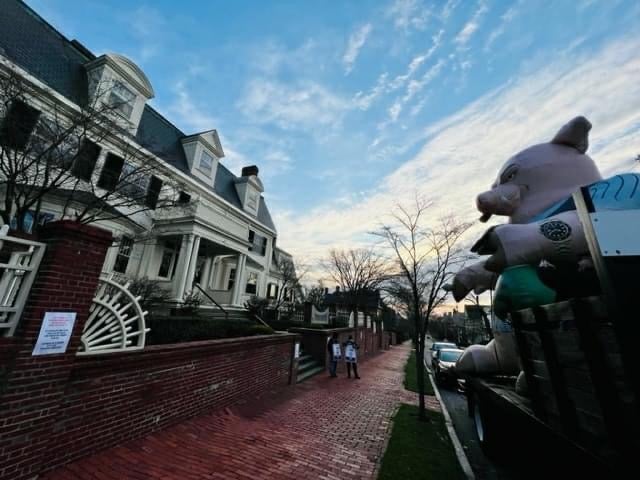 Workers Demand Art School Bargain Strong Contract in Good Faith
Press Contact: Matt Taibi Phone: (401) 434-0454 Email: mtaibi@teamster.org
(PROVIDENCE, R.I.) – Workers at the Rhode Island School of Design (RISD) represented by Teamsters Local 251 were forced onto the picket line at 4 a.m. on Monday, April 3, after college officials failed to bargain in good faith with its unionized workforce.
All this week, workers picketed across RISD's campus, including at President Crystal Williams' $2 million home and the local facility of a scab labor company. On Tuesday, workers and the inflatable "Greedy Pig" protested outside the president's multimillion-dollar estate that she occupies rent-free while collecting $600,000 per year. Meanwhile, Williams and RISD management claim the fair wages and benefits workers seek are "excessive."
Workers also protested outside Dependable and Affordable Cleaning, which RISD contracted with to outsource Teamster labor.
"It is abundantly clear that RISD executives are out of touch with reality and the struggles of working people," said Matt Taibi, Local 251 Secretary-Treasurer and Teamsters Eastern Region International Vice President. "Our members do not want to strike, but RISD's repeated refusal to bargain left them with no choice. We commend the workers on their determination and unity in fighting to secure a strong first contract."
For the last several months, more than 60 workers at the college have remained focused on obtaining an agreement while RISD has refused to bargain in good faith. Most recently, RISD ignored workers' proposals submitted March 18.
Workers will be on the line on Friday and keep picketing until RISD comes to the table.
Teamsters Local 251 represents over 6,300 workers in a wide variety of industries throughout Rhode Island and southeastern Massachusetts. For more, go to TeamstersLocal251.org.
« Previous
Next »