Teamster Pilots with Allegiant Air Hold Informational Picket in Las Vegas to Demand Fair Contract and Better Pay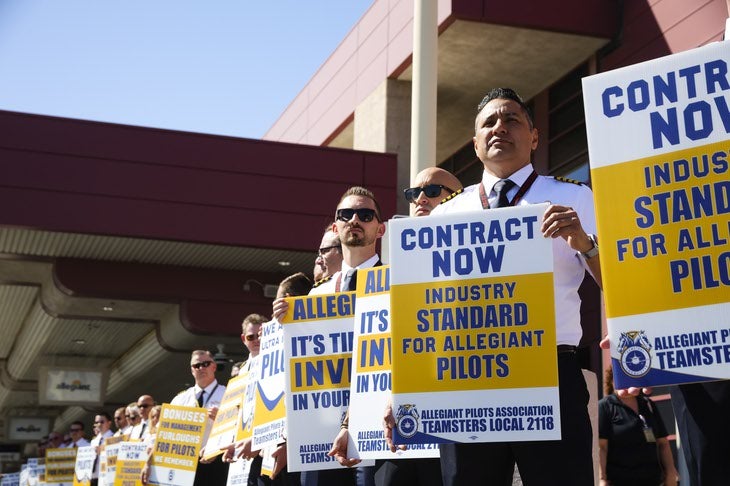 Teamsters Demand Allegiant Management Stop Delaying Negotiations
(LAS VEGAS, NV) – Yesterday, Teamster pilots with Allegiant Air picketed outside Harry Reid International Airport (LAS) in Las Vegas to call on the airline to address sub-industry standard wages, staffing issues, and Allegiant's refusal to negotiate a new contract in good faith.
Allegiant management has intentionally delayed contract negotiations for more than two years by putting forth wage proposals that fall well short of industry standard, resulting in severe recruitment and retention issues as highly qualified pilots search elsewhere for better pay and benefits. Now, Teamster pilots are fed up and making their voices heard.
Meanwhile, after subjecting pilots to unnecessary furloughs during the COVID-19 pandemic, Allegiant has showered its executives with stock grants, accelerated vesting, and new employment contracts. The  company recently invested more than half a billion dollars on a luxury hotel in Florida.
"After more than two years of negotiations, Allegiant still won't agree to work rules that have been the standard at other airlines for decades. Their inability to acknowledge the state of the current market is causing lasting damage to the airline's business model and passenger experience and preventing successful recruitment and retention of skilled pilots. Without the fair, industry standard compensation and work rules that we are demanding, these problems will only get worse," said Captain Andrew Robles, the President of the Allegiant Pilots Association and Teamsters Local 2118. "Allegiant might be an 'ultra-low cost' airline, but we are not ultra-low cost pilots. It's time for the company to stop delaying and come to the table in good faith."
« Previous
Next »