Teamsters Tell UPS: Make Movement on Our Members' Issues Now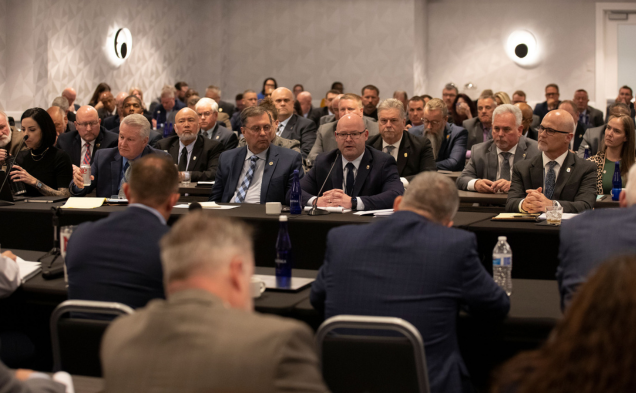 The Teamsters National Negotiating Committee, including rank-and-file members and representatives of all supplemental negotiating committees, met with UPS in Washington, D.C., on April 17.
While the company gave its opening statement through a PowerPoint, the Teamsters presented video testimonials from members nationwide sharing their trials and tribulations working at UPS.
Teamsters General President Sean M. O'Brien and General Secretary-Treasurer Fred Zuckerman are leading the negotiations. They stated the union's intentions loud and clear.
"We don't work for this company. We work for our members. It's not Wall Street that concerns us, it's Main Street," O'Brien told UPS across the table. "We are not going to negotiate a contract that is cost neutral or with concessions. We are going to push this company and its management harder than they've ever worked before, and for the first time you're going to face a productivity standard. We have 12 weeks until this current contract expires. Let's get to work."
O'Brien told UPS if they are serious about a deal, they will negotiate the supplements to their finale now. The Teamsters National Negotiating Committee told UPS directly that the union will not enter national negotiations until supplements are resolved.
"If UPS wants to show workers that they are true partners and they care about the workforce, then they need to get off their asses and start making movement on our issues now," O'Brien said.
Watch UPS members in their own words talk about what they want in their next contract.
Meetings with UPS will resume on April 18.
« Previous
Next »