Tennessee Teamsters Win Strike at Republic Services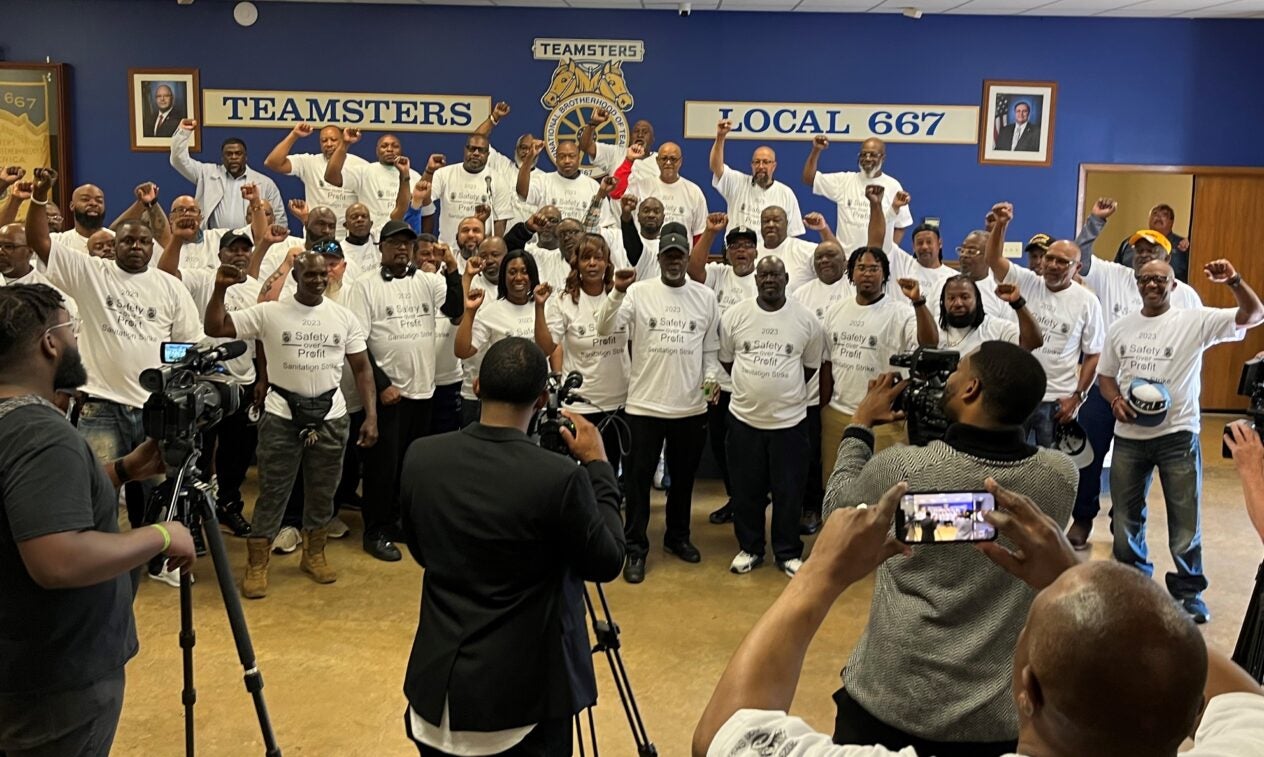 Teamsters Local 667 Members Win Massive Wage Increases, Safety Bonus
Press Contact: Daniel Moskowitz Phone: (770) 262-4971 Email: dmoskowitz@teamster.org
(MEMPHIS) –Teamsters Local 667 members at Republic Services voted unanimously on April 22 to ratify a new contract that will provide workers with wage increases of up to 28 percent an hour over the life of the five-year agreement. The 88 drivers went on strike April 12 in response to unfair labor practices (ULPs) by the company and weeks of contentious contract negotiations with management.
"This contract proves that when Teamsters strike, Teamsters win," said James E. Jones, Local 667 President. "The company told us we would never get the wages we wanted—well, this agreement says something different. We are proud of our members for standing up for what is right."
In addition to massive wage increases for waste workers in the Memphis area, the agreement also secured the safety bonus that workers went on strike to defend as well as increased pay for workers training new employees, more sick days, and more funding for safety equipment and gear.
The nine-day strike at Republic Services took place almost 55 years after Dr. King was assassinated in Memphis while supporting striking sanitation workers. The 1968 strike took place after two sanitation workers were killed on the job. On March 30, a Republic employee was killed on the job at the Memphis landfill.
Last week, Tennessee State Representative Justin J. Pearson (D-Memphis) offered his support and solidarity to Local 667 workers in a piece in MLK50 and a letter to Local 667 President James E. Jones.
"This strike was not easy," Jones said, noting a striking driver and community supporter were hit by a Republic Services truck at the landfill on Friday.
Waste workers perform one of the most dangerous jobs in America, according to the U.S. Bureau of Labor Statistics.
"We stood strong and fought hard to secure wage increases for the next five years," said Terry Moss, a Republic driver and chief steward for Local 667. "The contract will also help ensure workers are safe and protected on the job. We are proud of what we've accomplished."
Local 667 members received support from Teamster waste workers nationwide. Locals across the country were prepared to honor the line if pickets appeared at their facilities.
Republic Services [NYSE: RSG] is the second-largest trash collection and landfill company in the U.S. The International Brotherhood of Teamsters represents more than 7,000 Republic Services workers nationwide.
"The strike in Memphis was part of a larger national effort between Teamster locals, the division, and the International. Republic saw that the entire Teamsters Union was fully behind these workers," said Chuck Stiles, Director of the Teamsters Solid Waste and Recycling Division. "It's a new era for the Teamsters. All across the county, our members at Republic are energized and fighting back to get what they deserve."
Founded in 1903, the International Brotherhood of Teamsters represents 1.2 million hardworking people in the U.S., Canada, and Puerto Rico. Visit Teamster.org for more information. Follow us on Twitter @Teamsters and "like" us on Facebook at Facebook.com/teamsters.
« Previous
Next »