Teamster Pilots with Allegiant Air Picket Florida Airports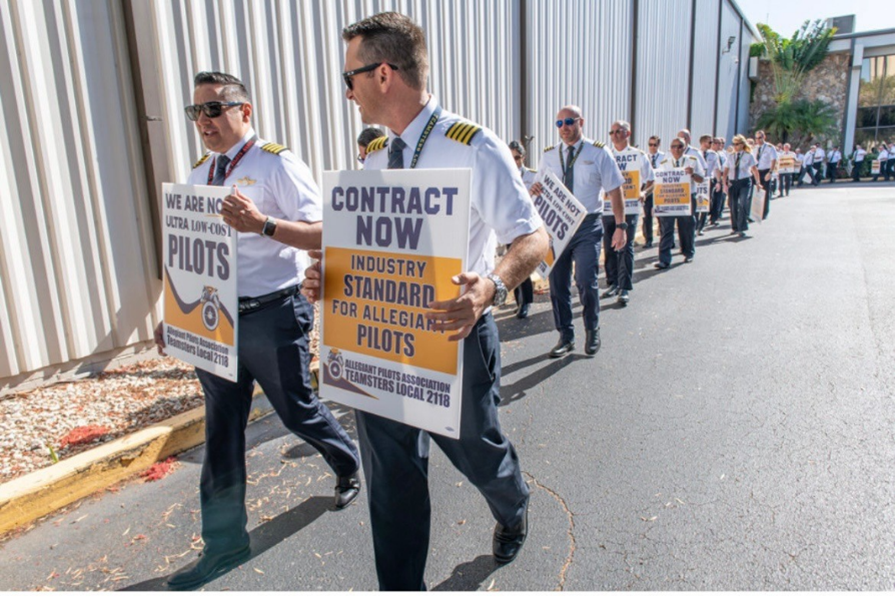 Teamster pilots with Allegiant Air picketed last week outside St. Pete-Clearwater International Airport (PIE) and Orlando Sanford International Airport (SFB) to demand Allegiant negotiate a contract in good faith, including industry standard wages and healthy staffing levels. The pickets in Florida followed an action in Las Vegas.
Allegiant management has intentionally delayed contract negotiations, putting forth wage proposals that fall far short of industry standards.
Travelers honked their horns and spoke out in support of Teamster pilots on the picket line. "I really hope they get their increase in pay," a passenger told News Channel 8 in Orlando. "They really do a fine job."
Allegiant's refusal to bargain in good faith over wages has resulted in pilots taking on more hours as the airline struggles to staff flights.
"Allegiant is having to reduce the schedule that we currently have to try to cover those gaps. What that means is our pilots are having to work longer hours and more days," Capt. Andrew Robles, president of Teamsters Local 2118, told News Channel 8.
Teamsters also called out Allegiant's attempts to violate the existing contract by changing their scheduling policy. In March, Local 2118 successfully beat back these attempts when the Ninth Circuit affirmed that that the company is required to build a pilot's schedule sequentially based on their preferences and seniority, as the current contract states.
"Allegiant might be an 'ultra-low cost' airline, but we are not ultra-low cost pilots," Robles said. "If this company can invest half a billion dollars on a luxury hotel investment in Florida, it can invest in our pilots."
« Previous
Next »