Smart & Final Workers Join Teamsters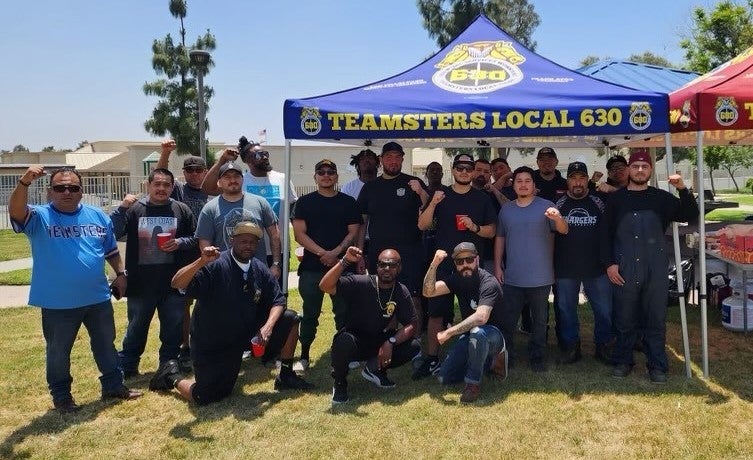 Three Hundred California Warehouse Workers Vote Overwhelmingly for Representation with Teamsters Local 630
Press Contact: Daniel Moskowitz Phone: (770) 262-4971 Email: dmoskowitz@teamster.org
(LOS ANGELES) – Three hundred workers at Smart & Final Distribution Center in Riverside, Calif., have voted overwhelmingly, by a 4-1 margin, to join Teamsters Local 630 in Los Angeles. The California warehouse workers are seeking consistent standards, better health care, a path to retirement, an end of favoritism, job security, improved safety, and respect on the job.
This is the second group at the company to join Local 630 this year. In February, more than 300 workers in Commerce, Calif., voted overwhelmingly for Teamster representation.
"We voted to form our union with the Teamsters because we had no job security and no way of retiring with dignity," said Daniel Delgado, an 18-year warehouse worker at Smart & Final. "We felt voiceless. But now, with our fellow warehouse workers at our sister warehouse in Commerce, we will have a strong voice and power at the bargaining table for the future of our families."
After launching their organizing campaign, Delgado and his co-workers overcame a vicious anti-union campaign from management to win strong representation on the job.
"We started our struggle a few months ago due to lack of respect. We need fair treatment, improved working conditions, better pay, and enhanced benefits," said Roberto Cruz, a 15-year Smart & Final warehouse worker at the Riverside facility. "We took up the mantle and stood up for our rights knowing that the union will empower us and bring positive change."
Smart & Final is a chain of warehouse-style food and supply stores based in Commerce, Calif., and is owned by Mexican supermarket operator Chedraui.
"I want to congratulate workers at Smart & Final in Riverside for taking a courageous stand and flexing their collective muscle to elect Local 630 as their representative. These workers chose to stand in unity with their sisters and brothers at Smart & Final in Commerce, California. Now it's time for Smart & Final to respect their voices by negotiating a fair contract," said Lou Villalvazo, Local 630 Secretary-Treasurer and Southwest Food Chair for Teamsters Joint Council 42.
"Smart & Final workers were determined to win a better future, and I applaud them for their strength and unity throughout this hard-fought organizing campaign," said Tom Erickson, Director of the Teamsters Warehouse Division. "Congratulations to the entire team at Local 630 for leading the organizing effort and winning big at this company for the second time this year. Once again, Smart & Final workers have shown this company that when we stand together, we can win the toughest fights."
Founded in 1903, the International Brotherhood of Teamsters represents 1.2 million hardworking people in the U.S., Canada, and Puerto Rico. Visit Teamster.org for more information. Follow us on Twitter @Teamsters and "like" us on Facebook at Facebook.com/teamsters.
« Previous
Next »