Teamsters Local 856 and Rideshare Drivers United Announce Strategic Partnership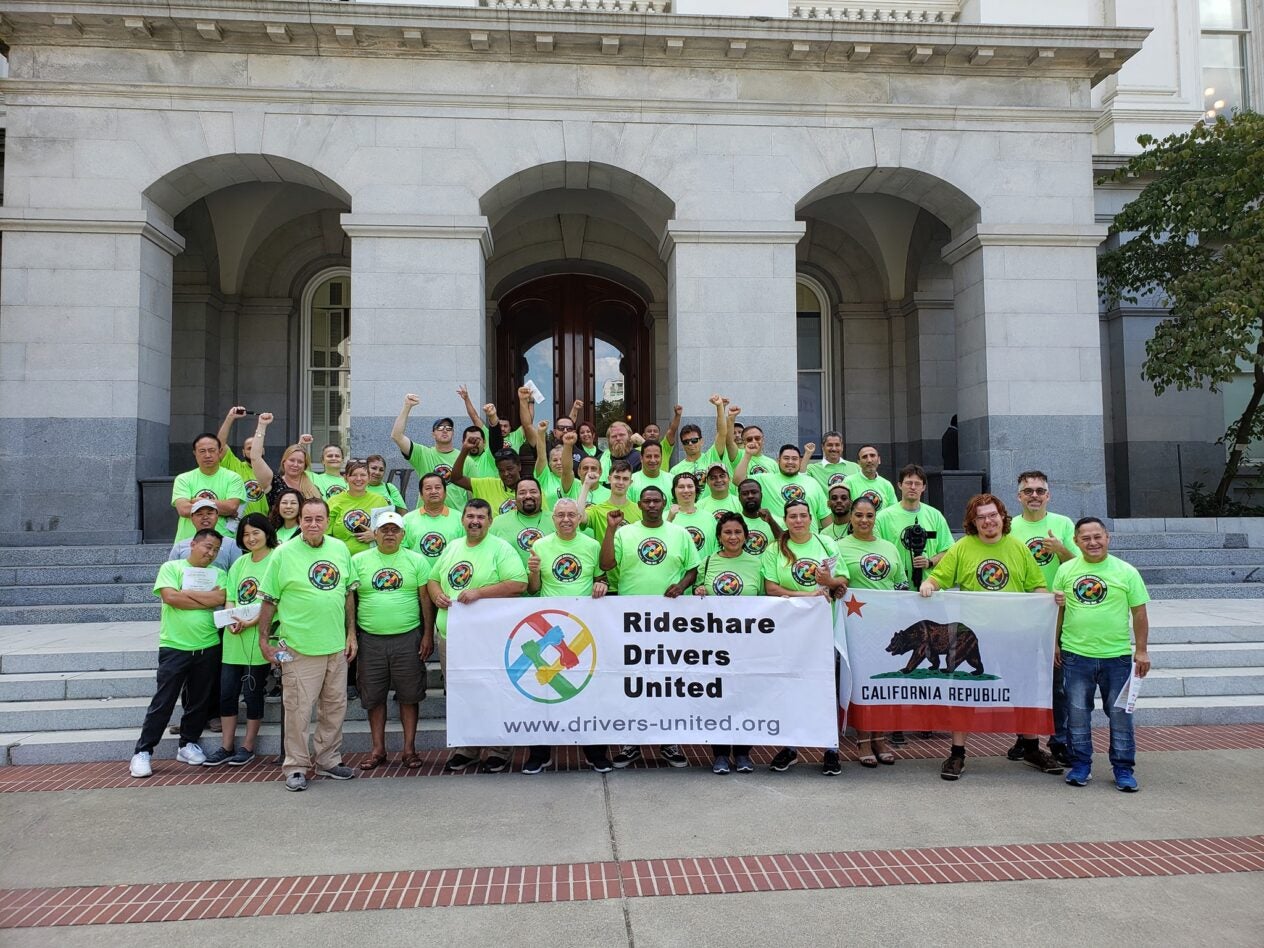 Press Contact: Matt McQuaid Phone: (202) 624-6877 Email: mmcquaid@teamster.org
(SAN FRANCISCO) – Teamsters Local 856, one of the largest Teamster locals in California, today announced a strategic partnership with Rideshare Drivers United (RDU), a 20,000-member driver-led organization focused on full labor rights for app-based workers.
Together, the two organizations will work to advance justice for workers who perform essential labor in California, transporting goods and passengers to keep the state's economy moving.
"Corporations have eroded labor standards in the transportation industry, chasing profits at the expense of working people," said Peter Finn, Teamsters Local 856 Secretary-Treasurer and Teamsters Western Region International Vice President. "They adopted a business model of misclassification to deny truck drivers and couriers the right to organize. They abused the initiative process to strip away labor rights for rideshare and delivery drivers. And now, they want to replace drivers with robots, putting robotaxis in our cities and driverless big rigs on our highways."
The partnership has three main objectives: 1) Responsible guardrails on autonomous vehicles to ensure public safety and protect driving jobs; 2) Full labor rights for all transportation workers, including employee status and the ability to join a union, have a collective bargaining agreement, and strike if needed; and 3) Fair regulation at the state and local level that improves the compensation and working conditions of rideshare workers and gives local communities a voice in transportation decisions.
The announcement comes the same week that autonomous vehicle companies are facing a reckoning in California. In Los Angeles, a motion to regulate robotaxis was introduced in the city council. The day before, Cruise got its license to operate in California suspended following a revelation that the company lied about an accident where a robotaxi dragged a woman for twenty feet. In addition to safety problems, autonomous vehicles threaten hundreds of thousands of driving jobs throughout California.
"Big Tech is actively pushing a fake independent contracting model while working to get rid of all the rules in transportation, driving safety and pay into the ground for all of us," said Nicole Moore, President of Rideshare Drivers United and a part-time Lyft driver. "We have to think big picture. That's why we're joining forces with the Teamsters to fight together for these shared principles. As transport workers — wherever we work — we must draw the line and not let the companies drag us backwards. All workers deserve the right to organize and have the protections of a union contract," Moore said.
"It is imperative that we protect and enforce the rights of all workers in this industry to be employees and to organize a union. Trained professional drivers keep our streets safe and we are committed to promoting public safety and the public interest through thoughtful state and local regulation in the transportation sector," Finn said.
Teamsters 856 is affiliated with the 1.2 million-member International Brotherhood of Teamsters and has grown to become one of the largest Teamster locals in California with 17,000 members. ​Our members work in a broad spectrum of professions at over 150 different employers in both the public and private sector, in such diverse industries as airline, package and freight, benefit administration, car rental, healthcare, hotel, food processing, law enforcement, public services and more.

Founded in 2018, Rideshare Drivers United is a driver-led membership organization that fights for the rights of drivers and for the dignity of our profession. Our values are deeply rooted in worker democracy, grassroots action, and labor rights. We've grown from 400 members in Fall 2018 to over 20,000 California driver members today. www.drivers-united.org
« Previous
Next »