Teamsters Tell Anheuser-Busch: End Two-Tier Health Care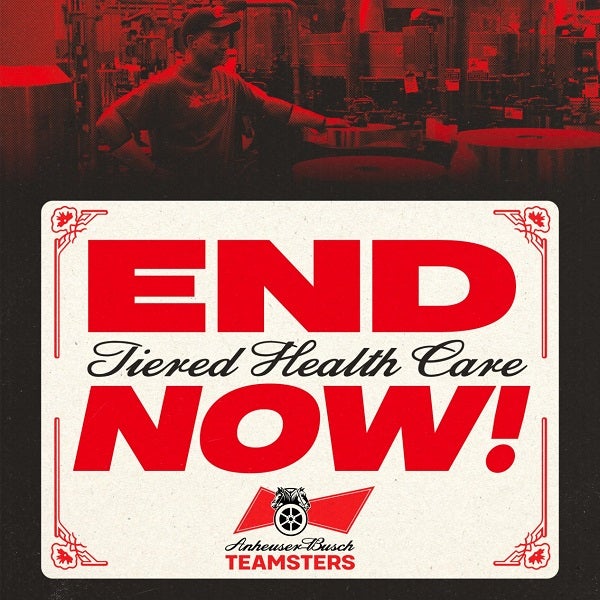 Improving Health Plans for 5,000 Anheuser-Busch Teamsters Remains Top Priority as National Talks Continue
Press Contact: Kara Deniz Phone: (202) 497-6610 Email: kdeniz@teamster.org
(WASHINGTON) – The Teamsters resumed national negotiations this week with Anheuser-Busch for a new contract covering 5,000 Teamster brewery workers nationwide.
As economic bargaining begins, the Teamsters submitted a proposal Tuesday to end two-tier health care at Anheuser-Busch. Jeff Padellaro, Director of the Teamsters Brewery, Bakery, and Soft Drink Conference, told Anheuser-Busch across the table to act fast and agree to abolish tiered health benefits that force recent hires to pay more money for coverage than more senior workers doing the same jobs.
"If Anheuser-Busch really wants to reward the workers it touts so proudly in its commercials, the company has a very easy way of doing that — treat them equally and with respect," Padellaro said. "We will not let any employer force workers doing the same labor to accept less than their peers. Anheuser-Busch must agree to this straightforward proposal for equal health care immediately."
Under the terms of the current contract, negotiated in 2018, Anheuser-Busch Teamsters hired after March 1, 2019, are forced into a high deductible health plan that requires members to pay a significant portion of their health care costs. Meanwhile, Anheuser-Busch Teamsters hired prior to that date enjoy plans that require much lower out-of-pocket payments. More than 40 percent of current Anheuser-Busch workers were hired into the more expensive health plan.
"We demolished two-tier wages at UPS, and we will get rid of two-tier health benefits at Anheuser-Busch," said Teamsters General President Sean M. O'Brien. "This should be a no-brainer, even for executives who seem to struggle with making the best decisions. It's time to get this done. Workers deserve it."
Current contract negotiations began on Sept. 18 in subcommittees focusing on national and regional issues. The current agreement expires Feb. 29, 2024.
"I find it unacceptable that I'm working side-by-side my fellow Teamsters brothers and sisters but they're paying more for health care just because we were hired at different times," said Earth Lindsay, president of Teamsters Local 267 and a rank-and-file worker at the Fort Collins, Colo. brewery. "We're all doing the same job, and we're fighting hard to make Anheuser-Busch's two-tier health care system go away for good."
Founded in 1903, the Teamsters Union represents 1.2 million hardworking people in the U.S., Canada, and Puerto Rico. Visit Teamster.org to learn more and follow us on Twitter @Teamsters and on Facebook at Facebook.com/teamsters.
« Previous
Next »