Teamsters at DHL Rally for Fair Contract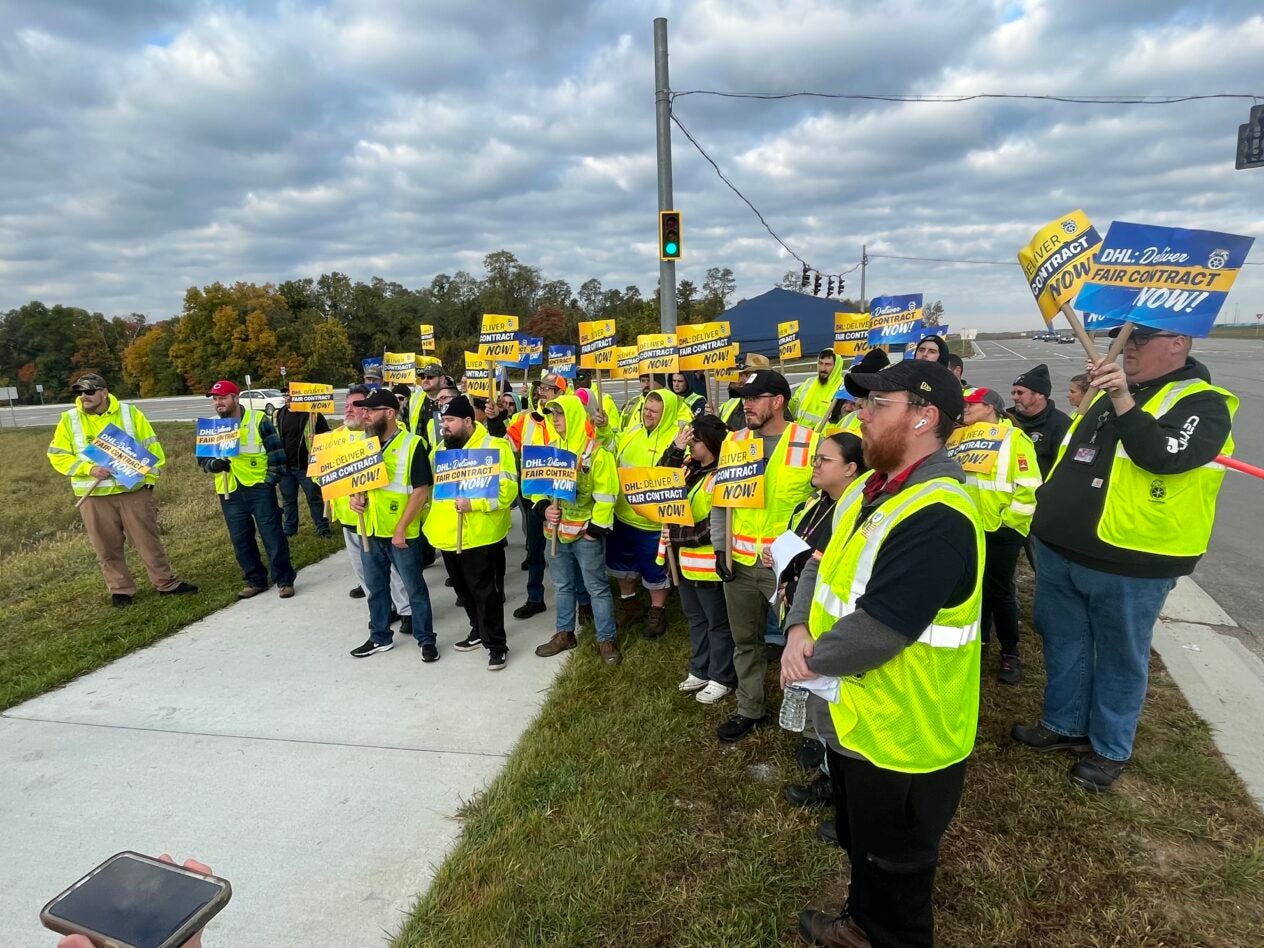 Ramp and Tug Shipping Workers Demand Safety Protections, Voice on the Job
Press Contact: Kara Deniz Phone: (202) 497-6610 Email: kdeniz@teamster.org
(HEBRON, Ky.) — DHL Express Teamsters rallied today near the global shipping company's massive operations at the Cincinnati/Northern Kentucky Airport (CVG) to demand safer working conditions. CVG workers united in solidarity and shared their experiences with the press.
"With a huge operation like DHL-CVG — where things can get chaotic in an instant —people can and do get hurt without smooth communication, proper equipment, and adequate staffing," said Brandi Dale, a Teamsters ramp agent at CVG. "It's not a safe workplace. Our families deserve to know we'll come back home the same way as we went in. As it stands now, we can't promise that."
In 2022, there were at least 22 workplace injuries at DHL's CVG operations that required transport to a hospital or emergency room. DHL Express Teamsters work outdoors, loading and unloading approximately 360,000 pounds of cargo per day. They are essential workers responsible for the movement of domestic and international goods.
"DHL supervisors at CVG and the company's executives in Germany need to quit messing around and show these Teamsters some respect," said Bill Hamilton, Director of the Teamsters Express Division. "DHL needs to get serious about our members' safety."
More than 1,100 DHL-CVG ramp and tug workers voted to join the Teamsters in April. Teamsters are fighting for their first union contract at the airport.
"This company must take delivering our members a fair contract as seriously as it does delivering all its customers their packages," said Bill Davis, President of Teamsters Local 100. "After all, without these hardworking men and women, none of what DHL does would be possible. Its huge profits would not be possible. The union will keep fighting for as long as it takes to protect our members."
For updates on the Teamsters' fight for safer working conditions and respect on the job, visit Facebook.com/DHLWorkersUnited.
Teamsters Local 100 represents drivers, public employees, construction workers and more throughout Greater Cincinnati, Ohio. Find out more at TeamstersLocal100.com.
« Previous
Next »