Chipotle Teamsters Rally in Lansing to Demand a Fair Contract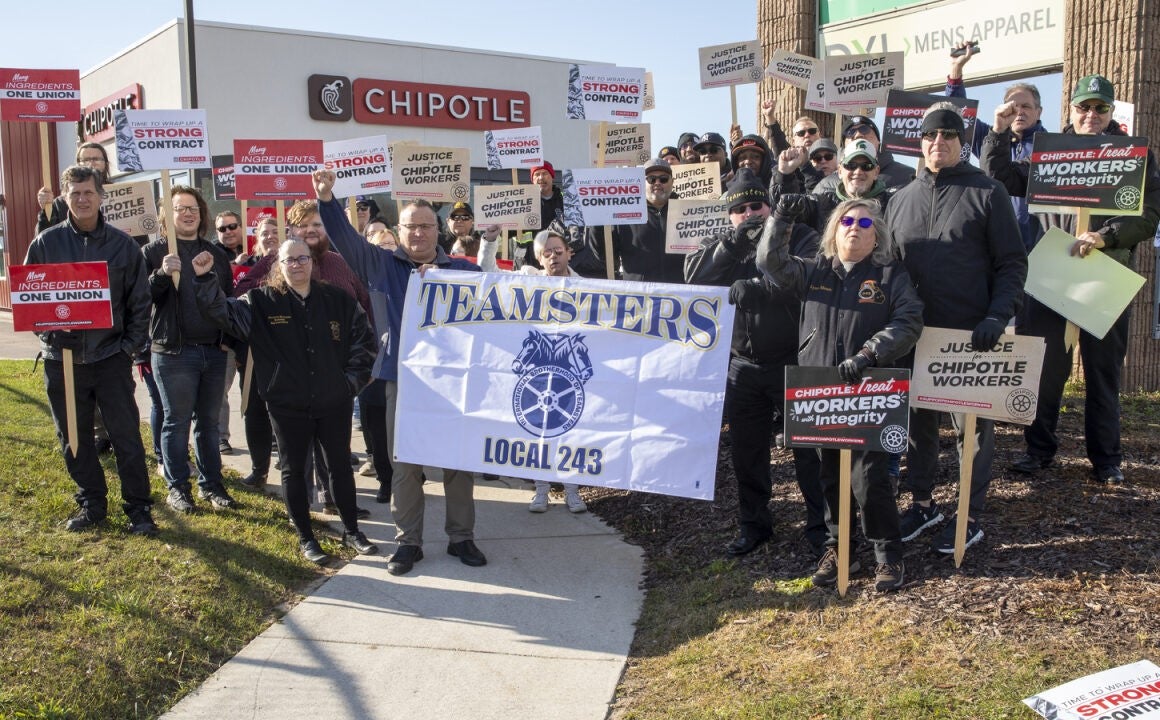 Workers Call Out Billion-Dollar Company's Shameful Five-Cent Wage Offer
Press Contact: Matt McQuaid Phone: (617) 894-0669 Email: mmcquaid@teamster.org
(LANSING, Mich.) –Teamsters Local 243 members at Chipotle in Lansing rallied on Friday to demand a fair contract from the multibillion-dollar fast casual giant that hauled in more than $8 billion last year.
"Chipotle's corporate management needs to come back to the table and bargain with the Teamsters," said Scott Quenneville, President of Local 243. "We've been in negotiations for over a year. The company has said to us across the table that our members — Chipotle's workers — will never have a voice in their contract. Now, we've got a message for Chipotle — the Teamsters aren't going anywhere. Teamsters fight, and that's exactly what we're going to keep doing in Michigan."
The Lansing store is the first Chipotle location in the country to organize. The company recently made the shameful offer of a five-cent per hour raise to top-performing workers only.
"We're grateful for our fellow Teamsters and allies in the labor movement for coming out and supporting us," said Atulya Dora-Laskey, a Chipotle Lansing worker and member of the Teamsters negotiating committee. "The Chipotle CEO made more than $17 million last year. This rally demonstrates that all workers expect CEO Brian Niccol to give more than a nickel. This company seems solely focused on increasing profit by doubling the amount of stores. Chipotle Teamsters are focused on making existing stores more sustainable and healthier — for workers and our customers."
"Chipotle needs to start making some serious offers and not just on wages, but on seniority, sick time, staffing levels, and job security," said Peter Finn, Teamsters Western Region International Vice President and Teamsters Food Processing Division Director. "These workers deserve the same compensation and job security that so many other union members in the service industry already have. Everything they are asking for is beyond reasonable."
Teamsters Local 243, with union halls in Lansing and Plymouth Township, proudly represents more than 4,000 workers across Michigan. For more information go to teamsters243.org/
« Previous
Next »