Teamsters Reach Tentative Agreements With Detroit Casinos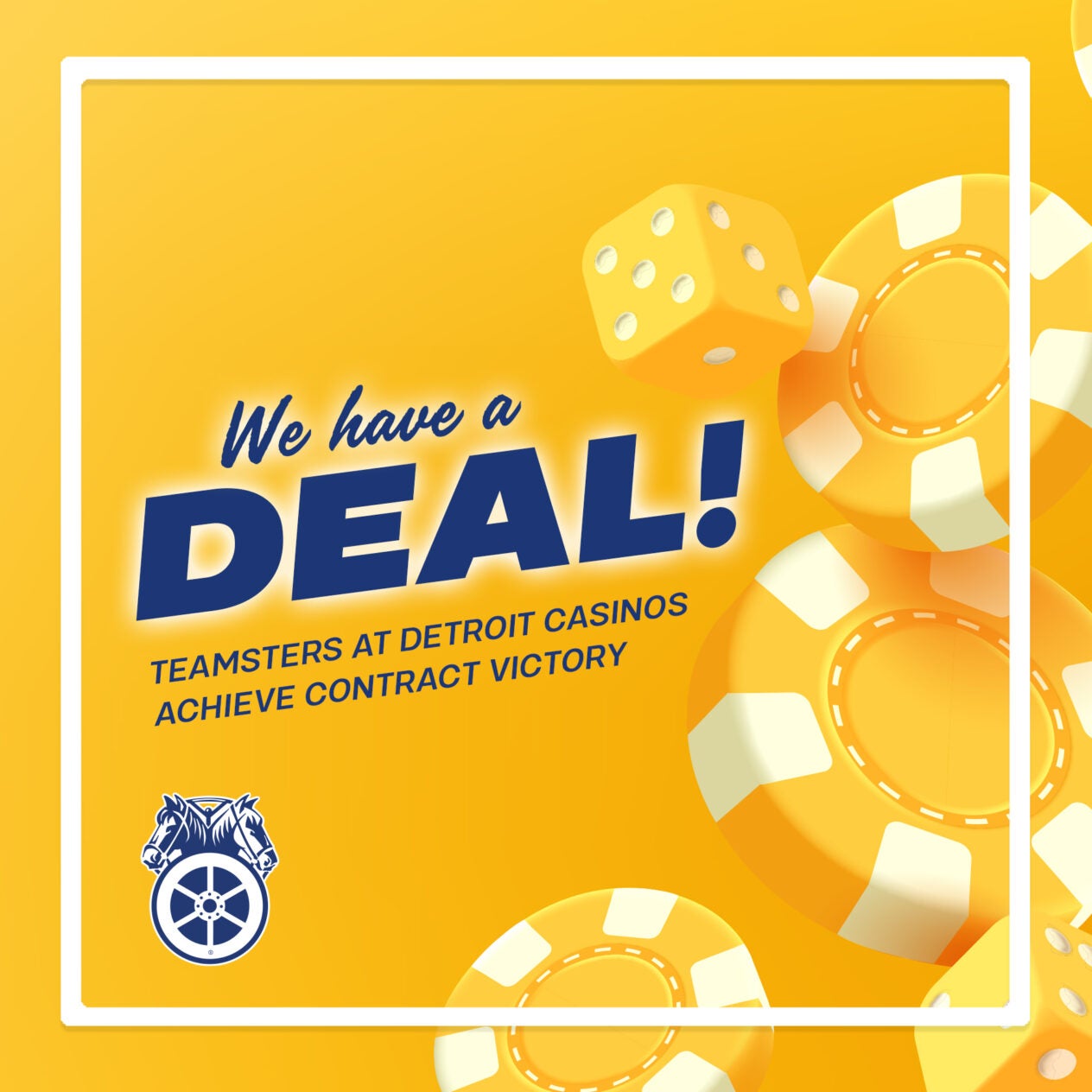 Union Fights to Secure Historic Wage Increases, Benefits, Job Protections
Press Contact: Kara Deniz Email: kdeniz@teamster.org
(DETROIT) – Teamsters and the Detroit Casino Council (DCC) have reached tentative agreements with MGM Grand Detroit, Hollywood Casino at Greektown, and MotorCity Casino.
Over 3,700 casino workers, including more than 350 members of Teamsters Local 1038, have been on strike for 32 days. Local 1038 and the Teamsters' DCC partners will remain on the picket lines until the memberships ratify the proposed agreements.
The tentative agreements include historic wage increases, employer-funded health care, workload reductions, protections against the implementation of new technology, retirement gains, and other job protections.
"The Detroit casino cartel thought they could bully the Teamsters into unfair, lackluster contracts. This deal should have been offered 32 days ago," said Teamsters General President Sean M. O'Brien. "Failing to negotiate for a fair deal with the Teamsters is never a winning strategy. Teamsters and our allies fought back, held the line, and ultimately achieved a historic tentative agreement."
"I want to congratulate the members of Local 1038 and our union brothers and sisters in the DCC for sticking together and winning such a strong tentative agreement. We stayed united and negotiated the best contracts in the history of the Detroit casino industry," said Tommy Blitsch, Director of the Teamsters Convention, Trade Show, and Casino Division.
On Oct. 17, unionized casino workers were forced to launch the first-ever wall-to-wall strike after Detroit's casinos refused to offer acceptable contracts. The new tentative agreements offer the largest wage increases in the history of the Detroit casino industry and will help alleviate the hardships Detroit casino workers endured after sacrificing raises and shouldering heavier workloads during the COVID-19 pandemic.
Union members at Detroit's three casinos work in valet, front desk, food and beverage, housekeeping, retail outlets, slot and table games, and engineering. The new packages are another recent example of union members like the Teamsters taking a stand against corporate greed and winning record contracts as a result.
Founded in 1903, the International Brotherhood of Teamsters represents 1.3 million hardworking people in the U.S., Canada, and Puerto Rico. Visit Teamster.org for more information. Follow us on Twitter @Teamsters and "like" us on Facebook at Facebook.com/teamsters.
« Previous
Next »